Learning and development
PGL apprenticeships
PGL Apprenticeships
Key information about PGL apprenticeships
We're very proud of our track record in delivering a leading apprenticeship scheme in the outdoor industry. We firmly believe our staff have been, and will continue to be, the reason for PGL's success, and that's why we place huge emphasis on delivering the very best apprenticeships for our staff.
We've been delivering apprenticeships for 18 years and are on the Register of Apprenticeship Providers;
All apprentices are guaranteed work once they have completed their apprenticeship programme;
Many apprentices go on to senior roles within PGL and we have examples of apprentices progressing to become Heads of Departments and General Managers;
We have recently launched our new management apprenticeship programme, which includes an ILM Level 3 Diploma in Leadership and Management.
Why choose a PGL apprenticeship?
At PGL we strongly believe that people learn best when they are able to put new knowledge and skills into practice straight away. So we focus on developing our employees using work based training and learning opportunities from the moment you start your new job.
PGL offers a unique opportunity for anyone looking to:
Gain valuable experience in a wide range of job roles
Increase their knowledge and develop their skills
Achieve nationally recognised qualifications
Access formal and informal development opportunities
Progress within their chosen career path
Our comprehensive job-related training programmes provide you with an outstanding introduction to working in outdoor, hospitality or operational support roles as well as the opportunity to gain valuable, nationally-recognised qualifications along the way.
We also recognise the importance our employees play in the continued success of PGL. Many who join us each year will be able to progress to senior positions during their time with PGL if they take the opportunities that are available to them in terms of ongoing training and personal/professional development and completing their apprenticeships.
Apprenticeships at PGL
Applicants with limited experience within the sector are employed as an apprentice and enrolled onto our Apprenticeship Programme, which includes training relevant to their job role.
The Apprenticeships we offer at PGL are as follows:
Activity Instructor / Group Leader (AIGL) roles - Intermediate Apprenticeship in Active Learning and Leisure
Hospitality (catering, housekeeping, retail/bar, front of house) roles - Hospitality Team Member Apprenticeship Standard
Group Leader and Tour Leader roles - Customer Service Practitioner Apprenticeship Standard
An apprenticeship is a real job with training which allows an individual to learn whilst gaining nationally recognised qualifications. They are also highly valued and transferable, so if you decide to leave PGL you can use them as evidence of your knowledge and skills for future employment.
Apprenticeships take between 12 and 18 months to complete. There are no age restrictions for our apprenticeship programmes. We firmly believe in investing in the talent within our staff team and will fund those not normally eligible for government grants, to ensure that everyone has the opportunity to reach their potential, regardless of age or nationality.
You must be employed by PGL to be eligible for a place on our apprenticeship programmes.
To find out more about the apprenticeship frameworks we offer at PGL, download a programme factsheet:
Intermediate Apprenticeship in Activity Leadership
Hospitality Team Member Apprenticeship
Customer Service Practitioner Apprenticeship
National Governing Body Awards
We work with all of the UK's major activity National Governing Bodies to enable you to gain both personal competency and coaching qualifications at all levels through our on-going staff development programme.
NGB awards are available from:
Every year our Instructors gain over 1,000 National Governing Body qualifications thanks to PGL funded training courses.
Job Search
Get in Touch
Call us on 033 33 212 123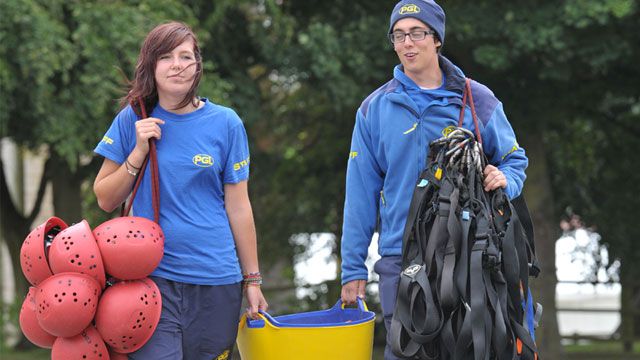 Key PGL Facts
Need more convincing to apply? Surely not, but if so – here are a few 'must know' key facts:
we employ over 3,000 people every year
over 400,000 guests visit a PGL centre every year
we are experienced! We have been providing activity holidays since 1957, thats 60 years!
we have the most competitive staff package
we are the employer of choice within the outdoor activity industry!
E-newsletter
Be the first to know about job opportunities and recruitment news.