Staff Welfare
We are aware that for many of our staff, PGL is much more than a job. Working for PGL means that our employees are part of a community with a unique culture, based upon shared values and experiences. A proportion of our staff team find themselves living and working away from their family home for the first time when they come to work for PGL and we want to ensure that the experience is as positive, constructive and memorable as possible.
PGL's HONEST Campaign
Our HONEST campaign is to make sure that our staff get the most from their PGL experience, both pastorally and professionally.
We provide a range of advice fact sheets, posters and other support materials on a variety of topics that we believe are important to our staff, including smoking, responsible alcohol use, sexual health, sun health and money management.
We have attempted to supply staff with enough information to make informed choices. The information also features contact details for relevant organisations and charities specialising in the areas we feel could, unfortunately, affect our staff team at some point in their life.
HONEST stands for:
Helping... Staff make informed choices about key decisions
Openness... Encouraging staff to share their concerns and seek support without fear
Nurturing... Standard setting and leading by example in a responsible and caring environment
Educating... Giving staff up to date and accurate information to make the right choices in life
Supporting... Building links and strategic partnerships with national and local organisations
Training... Providing staff with access to fun training materials to help tackle difficult subject matters
Whilst predominantly targeted at our centre-based staff, the HONEST campaign is strong enough and varied enough to provide information to people of all ages and backgrounds. Many people may not have their own problems however; there is a possibility that they may know someone who does. If HONEST helps to put just one person in touch with a relevant support organisation, then it has done its job; regardless of whether that person is a parent, sibling, friend, colleague, guest or partner.
If you are interested in coming to work for PGL, will be living away from home for the first time and your parents are concerned, they may be interested in reading our Information for Parents.
Job Search
Get in Touch
Call us on 033 33 212 123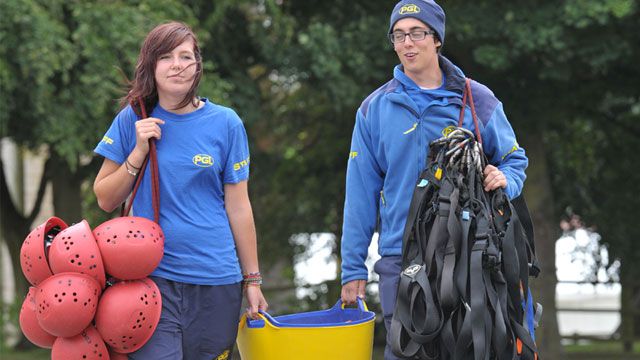 Key PGL Facts
Need more convincing to apply? Surely not, but if so – here are a few 'must know' key facts:
we employ over 3,000 people every year
over 400,000 guests visit a PGL centre every year
we are experienced! We have been providing activity holidays since 1957, thats 60 years!
we have the most competitive staff package
we are the employer of choice within the outdoor activity industry!
Shortcuts
E-newsletter
Be the first to know about job opportunities and recruitment news.