Why PGL?
top 10 reasons to work for PGL
Top 10 reasons
Making up your mind up about the next stage in your career or life is a big decision and one that needs a lot of thought as well as the right information.
To help you make a decision, we've compiled the following top 10 reasons why we think PGL could be the right employment choice for you!
1. It's so much more than just a job
Working with PGL truly is more than just a job. You will meet people that will become friends for life; you will have experiences you will never forget and gain skills that you will utilise throughout your career.
PGL provides a fun and vibrant working environment providing the support and tools to enable you to develop and grow. Working with PGL opens you up to an amazing experience and lifestyle that will shape you as an individual both in and out of a working environment.
PGL's approach to development suits a wide range of people's needs whether it is an alternative to university or college, a gap year experience, a job to work around your home life, or a change in career, PGL will give you the guidance and structure to succeed.
We have so many people come back to PGL year after year because they enjoy working with PGL. Yes it is a job... but it's also so much more.
2. Our 24 fantastic locations
All PGL centres and locations are unique, offering you a fantastic backdrop for your PGL experience.
With 24 centres across the UK, France and Spain, PGL can offer more locations than any other employer in the outdoor industry, with longer seasons, meaning greater career progression opportunities, longer contracts and happier staff. You'll find PGL centres operating in beach-side locations, converted country houses, châteaux and former holiday parks. Our centres offer a great base from which to explore during your free time: think white water paddling, climbing, heading into the bright lights of London or Paris or simply lazing on the beach. Whatever you are in to you will find a PGL centre that is perfect for you!
3. Career progression opportunities
Starting work with PGL may be your first step towards a long career in the outdoors. We are here to support and develop you to achieve your career goals with PGL and beyond.
We enrol staff of all ages onto Apprenticeship programmes and will fund those not eligible for government funding due to age, nationality or holding a university degree to give you the best possible start.
We want you to come back – after your first season we'll encourage you to apply again for the following year. Following on from your PGL Apprenticeship Programme we welcome applications for people to return to PGL for subsequent years. When you return we will consistently offer support in order to continue to develop you towards your personal career goal.
PGL is continuing to grow and we want our staff to grow with us. We offer more activities and different holidays each year which means more opportunities for our staff team to progress. Each year, more than 250 people are employed in a senior role with us; meaning as you develop opportunities for progression will become available. A lot of our senior team have worked their way up through PGL and will be the first to tell you it can be done with the right attitude, enthusiasm and hard work.
4. No qualifications? No worries!
PGL offer great entry level roles so if you don't have any previous qualifications it is not a problem. When you start a job with PGL you soon will!
We want your application to show us that you're motivated, responsible, willing to learn and can relate to young people. If you bring these attributes to PGL, we can provide you with the skills, training, confidence and support to grow in your new job role as well as access to a wealth of nationally-recognised qualifications to help further your career in your chosen field.
5. Be rewarded for your progression
All new members of staff with limited, relevant previous experience will join our PGL Apprenticeship Programme to give you the skills, expertise and confidence to make sure you're happy in your job role.
We also reward some specific qualifications with an increase in salary. Regardless of your experience or qualifications when arriving at PGL, we will provide you with an experience fit to adorn any CV and the opportunity to further develop yourself with training and senior responsibility.
6. Gain great experience for your CV and transferable skills
You can't get a job without experience and you can't get experience without a job – sound familiar?
Especially after School, College or University it can be hard to show employers what skills you have without having the work experience to back it up. Make your CV really stand out from the crowd. Even one season with PGL adds the necessary work experience to highlight your skills and strengths to really boost your CV.
Many employers look for evidence of initiative, independence, resourcefulness, team-working and confidence on the CVs of their future employees. These are all transferable skills you'll gain in abundance from working for PGL. Having PGL on your CV will show prospective employers that you are trustworthy, responsible and motivated.
7. Save yourself LOTS of money developing your career!
Taking part in our RYA and BC accredited watersports training courses can save you around £2,000 compared to gaining these qualifications at your own expense. We'll train you, provide you with specialist equipment, log book hours, fantastic locations, transport to resort and your centre of work plus accommodation and meals.
The only cost you may incur is the membership fee required to join the National Governing Body of the relevant activity organisation to validate your qualifications.
Similarly, our Intermediate and Advanced Apprenticeship programmes are all offered free of charge yet could cost you up to £1,000 if you enrolled on the same course at college. All training courses are provided free of charge on the provision that you complete your contract of employment with us.
8. Be part of a winning team
By joining PGL you are joining the UK's leading provider of school trips and children's adventure holidays. Now is an exciting time to join PGL: we're offering new trips and holidays to more guests each year and are expanding our offering to ensure we extend our lead at the forefront of the UK's educational and activity course providers. And we want you to be part of the team!
It doesn't end there. Working with PGL opens you up to a much larger team. PGL is owned by Cox & Kings Ltd, one of the oldest and most recognised travel operators in the world. Cox & Kings have won many awards including "Best Luxury Tour Operator" at the 2012 Globe Travel Awards. PGL, together with NST, EST and Studylink collectively form their very successful Education Division. Working with PGL you will be able to see what other internal job opportunities are available across the division opening up a world of different career opportunities.
Our parent company also owns Explore Worldwide, Regal Dive and Superbreak as well as many other well-known brands in the travel sector.
PGL and the wider group is a team you can be proud to work with.
9. Receive the PGL staff package
We want you to feel valued and reward you for your hard work whilst being part of PGL family – to us you are more than just a number.
Working for PGL, you'll receive an industry competitive wage, three meals a day (including on your days off) and the option to live on-site with council tax and all utilities bills covered by us. You'll gain access to training and qualification opportunities that can save you lots of money. We also provide our staff with a stylish, durable uniform free of charge with no deposit required, unlike many seasonal employers – the famous blues! Plus, if you're working in France or Spain, we provide insurance as well as free transport to your centre from a UK pick up point.
10. Take a valuable reference with you
Many people that work for PGL go on to other opportunities in the outdoors and have been very successful in doing so. We are proud to be an essential part of this and are glad that we have been able to give people the start and experience they have needed to reach their career goals.
Whilst we invest in our staff when working with PGL, supporting them as they become more experienced and qualified, we also want to recognise their hard work when it is their time to move on from PGL and seek other opportunities. PGL are happy to offer a full professional reference on completion of your contract. We've increasingly found that many employers simply offer confirmation that an individual was employed during certain dates, rather than a full reference.
Job Search
Get in Touch
Call us on 033 33 212 123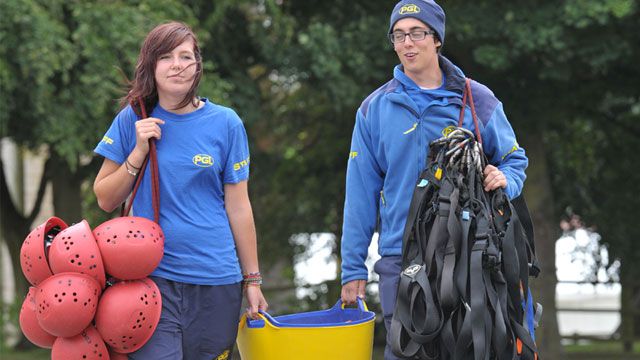 Key PGL Facts
Need more convincing to apply? Surely not, but if so – here are a few 'must know' key facts:
we employ over 3,000 people every year
over 400,000 guests visit a PGL centre every year
we are experienced! We have been providing activity holidays since 1957, thats 60 years!
we have the most competitive staff package
we are the employer of choice within the outdoor activity industry!
Shortcuts
E-newsletter
Be the first to know about job opportunities and recruitment news.