working as an Activity Instructor / Group Leader
The Activity Instructor role is the most popular job at PGL! If you're full of energy then this is the role for you: leading activity sessions, organise evening entertainments and ensure your group enjoys the best stay possible.
Our Activity Instructor / Group Leaders combine instructing duties with pastoral care to ensure our guests have the best time possible with us. Activity Instructor / Group Leaders introduce guests to a number of activities and deliver group taster sessions in our core activities, including orienteering, abseiling, climbing, fencing, motorsports, ropes challenge courses, initiative exercises and archery as well as helping to organise and participate in evening entertainments.
This is a fantastic opportunity to share your love of sports and the outdoors with our young guests. To work as an Activity Instructor / Group Leader you do not need to be qualified or highly experienced in any particular activity. However, you do need to be enthusiastic, willing to learn and have lots of energy!
Job Search
Get in Touch
Call us on 0844 3710 123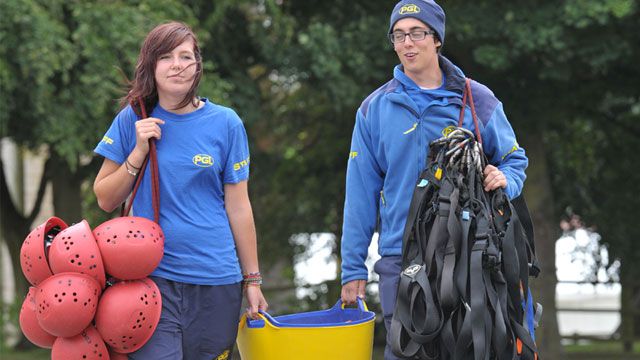 Key PGL Facts
Need more convincing to apply? Surely not, but if so – here are a few 'must know' key facts:
we employ over 3,000 people every year
over 400,000 guests visit a PGL centre every year
we are old! We have been providing activity holidays since 1957 (almost 60 years)
we have the most competitive staff package
we are the employer of choice within the outdoor activity industry!
E-newsletter
Be the first to know about job opportunities and recruitment news.


"PGL has been a amazing opportunity for me to learn, work and make friends. I love working with PGL and I have already applied for next year."
James, AI/GL, Beam House