Working as a Housekeeping Assistant
You can make a real, positive difference to the PGL experience.
Our Housekeeping teams are excellent platforms to get you started in hospitality. We only get one chance to make a great first impression with our guests and as a Housekeeping Assistant you'll play a crucial role in ensuring that first impression is positive, and lasting. Part of the joy of working in hospitality as a Housekeeping Assistant for PGL is the opportunity to really make someone's day – part of the rewards of your hard work is your job satisfaction. We'll provide you with a host of transferable skills to ensure our modern activity centres are kept clean and presentable.
Preparing guest rooms for their arrival and ensuring laundry is clean and properly stocked goes a long way to ensure our guests are happy and will give you the joy of making a real difference to life at PGL. While our guests are out on adventures, our Housekeeping Assistants spark in to action, delivering a first class service to preserve the high standards of presentation and appearance of the centre. You'll work as part of a highly motivated team, in a fun, friendly and supportive environment and have the opportunity to make a real difference to life on centre, both for guests and staff.
No experience is required for the Housekeeping Assistant role as we will provide you with full training. However we welcome applications from people who can demonstrate the following:
Enthusiasm.
The ability to work as part of a fast-paced team.
A willingness to learn.
The capacity to deliver high levels of customer service.
On a daily basis PGL Housekeeping Assistants will work as part of a large team to prepare and ensure all accommodation and communal areas are kept clean and tidy for our guests.
At some of our smaller centres, this role may also require you to serve guests in the centre shop and conduct stock takes.
When you start your job as a Housekeeping Assistant you will have the opportunity to gain invaluable knowledge, skills and experience whilst working towards nationally recognised qualifications, all free of charge. Previous housekeeping experience is a bonus but is not vital. If you are new to PGL and/or have catering experience within the sector you will be enrolled onto our Hospitality Apprenticeship Programme.
This is delivered and assessed in the work place and is supported by a comprehensive centre induction, job specific training, workbooks, one-to-one observations with verbal and written feedback, and regular performance reviews. All of this will count towards the achievement of your hospitality apprenticeship.
There are a number of opportunities for you to extend your experience, knowledge and skills at PGL. We encourage all our employees to create and maintain a Personal Development Plan (PDP) that can be used to identify and work towards their career goals.
This is supported by our extensive range of formal and informal development opportunities. Career progression routes for Housekeeping Assistants include roles such as Housekeeping Supervisor, Dining Room Supervisor or Housekeeping Manager.
Lindsey Fletton, Chateau Du Tertre
I gain a lot of satisfaction from seeing that both guests and staff are staying in clean, comfortable rooms that meet with and often exceed their expectations.
I enjoy hospitality roles and this was an ideal opportunity to live and work abroad, and experience and learn more about French culture and language.
It is different to my previous job roles as all the staff live together, but I feel that it enables us to get to know each other more and work more closely and efficiently as a team.
I would like to gain more experience in the hospitality sector, and possibly continue at PGL in a position with even more responsibility and challenges.
PGL is a hugely enjoyable experience.
Staff Package UK
Details of our staff package is in the table (right).
All new Housekeeping Assistants with no or limited previous experience will join our Apprenticeship Programme.
All residential staff will receive free accommodation valued at £44.80 per week for the purposes of calculating your overall package.
Housekeeping Assistants that join us with the relevant experience and Apprentices who have completed 34 weeks of the Apprenticeship Programme will receive the relevant age-related rate of pay and will be offered the opportunity to purchase a 'meals package' that works out at just £2.05 per meal or £43 per week.
This includes breakfast, lunch and evening meal – even on your days off! There's always a fresh salad bar option as well as soup and a cooked main course, dessert, fresh fruit and hot drinks.
Apprentices whilst on the Apprenticeship Programme can take advantage of this food offering free of charge.

Staff Package Overseas
Our competitive, industry-leading overseas staff package is comparable to our UK staff package and complies with the appropriate employment legislation in the country where the role is based.
Job Search
Get in Touch
Call us on 033 33 212 123
Shortcuts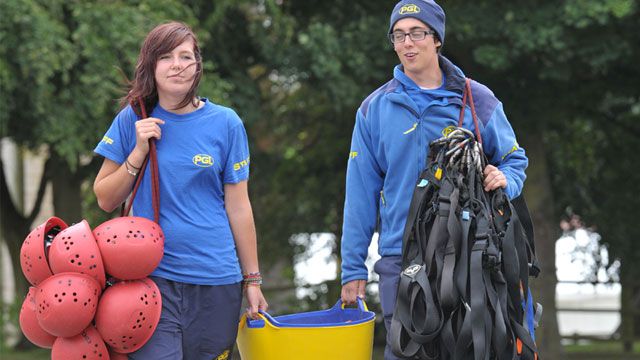 Key PGL Facts
Need more convincing to apply? Surely not, but if so – here are a few 'must know' key facts:
we employ over 3,000 people every year
over 400,000 guests visit a PGL centre every year
we are experienced! We have been providing activity holidays since 1957, thats 60 years!
we have the most competitive staff package
we are the employer of choice within the outdoor activity industry!
E-newsletter
Be the first to know about job opportunities and recruitment news.


"I really enjoyed my job and my time with PGL."
Sam, Housekeeping, Boreatton Park