Working as an Overseas HR Administrator
You can be a central figure at one of our slices of European paradise.
Our Overseas HR Administrators work at our beautiful European activity centres. The role offers you the unique challenge of providing administrative and linguistic support in a vibrant, fast-paced working environment. The Overseas HR Administrators role is fun and varied, and with no two days the same you will be a central figure in ensuring centre life is organised, for both guests and staff. If you're looking to utilise your language skills in a lively work environment, this is the perfect job for you!
Working in the sunny south of France and on the glorious Mediterranean is a life enriching experience. You'll welcome staff to the centre and settle them in to life with PGL; you'll use your admin and communication skills to make sure centre life runs smoothly, and provide support across different departments. As an Overseas HR Administrator not only will you be given the chance to practise and develop your skills, and learn some new ones, you'll be doing it in one of the most stunning travel destinations in the world with a friendly and supportive staff team.
As an Overseas Administrator it is essential that you have degree level French/Spanish or equivalent. It would also be an ideal role for native French/Spanish speaker. Successful applicants will also be able to demonstrate the following:
The ability to comfortably use French/Spanish on a day to day basis, including on the telephone.
Previous experience in an administration based role.
Excellent communication skills.
The ability to work as part of a team delivering results and meeting deadlines.
The capacity to discreetly and efficiently handle confidential information.
The purpose of the Overseas HR Administrator is to provide efficient and timely HR administration and general support to the centre team, in accordance with PGL HR policies and procedures. The role facilitates the arrival and induction of PGL's staff on centre, and ensure all centre staff comply with company employment safety checks and that all associated paperwork is completed to a high standard.
The role also oversees centre payroll for all operational departments including input of weekly timesheets, completion of starter and leaver forms and checking the centre pay analysis. Our HR Administrators also ensure timesheets are accurate and completed on time, that staff data is recorded, assist with Staff Welfare functions within centres, and actively support the centre Management team by providing a 'first line' point of reference for all aspects of centre-based HR.
When you start your job as an Overseas HR Administrator you will have the opportunity to gain invaluable knowledge, skills and experience whilst working towards nationally recognised qualifications, all free of charge. Previous administration experience is a bonus but is not vital. If you are new to PGL and/or have catering experience within the sector you will be enrolled onto our Hospitality Apprenticeship Programme.
This is delivered and assessed in the work place and is supported by a comprehensive centre induction, job specific training, workbooks, one-to-one observations with verbal and written feedback, and regular performance reviews. All of this will count towards the achievement of your hospitality apprenticeship.
There are a number of opportunities for you to extend your experience, knowledge and skills at PGL. We encourage all our employees to create and maintain a Personal Development Plan (PDP) that can be used to identify and work towards their career goals.
This is supported by our extensive range of formal and informal development opportunities. Career progression routes for Administrators include roles such as Centre Administrator, Administration Manager, Programme Manager or HR Supervisor.
Mimi Clark, La Fosca
I wanted to work with PGL after I went on a PGL holiday when I was at school and loved every minute of it.
My job role means I deal with anything and everything to do with language speaking from booking coaches to talking to local suppliers. I am responsible for communication behind the scenes so everything runs smoothly.
It's full of challenges from one minute to another despite being an office job no two days are the same.
Living on centre, you are camping with all your friends as neighbours so when you want to go out and do something there is always someone around to join you.
People should work with PGL because you get to live, work and experience life abroad with an amazing bunch of people.

As an Overseas HR Administrator with PGL you'll receive our competitive, industry-leading overseas staff package which is comparable to our UK staff package and complies with the appropriate employment legislation in the country where the role is based.
Job Search
Get in Touch
Call us on 033 33 212 123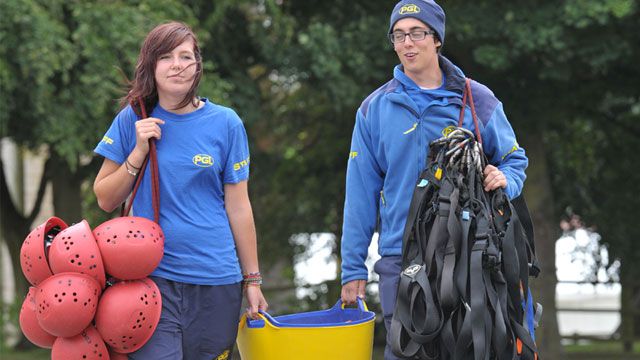 Key PGL Facts
Need more convincing to apply? Surely not, but if so – here are a few 'must know' key facts:
we employ over 3,000 people every year
over 400,000 guests visit a PGL centre every year
we are experienced! We have been providing activity holidays since 1957, thats 60 years!
we have the most competitive staff package
we are the employer of choice within the outdoor activity industry!
E-newsletter
Be the first to know about job opportunities and recruitment news.


"PGL is awesome! Each day is different and gives you that little special something that makes you want to keep working here!"
Daniel, Team Leader, Marchants Hill