Working as a
Retail Assistant
Get started in the fast-moving retail industry.
Our modern retail outlets are an outstanding place to get you started in one of the UK's biggest industries. Retail is all about customer service – helping our guests, supplying them with what they need, and ensuring they have a seamless and positive experience. Whether it's working in our shops, our bars, or assisting our Housekeeping team, we give you the opportunity to thrive and develop the skills required to be a success in retail.
We will help you build on your customer focus and your ability to manage yourself, and our training programme will ensure you progress and develop your all round skills. From serving guests and keeping records of stock, to ensuring takings balance and maintaining high levels of customer service with the guests you interact with; you'll flourish in our fun, friendly and supportive work environment. As a Retail Assistant you'll be in the thick of the action in the buzz of the bars and the frenzy of the shops.
If you have not yet gained any qualifications or have no experience working with children this might be the ideal role for you; many of our current Activity staff started in a Retail role. We welcome applications from people who can demonstrate the following:
Enthusiasm.
The ability to thrive and enjoy working as part of a fast-paced team.
A willingness to learn.
Excellent customer service skills.
All of our centres have a gift and tuck shop where guests can buy all manner of PGL related goodies as well as refreshments, souvenirs and confectionery. Some of our larger centres also have onsite bars which are open in the evening for PGL's adult guests and staff – these are also staffed by our Retail Assistants.
At some of our smaller centres this role is combined with that of housekeeping or General Assistant so you will spend your time between the roles. The gift and tuck shops are open on a daily basis and are where you will predominantly be based. You may have the opportunity, in your spare time, to participate in evening entertainments/activities with PGL guests and build up your skills, competencies and confidence.
When you start your job as a Retail Assistant you will have the opportunity to gain invaluable knowledge, skills and experience whilst working towards nationally recognised qualifications, all free of charge. Previous experience is a bonus but is not vital. If you are new to PGL and/or have catering experience within the sector you will be enrolled onto our Apprenticeship Programme.
This is delivered and assessed in the work place and is supported by a comprehensive centre induction, job specific training, workbooks, one-to-one observations with verbal and written feedback, and regular performance reviews. All of this will count towards the achievement of your apprenticeship.
There are a number of opportunities for you to extend your experience, knowledge and skills at PGL. We encourage all our employees to create and maintain a Personal Development Plan (PDP) that can be used to identify and work towards their career goals
This is supported by our extensive range of formal and informal development opportunities. Career progression routes for Retail Assistants include roles such as Retail / Bar Supervisor / Manager or Retail and Finance Manager.
Natalia Szczepanek, Liddington
I've worked at Little Canada in my first year in the Houskeeping Keeping team whilst learning English. I then became an instructor for three seasons at Osmington Bay, White Cliff Bay, in France and Liddington.
My job as a Retail Assistant is fun and enjoyable. We are strongly customer focused department responsible for the guest gift shop and staff entertainment.
I like working in a small team, we have all become good friends. I also get the opportunity to travel, visit new centres and meet new people.
My first year was a big challenge to learn English then it becomes a great new life style, travelling, taking training opportunities and getting qualifications.
It's a great community atmosphere. It's always something to do! You will never be bored living on centre.
Working with PGL is different, interesting and fun! PGL give you a variety of training and development and it's a chance to work in an international team.

PGL offer a competitive wage along with an industry leading food and accommodation package for residential roles.
Your wage will be dependent on a range of factors such as age, role, location, hours of work, qualifications and experience.
Find out more about the PGL package.
Job Search
Get in Touch
Call us on 033 33 212 123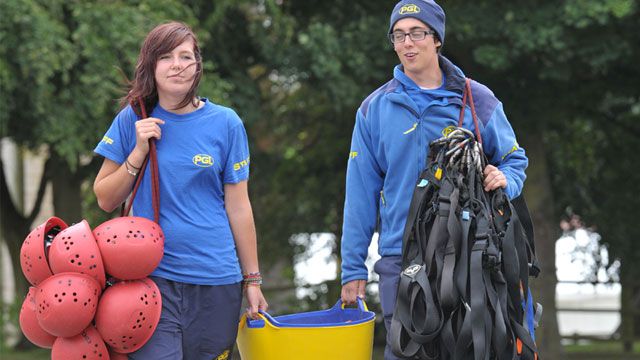 Key PGL Facts
Need more convincing to apply? Surely not, but if so – here are a few 'must know' key facts:
we employ over 3,000 people every year
over 400,000 guests visit a PGL centre every year
we are experienced! We have been providing activity holidays since 1957, thats 60 years!
we have the most competitive staff package
we are the employer of choice within the outdoor activity industry!
E-newsletter
Be the first to know about job opportunities and recruitment news.


"I really have enjoyed working with PGL. I have made some great friends."
Sarah, Retail, Beam House