Working as a
Sailing Instructor
Introduce our guests to the basics of sailing in the UK, Southern France and Spain. Excellent RYA training and qualification opportunities.
Our Sailing Instructors deliver group taster sessions in sailing as well as helping to organise and participate in evening entertainments. This is a fantastic opportunity to share your love of sailing and the outdoors with our young guests. If you're not yet qualified as a RYA Dinghy Instructor, don't worry: if you hold your RYA Seamanship Award, you can join our intensive month-long pre-season training course held at our Mimosa watersports centre during April.
During this course, you will work towards the next level of your RYA qualification - be it AI, DI or even SI. And the best part: the course is free of charge on the provison that you complete your contract of employment with us. This could save you over £2,000 if you're looking to self-fund your qualifications externally! Other useful qualities are enthusiasm, willingness to learn and lots of energy!
A minimum of the RYA Seamanship Skills is required for this role as we offer a comprehensive training course to give you the skills, expertise and confidence to deliver your jobs other core activities. We look for applications from people who can demonstrate energy, enthusiasm and the ability to relate to young people.
This role is particularly great for anyone looking to start their career in the outdoor industry, searching for a career break or a rewarding Gap Year project or wishing to develop your existing windsurfing awards. You'll pick up numerous transferable skills for your CV including group communication, confidence, resourcefulness and how to handle situations as they arise.
Working as an Sailing Instructor offers a great deal of variety, not just because you will find yourself doing lots of different activities, but because you may also find yourself helping the Group Leaders with evening entertainment or liaising with visiting teachers and party leaders.
You'll be responsible for your group of guests whilst on session, teaching them the key aspects of sailing in some stunning locations. The PGL fleet includes Laser Picos and Funboats, Toppers and Topper Tazes, RS Fevas, RS Visions and Hobie 15 catamarans.
If you're working at our centres in Southern France or Spain, depending on your existing qualifications, you may be invited to join our four week pre-season RYA training and assessment course on the Mediterranean in April. Training courses are free of charge providing you complete your contract of employment with PGL. You will have to pay for your assessment and membership of the relevant National Governing Body.
Courses available include RYA Assistant Instructor, RYA Dinghy Instructor, RYA Senior Instructor, RLSS Beach Lifeguard, BSAC Snorkel Instructor, RYA Safety Boat and First Aid at Work. We also run some multihull and keelboat endorsement courses. As a Sailing Instructor, you'll work towards your Intermediate Level Apprenticeship in Activity Leadership which forms part of our Apprenticeship Programme.
As a PGL Sailing Instructor, there will be numerous opportunities for you to extend your experience and gain National Governing Body award qualifications in a range of other activities, particularly if you return to work for us for subsequent seasons.
For example, many of our Senior Instructor sailing staff joined us as Sailing Instructors, developing their sailing experience and Royal Yachting Association qualifications through our in-house training programmes.
Linden Softley, Little Canada
As well as the standard land based sessions, I take groups out sailing in our keelboats. I have also gained my RYA Senior Instructor qualification, so I can also look after the whole sailing operation on the water. I'm also involved in the maintenance and upkeep of our fleet.
Being out on the water in the sun is amazing! Seeing guests challenge themselves and conquer a fear make the role really enjoyable.
I have always enjoyed the outdoors. I did an Outdoor Education course at college, and started work with PGL straight after.
Life on centre is very social, there's always something going on and people to do it with.
Working with PGL is a great chance to be with other like-minded people, every day is different, and there's a huge sense of achievement helping others achieve something they didn't believe they could do.
Staff Package UK
Details of our staff package is in the table (right).
All new Sailing Instructors with no or limited previous experience will join our Apprenticeship Programme.
All residential staff will receive free accommodation valued at £44.80 per week for the purposes of calculating your overall package.
Sailing Instructors that join us with the relevant experience and Apprentices who have completed 34 weeks of the Apprenticeship Programme will receive the relevant age-related rate of pay and will be offered the opportunity to purchase a 'meals package' that works out at just £2.05 per meal or £43 per week.
This includes breakfast, lunch and evening meal – even on your days off! There's always a fresh salad bar option as well as soup and a cooked main course, dessert, fresh fruit and hot drinks.
Apprentices whilst on the Apprenticeship Programme can take advantage of this food offering free of charge.

Staff Package Overseas
Our competitive, industry-leading overseas staff package is comparable to our UK staff package and complies with the appropriate employment legislation in the country where the role is based.
Job Search
Get in Touch
Call us on 033 33 212 123
Shortcuts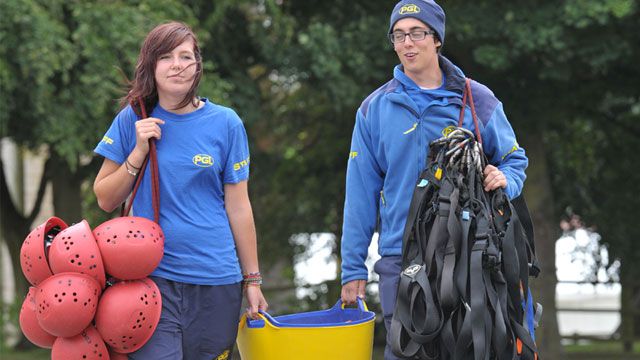 Key PGL Facts
Need more convincing to apply? Surely not, but if so – here are a few 'must know' key facts:
we employ over 3,000 people every year
over 400,000 guests visit a PGL centre every year
we are experienced! We have been providing activity holidays since 1957, thats 60 years!
we have the most competitive staff package
we are the employer of choice within the outdoor activity industry!
E-newsletter
Be the first to know about job opportunities and recruitment news.


"I have had an amazing season on the Watersports team. I have learned lots and would recommend anyone to do a season on the water."
Duncan, Watersports Instructor, Osmington Bay