Careers shows and exhibitions
come and meet us
Come and see us...
The PGL Recruitment Team spend quite a bit of time out and about at various careers shows and exhibitions to meet people face to face and answer any questions they may have regarding job opportunities with PGL. From national events such as The Outdoor Show to regional careers fairs - we do our best to make sure we are on hand for you to talk to and we look forward to meeting you at one of the following events:
PGL will be attending a number of National Sports Roadshows which offer 16-18 year olds and university students the chance to gain advice from leading sports and outdoor providers
2014 Dates
15 December (Winchester University)
2015 Dates
30 January (Leeds Becketts University)
05 February (Liverpool John Moores University)
12 February (University of Lincoln)
27 February (University of Central Lancashire)
11 November 2014 World of Jobs – North & Mid Wales Glyndwr University, Wrexham 10am – 3pm
12 November 2014 Shuttleworth College (for existing college students only)
19 November 2014 The Summer Camp Fair at Surrey University
Whether you're passionate about travelling, photography, climbing, watersports, exploring the British countryside or you're in the market for some new gear – you're sure to find everything you need and have a great day at the 2015 Telegraph Outdoors and Adventure Show. PGL are sponsoring The Careers Hub with informative speakers and free careers advice.
12-15 February 2015 Telegraph Outdoors and Adventure Travel Show, ExCel Centre, London
PGL will once again headline sponsors of this show piece kayaking event - which sees over 850 student paddles battle it out in various categories. Be sure not to miss the legendary parties in the evenings!
6-8 March 2015 National Student Rodeo, National Watersports Centre, Holme Pierrepont, Nottingham
If your job role involves providing careers support and advice then you may want to come and see how PGL can help support you and your job seekers. PGL will be attending the National Career Guidance Shows designed for career guidance professionals to network, learn and meet like minded colleagues; gain valuable insights and CPD at seminars delivered by industry experts, Government agencies, examination bodies, charities and educational establishments.
04 March 2015 Olympia, London
11 March 2015 Leicester City Football Stadium
Job Search
Get in Touch
Call us on 0844 3710 123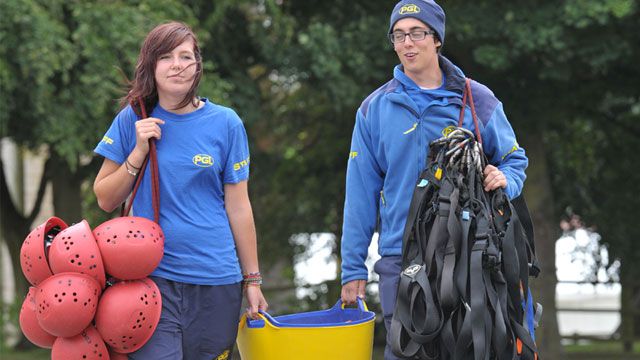 Key PGL Facts
Need more convincing to apply? Surely not, but if so – here are a few 'must know' key facts:
we employ over 3,000 people every year
over 400,000 guests visit a PGL centre every year
we are old! We have been providing activity holidays since 1957 (almost 60 years)
we have the most competitive staff package
we are the employer of choice within the outdoor activity industry!
E-newsletter
Be the first to know about job opportunities and recruitment news.