Introductory Adventure 1 night at tregoyd house
A unique 2 day, 'first taste' of all the exciting benefits of a PGL holiday
Our 'Introductory Adventure' breaks have been specially created for children who haven't been to PGL before, to give them a unique 'first taste' of all the exciting benefits a PGL holiday can offer.
An 'Introductory Adventure' is a great choice if you have never been to a PGL centre before and want to 'test the water' with a short trip that is great value for money. You can discover what you enjoy most, what you are good at and challenge yourself, all day, every day. There are so many activities, we know that it's impossible to fit them all into one holiday – but you won't mind because you will be raring to come back and try the rest! In fact, in the meantime, we will have probably added some more to the list!
And if that isn't tempting enough, if you book an introductory holiday and then book a regular four or seven night Multi Activity holiday in the same year we'll refund the cost of your introductory holiday!
Their wings already exist, all they have to do is fly...
Are you a 'first-time' PGL parent?
Take a look our short video for parents to see what it's all about
Scroll down to the bottom of the page to see the latest availability, prices and to book.
Book 3 children on an 'Introductory Adventure' and pay for just 2 - call us for more details.
Every day is different
We offer over 50 different activities across all our centres and we pack in as many as possible on every PGL Adventure Holiday. Please note that not all activities are available at all centres; please see the specific centre pages for more information.
Evening activities
The fun doesn't stop there! We also include fun-packed evening entertainment programmes at all our centres, every day, all year round, whichever holiday you choose.

Select an activity for a full description
In the gardens and grounds of Tregoyd there are the challenge courses, an abseil/climbing tower, trapeze, Jacob's ladder, rifle range and an archery field. Down the road next to PGL Llwyn Filly is 'The Puddle', our very own lake where you take part in watersports including kayaking and raft building.
Mad about horses? Well you're in the right place! Tregoyd House is our premier riding centre. If you would like a whole holiday dedicated just to riding, try our Pro holiday for intermediate and advanced riders. Or if you're more of a beginner why not try our 'half and half' option, combining all things horsey with many our legendary multi activities. So whether you're a complete beginner or an experienced rider, we've the perfect adventure holiday for you.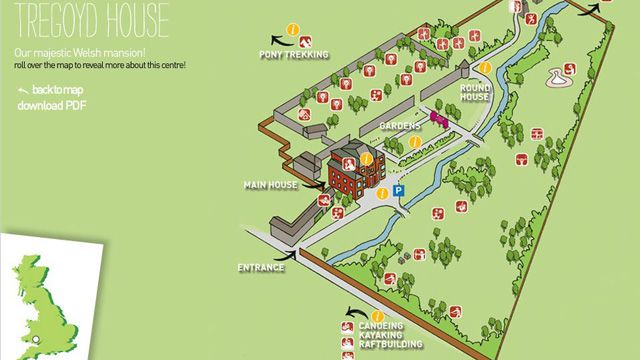 View our interactive map of Tregoyd House (requires flash)
Sample day on a Introductory Adventure holiday
Schedule
Activity
Breakfast
Off to the dining room with the rest of your group to fuel up for the day, you'll need plenty of energy to keep you going. Breakfast includes cereals, toast, yogurts, porridge, and cooked breakfast – you choose!
Don't forget to refill your drinks bottle before you head off to your first activity
Morning Activities
Nature Trail and Jacob's Ladder
Lunch
Worked up an appetite? Great – it's time to replenish your energy stores with the dining room. If you have energy to spare after lunch your Group Leader will always be ready for a quick kickabout with a ball or you could relax and chat with your new friends.
Afternoon Activities
Giant Swing and Canoeing
Dinner
Time to eat again – a different menu each day (and did we mention, often evening meals come with a hot pudding too – or you can stick with fruit if you prefer).
Evening Ents
Talent shows, campfires, quizzes and much more – your evening entertainment programme gives you the chance to get together with everyone else in your age group and have some laughs.
Bedtime
Bedtime. The younger ones go first whilst older groups have time to chill out and chat or watch a DVD. Then it's lights out and time to sleep ready to do it all over again tomorrow!
Please note this is a sample itinerary for illustrative purposes only. Itineraries will be planned by the centre shortly before your arrival.

At Tregoyd, all the accommodation is in the mansion house. It's in multi-bedded rooms with bunk beds, so you will easily make friends. Showers and toilets are located close to the rooms. (Please note that guests on our Horse Riding and Trekking holidays may be accommodated together in multi-bedded rooms at PGL Llwyn Filly, our homely, self contained farmhouse 'annexe', just one mile down the road from Tregoyd).
Our 2017 holidays will be available to view online and book from Tuesday 22nd November, so there is not long to wait!
You can search and book your 2016 Adventure Holiday online. All you need to do is click on the link below and choose the search options to find the perfect fit for you and your child.