gästehaus schluga, gerlitzen
Skiing - sold out for 2017
Spend February Half Term in style on the slopes in Austria
What's it all about?
Whether it's your first time on the slopes or you are looking to improve your skills, you'll have a ball at our winter resort. This holiday is the perfect winter escape to have fun and make loads of new mates.
Do I need experience?
No, it's suitable for beginners and those who have skied before. When you arrive you will be split into groups of similar ability and experience. All instruction is by qualified instructors. Skiers have 5 hours of instruction a day.
Can I ski on my own?
No, no matter how good you are safety always comes first and no guest will be allowed to ski unsupervised.
Do I need equipment?
Yes, you will need normal ski clothing (jacket, trousers, gloves, goggles etc) and we will send a kit list before you travel. We provide boots and skis.
What about après-ski?
It's as important as time out on the slopes. We'll make sure that you get to know everybody in the group and something is arranged each night including excursions to the local bowling alley or ice rink.
Scroll down to the bottom of the page to see the latest availability, prices and to book.
Supplements for regional transfers may apply.
Every day is different
Alongside Skiing and Snowboarding the PGL Courier's will provide a fun-packed evening programme each day. These may include a trip to watch an ice hockey game, a visit to the ice rink and various in-house activities.
Select an activity for a full description
The dining area can be used in the evening by groups for evening activities. There is also a bar and TV/DVD.
The village itself has a small number of shops and bars / restaurants and a couple of supermarkets as well as a cinema and a large indoor ice stadium. The larger town of Villach is not far from here and worth an evening visit.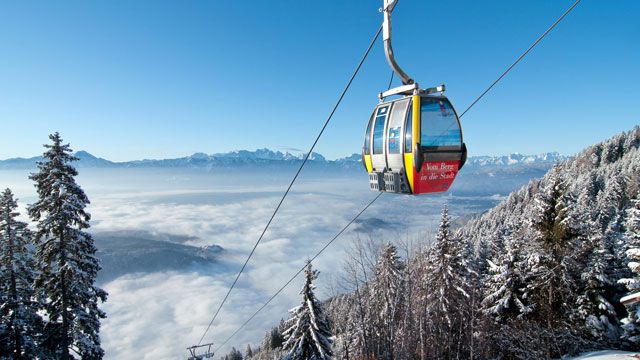 Sample day on a 9 day Skiing Holiday

| Sessions | Activities |
| --- | --- |
| Wake up | Your courier will wake you up so that you can get up and get ready for the day ahead. |
| Breakfast | Off to the dining room with the rest of your group to fuel up for the day, you'll need plenty of energy to keep you going on the slopes! Breakfast includes a good range of nutritious options, so there's something for everyone to enjoy. |
| Lesson 1 | Travel by coach to the slopes ready for your full day of ski ahead. Your courier will help you fit all of your ski equipment safely before your morning of ski instruction. |
| Lunch | Worked up an appetite? Great – it's time to replenish your energy stores! Enjoy lunch on the mountain and pause to relax with your new friends whilst taking in all of the beautiful scenery. |
| Lesson 2 | Feeling a little more confident? During lesson 2 you will progress and start to learn new tricks on the slopes, all under the supervision of the fully trained instructors. |
| Dinner | After completing your ski lessons you will take the coach back to the hotel and get ready for your evening meal. Each evening there will be a hearty three course meal. |
| Après-ski | Take a trip to the local bowling alley for some downtime with your friends! |
| Bedtime | Bedtime. After the action packed day it's lights out and time to sleep ready to do it all over again tomorrow! |
Please note this is a sample itinerary for illustrative purposes only. Itineraries will be planned by the resort shortly before your arrival.
The hotel is a good quality 3-star hotel and has a total of 80 beds.
The accommodation is mainly in 4 bedded rooms.
All rooms are light and modern with full en suite facilities and TVs.
Please see below for holidays available to book online today. Choose your selection and add it straight into your basket. If no results are shown, please call us to check current availability.
At PGL we have amazing offers and deals that are just too good to miss!
Shortcuts