Join the team at Château de Grande Romaine
Paris
Enjoy all that Paris has to offer, all year round!
Previously a three star hotel and the base for The Brazilian World Cup team in the 1998 tournament, PGL's flagship centre in France is an impressive building to say the least. Set in 70 acres of private grounds, Château de Grande Romaine employs over 40 members of staff for almost 12 months of the year.
As a Tour Leader you will spend your working days in Paris and leading excursions to other famous French attractions and whilst working in any other role on centre - you can do the same on your days off. With organised staff entertainment, sports clubs and social events there is always something for everyone to do!
Great for: Improving your language skills, spending your days off in Paris, sports clubs, Footballers (the annual PGL 'Le Tournoi' is held here every year) and visiting Disneyland Paris and other tourist attractions
Season: All year round; January - December
Number of guests: 510 (10-18 years old, Schools, Families and Unaccompanied children)
Number of staff : 44
Accommodation style: Staff accommodation is mainly in twin rooms with en-suite showers.
Staff facilities at Château de Grande Romaine include:
Outdoor heated swimming pool, open from May - September
Indoor bar + Pool bar
Basketball courts, Boules pitches, Cinema room, Full size football pitch, Gym, Tennis, Volleyball
Wi-Fi available for staff in communal areas
Staff laundry facilities
Staff room
Onsite:
Abseiling
Archery
Climbing wall
Initiative exercises
Low ropes course
Orienteering
Trapeze
Zip wire
Off-site Excursions:
The Louvre
Eiffel Tower
Arc de Triomphe
Notre Dame
Montmartre
Bastille area
Disneyland Paris
Local French market
Château de Grande Romaine is in the French town of Lesigny which has been the set for many films and adverts. The château is set in 70 acres of private grounds which you can explore until your heart is content on foot or bike. Practise your language skills in the local shops and towns or jump on a train and head into Paris. With Paris just 20 miles from the centre you can spend your days off enjoying a coffee in a Parisian café or exploring all that Paris has to offer including the Eiffel Tower, the Louvre, Notre Dame Cathedral, Sacre Coeur and Montmartre and Musee d'Orsay. You can even spend the day at Disneyland Paris.
Our flagship centre in France. Great for educational tours, land-based activities and family holidays; just 20 miles from Paris.
The Château was the base for the Brazilian football team during the World Cup in 1998
Also the base for many other famous European football teams
Home of the famous PGL 'Le Tournoi' annual football tournament
Job Search

Get in Touch
Call us on 033 33 212 123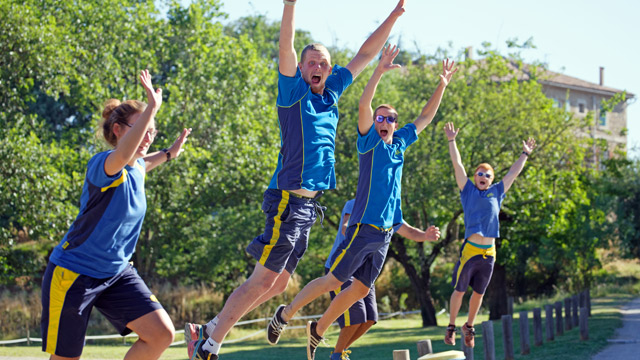 Key PGL Facts
Need more convincing to apply? Surely not, but if so – here are a few 'must know' key facts:
we employ over 3,000 people every year
over 400,000 guests visit a PGL centre every year
we are experienced! We have been providing activity holidays since 1957, more than 60 years!
we have the most competitive staff package
we are the employer of choice within the outdoor activity industry!
Connect with us
Stay up to date with PGL job opportunities.