Join the team at Château d'Ebblinghem
Nord pas de Calais
Get ready to totally immerse yourself in French culture and heritage.
Surrounded by stunning French countryside Château d'Ebblinghem is a great base for exploring and developing your French language skills. If you already speak French fluently then you will have no problem hopping on and off trains to St Omer, Calais, Lille and even Paris and if your French language skills needs a bit of practice then don't worry - there are plenty of fluent French speakers on centre to help you out!
As Château d'Ebblinghem is a NST centre specialising in educational visits you will be wearing red instead of blue but don't worry - you'll still have the time of your life and make friendships that will last a lifetime!
Great for: Exploring Northern France and developing your language skills with great transport links, The centre is only 45 minutes from Belgium and Lille, visiting the Christmas Markets in Lille, Bruges and Ypres and immersing yourself in French culture
Season: January - December
Number of guests: 270 aged 11-16 (School groups)
Number of staff: 28
Accommodation style: All staff are accommodated in twin en-suite rooms within the staff accommodation block.
Staff facilities at Château d'Ebblinghem include:
Staff room with TV and DVD player, including Freeview
On-site bar and games room
Various sports facilities including floodlit football pitches, volleyball court and boules area
Laundry facilities
Gym equipment
Bikes for staff use to explore the local area
Wi-Fi available for staff in communal areas
The Château hosts specialist educational history excursions to the local area, including Battlefields and cemeteries of World War I, the Somme and Ypres Salient and French cultural excursions including local markets including Christmas Markets, boulangeries, snail farms and cheese farms.
Just outside the French town of Ebblinghem in the Nord Pas de Calais region the Château is set in four hectares of private grounds surrounded by countryside. If you don't fancy spending your day off snuggled up in front of the TV in the staff room then there is plenty to keep you busy. Located between Hazebrouck and St Omer (approx 10 minutes drive) Hazebrouck offers great transport links to Lille and Paris. Now we all know what wonders Paris has to offer but Lille is a focal city of northern France and a popular tourist destination with shops, cafes and restaurants. There are also great cycle tracks from the centre if you are feeling energetic.
Here's a few things you probably didn't know about Château d'Ebblinghem:
Château d'Ebblinghem is a 19th century Château originally built as a hunting pavilion
British Regiments stayed at the Château and in the grounds during WW1
The Prince of Wales also visited the Château during WW1
Before being bought by NST, Château d'Ebblinghem was a family house and restaurant
It is the only existing NST centre
Staff working at Château d'Ebblinghem, whilst being employed by PGL, will deliver NST products and wear the NST uniform. NST is PGL's sister company, providing educational tours to school groups. Click here for more information
Job Search

Get in Touch
Call us on 033 33 212 123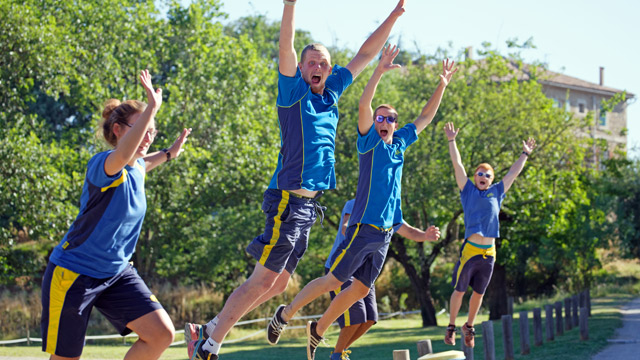 Key PGL Facts
Need more convincing to apply? Surely not, but if so – here are a few 'must know' key facts:
we employ over 3,000 people every year
over 400,000 guests visit a PGL centre every year
we are experienced! We have been providing activity holidays since 1957, more than 60 years!
we have the most competitive staff package
we are the employer of choice within the outdoor activity industry!
Connect with us
Stay up to date with PGL job opportunities.