Jobs at Château du Tertre
Normandy
Surrounded by unspoilt French countryside and the River Varrene, this is the perfect spot to explore Northern France.
Nestled in the heart of the rural Pays de Loire region, Château du Tertre is PGL's specialist French language centre with a difference. Whilst at work and on your days off you have the best of both worlds - experiencing French heritage and culture on a daily basis alongside throwing yourself into PGL's more traditional activities like abseiling and raft building.
The perfect place for perfecting your French language skills and for your much deserved days off you are only 2 hours from Paris sipping coffee in a Parisian café or relaxing on the beach in the sun.
Great for: Explore Normandy and Brittany including the D-Day beaches and Mont St Michel, developing your language skills, pursuing adventurous activities such as canoeing and climbing, joining in with local cultural and musical festivals (especially during the summer months) and Enjoying France! Due to the centre's location you can be in Paris, at the beach or at well known tourist attraction in under two hours
Season: February - October
Number of guests: 250 (8-18 years old, Schools and Families)
Number of staff: 30
Accommodation style: The majority of staff accommodation is in twin rooms within the Château with shared shower and bathroom facilities.
Staff facilities at Château du Tertre include:
On-site bar with games
Wi-Fi available for staff in communal areas
Various sports facilities – football pitch, basketball courts (indoor and outdoor), volleyball court and boules court
Non-smoking and smoking staff areas
Staff room with TV, fridge, tea and coffee making facilities
Laundry facilities
Activity bases set in 36 acres of wooded grounds, bordered by the Varenne river
Onsite activities:
Abseiling
Archery
Bushcraft
Climbing
Challenge course
Fencing
Initiative exercises
Low ropes course
Open canoeing
Orienteering
Raft building
Rifles
Team games
Trapeze
Team challenge programme
Zip wire
Off site activities:
Bayeux Tapestry
D-Day Landing Beaches
Mont St Michel Abbey
Roman Remains
Chateau de Caen
St Malo
Local markets
Located in the heart of the rural Pays de Loire region, Château du Tertre is just outside the pretty village of Ambrières-les-Vallées. There is plenty of different ways to enjoy France on your days off as the centre is only 15 minutes drive to the country town of Mayenne, 45 minutes to historic Fougères or to Laval, main town of the Mayenne region, with main-line train station on the Brittany/ Normandy borders. Throughout the summer months you can also enjoy using the public outdoor swimming pool, horse riding and mini-golf in Ambrières. For the more energetic you can hire equipment or have sailing or windsurfing lessons.
You might already know that the Château was built in the 19th century but it has many more secrets to uncover.
Château du Tertre has a magic tree - don't forget to ask about it when you arrive on centre!
The beautiful Varenne river runs past the centre grounds
The Château was occupied by the Germans during the second world war
Château du Tertre is a haven for wildlife with crows, bunny rabbits and red squirrels
There is even a bouncy castle
Job Search

Get in Touch
Call us on 033 33 212 123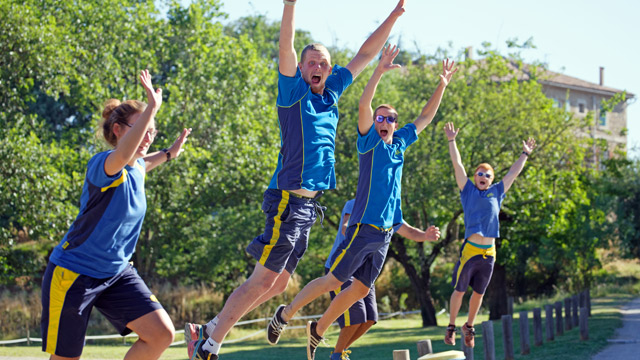 Key PGL Facts
Need more convincing to apply? Surely not, but if so – here are a few 'must know' key facts:
we employ over 3,000 people every year
over 400,000 guests visit a PGL centre every year
we are experienced! We have been providing activity holidays since 1957, more than 60 years!
we have the most competitive staff package
we are the employer of choice within the outdoor activity industry!
Connect with us
Stay up to date with PGL job opportunities.