Jobs and apprenticeships at Domaine de Segries
Ardèche
Domaine de Segries is a superb centre set in the spacious wooded grounds in Vagnas.
One of two PGL Ardèche centres, Segries balances a great centre environment with the adventure of the Ardèche river. The centre can be chaotic and full of guests one minute and relaxing the next as our guests spend a lot of time off centre making the most of the Ardèche.
If you are not joining them you can make the most of chilling out by the centres pool in your spare time. The centre is right by both Vallon Pont d'Arc and Barjac meaning it couldn't be easier to go and explore the local culture.
Great for: Climbing, Football, Mountain Biking, Swimming and Caving
Season: May - September
Guests: 300 (aged 12-18 Schools, Families, Unaccompanied children)
Staff: 90
Accommodation style: All staff accommodation is in shared large frame tents with electricity (light and power point) and separate staff shower and toilet block.

Staff facilities at Domaine de Segries include:
Outdoor swimming pool
On-site bar and shop
Disco area
Football pitch and volleyball court
Wi-Fi for staff with laptops
Phonecard payphones
Laundry facilities for staff
Archery
Canoeing (Ardèche descent)
Caving
Climbing
High Ropes
Mountain Biking
Overnight Bivouac
Aqualand Excursion

The centre is just 2 kilometres from the picturesque village of Vagnas and 7 kilometres from Vallon Pont d'Arc and Barjac. Having these locations on your door stop you will be spoilt for local shops, restaurants bars and entertainment. The local area often hosts various festivals. Also for the more adventurous there is great climbing, walking, caving and mountain biking within easy reach of the centre. Not to mention, for all those paddlers, you will be a short distance from the famous Ardèche River descent.
Segries is near to the Chauvet Cave which has the oldest Paleolithic paintings dating back to 32.000 B.C.
You will also find the Aven d'Orgnac caves near by. At over 30,000m2 it is considered one of the most spectacular caves in Europe
The region is also home to the source of Perrier
Pont D'Arc , the arch carved out by the Ardèche River is 60 m wide and 54 m high.
Pont is the French word for bridge.
Job Search

Get in Touch
Call us on 033 33 212 123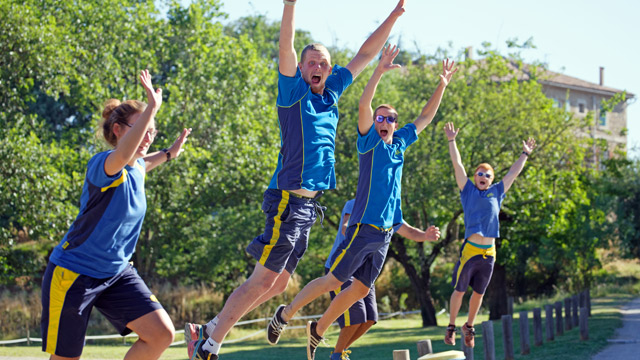 Key PGL Facts
Need more convincing to apply? Surely not, but if so – here are a few 'must know' key facts:
we employ over 3,000 people every year
over 400,000 guests visit a PGL centre every year
we are experienced! We have been providing activity holidays since 1957, more than 60 years!
we have the most competitive staff package
we are the employer of choice within the outdoor activity industry!
Connect with us
Stay up to date with PGL job opportunities.