Jobs and apprenticeships at Le Pré Catelan
Opal Coast
Backing onto forested dunes leading to 13km of unspoilt sandy beaches, lies Le Pré Catelan.
Only 50 minutes from Calais, Le Pré Catelan (nicknamed 'Hardelot' by the staff due to its location) is a little gem hidden within the forest just a 10 minute stroll from the local town from where it has earnt it's nickname. With a small team of just 14 at peak season you will get the rare opportunity to get to know everyone in your team whilst providing educational school trips mixed with land-based activities.
Who needs the South of France when you will have your very own 13km beach stretching almost as far as the eye can see on your doorstep?
Great for: Improving your French language skills, spending your days off relaxing on the 13km of unspoilt sandy beaches just 10 minutes walk from the centre, windsurfing and sailing, Trips home to see your family and friends - Calais is only 50 minutes away and exploring local sights with excursions running from centre every day
Season: March - October
Number of guests: 99 (8-13 year olds, Schools)
Number of staff: 14
Accommodation style: All staff accommodation is in shared rooms with shared toilet and shower facilities.
Staff facilities at Le Pré Catelan include:
On-site activity bases
Spacious dining room
Private gardens and grounds
Tuck shop
Laundry facilities
Staff room with Sky TV and DVD player
Wi-Fi is available in communal areas
Onsite activities:
Beach Games
Camp Craft
Capture the Flag Challenge Course
Coastal Walk
Initiative Exercises
Kite Flying
Low Level Bouldering Wall
Offsite excursions:
The Somme Battlefields
Bagatelle Theme Park
Local Markets
Chocolate Factory
Nausicaa Sealife Centre
Snail, Goat and Cheese Farms
You will never have a dull moment whilst working and living on centre at Le Pré Catelan. Only a 10 minute walk from the charming resort of Hardelot with beautiful sandy beaches providing a paradise for sun worshippers and wind sports enthusiasts. Here you can enjoy year round sailing, kite flying, canoeing, sailing and windsurfing – not to mention sand yachting! Should you ever get bored of the beach, the town centre has plentiful restaurants, brasseries and bars, not to mention 'crêperies' and there is no shortage of chic shops to potter around.
Alongside the beaches and local town to explore, Le Pré Catelan is steeped in history.
Le Pré Catelan stands 2 miles from its original setting, being moved and rebuilt brick by brick at the end of the 19th century
During World War one – Australian nurses used to go to Le Pré Catelan to relax during their time off
In the 1930's the centre was a well known café and restaurant, famous for its crêpes, trout pond and running water
Despite only being accessible from Hardelot, the building is officially situated in the neighbouring town's land
Hardelot itself was founded by an English Businessman – Sir John Whitley
Job Search

Get in Touch
Call us on 033 33 212 123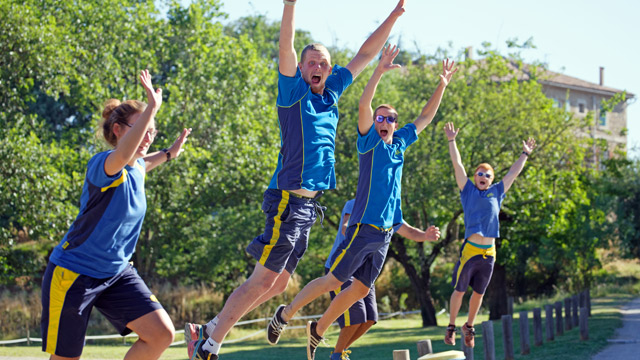 Key PGL Facts
Need more convincing to apply? Surely not, but if so – here are a few 'must know' key facts:
we employ over 3,000 people every year
over 400,000 guests visit a PGL centre every year
we are experienced! We have been providing activity holidays since 1957, more than 60 years!
we have the most competitive staff package
we are the employer of choice within the outdoor activity industry!
Connect with us
Stay up to date with PGL job opportunities.