Jobs and apprenticeships at Lou Valagran
Ardèche
Who doesn't want to live on a riverbank in the South of France?
Lou Valagran is found on the bank of the River Cèze, with a private riverside beach and close to the famous Ardeche gorge. A playground for paddlers! You can literally be out of your room and in the river in less than 2 minutes. The centre and staff accommodation is built into the surrounding woodland giving it a wild and natural feel. The atmosphere in the staff areas is very relaxed.
Staff enjoy socialising in 'The Manger' Lou Valagran's own staff social area where on most nights you will find the majority of staff after work.
Great for: Paddling, sun, climbing, cycling and vineyards
Season: May - September
Guests: 150 (aged 11 - 18 Schools and Families)
Staff: 40
Accommodation style: All staff are accommodated in twin chalets with electricity (light and power point) within the staff village with shared toilets and showers.

Staff facilities at Lou Valagran include:
On-site bar and shop
Wi-Fi
Staff social area
Phonecard payphones
Laundry facilities for staff
Basketball Court
On-Site:
Abseiling
Archery
Climbing
Initiative Exercises
Jacob's Ladder
Kayaking
Raft Building
Vertical Play Pen
Off-Site:
Canoeing (2 day Ardèche descent with overnight bivouac)
Hannibal Trek
Mountain Biking
Excursions include Pont du Gard (Roman viaduct)
Grotte Chauvet (pre-historic cave museum)
Spectacular Orgnac Caves
Decathlon
Aigues Mortes and Le Grau de Roi (historic town and beach resort)
Historic cities of Nimes and Avignon
Whether you are adventurous or relaxed Lou Valagran is fantastic location. The local area boasts a variety of activities – canyoning, climbing, Via Ferrata, canoeing, kayaking, mountain biking and walking routes.For more relaxed times, Goudargues is the nearest village and is a 45 minute walk through the local vineyards that border the centre, with plenty of cafes shaded by trees on the side of the canal that runs through the centre. The tourist capital of the Ardèche Gorge, Vallon Pont d'Arc, is 25 minutes from the centre. Fantastic transport links make the cities of Avignon and Nimes easily accessible. Both with plenty to do and see you will be spoilt for choice.
Lou Valagran is a privately owned riverside site exclusive to PGL with a beach that is the focal point for many activities that take place at the centre, and also a great location to relax by!
Located a stone's throw from the river Ceze which you can "womble" down
25 minutes drive away from Pont Du Gard which is featured on the 5 Euro note
Surrounded by vineyards, and its only 45 minute walk to the nearest town Goudarges, which has a yearly water festival!
Located close to Cascade du Ray-Pic - a famous natural rock and waterfall formation
The region is also home to the source of Perrier

Job Search

Get in Touch
Call us on 033 33 212 123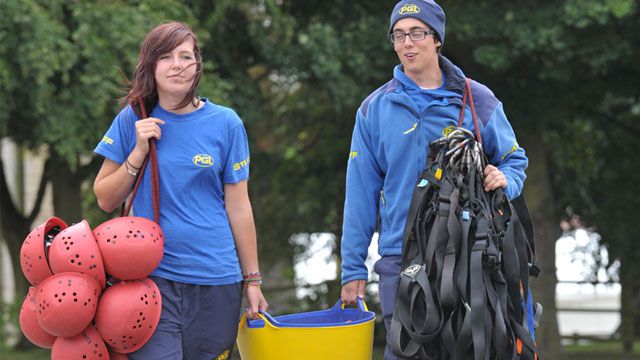 Key PGL Facts
Need more convincing to apply? Surely not, but if so – here are a few 'must know' key facts:
we employ over 3,000 people every year
over 400,000 guests visit a PGL centre every year
we are experienced! We have been providing activity holidays since 1957, more than 60 years!
we have the most competitive staff package
we are the employer of choice within the outdoor activity industry!
Connect with us
Stay up to date with PGL job opportunities.