Jobs and apprenticeships at Mimosa
Languedoc coast
With its direct access to the beach and the glorious Mediterranean Sea is an ideal place to spend the season working.
Mimosa is situated right on the Med. A short walk from the back of the centre and you will hit the Languedoc coast. This RYA approved and BCU recognised teaching centre gives staff the opportunity to brush up on their watersports skills, in their time off, or just relax on the beach.
Mimosa is just outside the holiday resort of Valras Plage which gives staff the chance to get off centre and soak up some of the local atmosphere.
Great for: Watersports, beaches, food and wine, shops and markets and local music
Season: May - September
Guests: 300 (aged 12-18 Schools, Unaccompanied children)
Staff: 85
Accommodation style: All staff are accommodated in shared, large frame tents with electricity (light and power point) and communal showers and toilets are close-by.
Staff facilities at Mimosa include:
Bar and terrace
Laundry facilities for staff
Phonecard payphones
Wi-Fi for staff with laptops
Staff room Outdoor entertainment area with table tennis and volleyball court
Abseiling
Archery
Climbing
Raft Building
Banana Boat
Sailing Catamarans and Dinghies (Funboats, Picos and Fevas)
Sit-on-Kayaks
Snorkelling
Situated just outside the holiday resort of Valras Plage, PGL Mimosa has an idyllic seafront location. The centre has direct access to a long, open and uncrowded section of the beautiful Languedoc Coast. The local area has a laid back holiday feel about it making Mimosa a really vibrant place to live and work. The centre is a stones throw away from Béziers where in the day you will find various restaurants, shops and markets selling local produce. By night, Béziers has everything you need for a night off including lively bars playing various types of music.
The site was once divided into two halves, each having separate dining facilities and staff teams, each called East and West Mimosa, staff accommodation areas are still referred to as East & West.
Located only 30 minutes from the city of Beziers, home to music festivals in the summer and a successful rugby team in the winter
Mussel & Oyster farms in the surrounding étangs are one of the largest sources of income for local people
Medieval city of Carcassonne is one hour away and was the setting of the film Robin Hood: Prince of Thieves
It's surrounded by protected marsh land, which is home to a multitude of wildlife
Job Search

Get in Touch
Call us on 033 33 212 123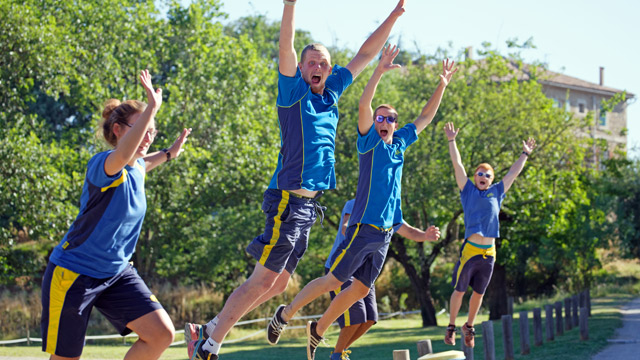 Key PGL Facts
Need more convincing to apply? Surely not, but if so – here are a few 'must know' key facts:
we employ over 3,000 people every year
over 400,000 guests visit a PGL centre every year
we are experienced! We have been providing activity holidays since 1957, more than 60 years!
we have the most competitive staff package
we are the employer of choice within the outdoor activity industry!
Connect with us
Stay up to date with PGL job opportunities.