Next steps
useful information for overseas applicants
Useful information for overseas applicants
We actively encourage applications from overseas nationals as we value the importance of having a cosmopolitan staff team, and believe this brings a positive energy and environment for both our staff and guests.
This is an excellent opportunity for people who would like to work in Britain, establish a base, meet new contacts, consolidate their experience and even improve your English, if it's not your first language.
With many interesting locations and challenging vacancies, PGL brings a range of like-minded people together from different nationalities and backgrounds. Many of our staff stay in touch and meet up or visit each other long after they've worked together.
Work Visas or Permits for non-EU Nationals
To work for PGL you must have an appropriate work visa/permit. Your visa or work permit may not allow us to offer you a position outside of the UK.
We are unable to apply for a work visa/permit on behalf of an applicant.
Please obtain your work visa/permit prior to applying to PGL and either upload a copy to your application form or post a photocopy to PGL Recruitment Team, PGL Travel Ltd, Alton Court, Penyard Lane, Ross-on-Wye, Herefordshire, HR9 5GL. Alternatively you can fax us the original on + 44 1989 767760 or email a scan as an attachment to recruitment@pgl.co.uk.
You will need to produce your original document on arrival at your centre or training venue so please bring this with you.

If you are unable to obtain your work visa/permit prior to applying, you can still complete and submit your application form to us, and tick the box that asks 'Are you in the process of applying for a work visa/ permit?'
However, we do not offer employment until we have seen your work visa/permit.
A scanned copy of this is sufficient, but you will need to produce your original document on arrival at your centre or training venue.
You will also need to obtain a Certificate of Good Conduct/Police Check from your local police station prior to applying to work for us. This shows your suitability to work with children. Small, irrelevant misdemeanours, such as minor traffic offences, are unlikely to affect your application.
Click this link for more info on how to get a Police Check Certificate in your own country.
Nationals of EEC countries have the right to work in any other member states. All you have to do is ensure that you register with the UK National Insurance Contributions Agency. Here, you will be issued with a National Insurance Number that will entitle you to the same medical cover as a UK citizen.
Citizens of A8 European countries are also entitled to work for us, but need to register. Nationals of A2 European countries need worker authorisation.
Nationals of Commonwealth Countries can usually gain entry into the UK on a two year Youth Mobility Visa/Tier 5, however at the moment; only Australia, New Zealand, Canada (and Japan) are registered for the Youth Mobility Scheme.
You must apply for this visa in your home country. It can take anywhere between four to eight weeks to process but most will be processed within six weeks. This visa will allow you to spend two years working full time in the UK under no obligation.
This visa was introduced in November 2008. Your visa application will more than likely will be dependent on certain criteria (age, bank balance, passport etc).
You can find more information from you local High Commissioner's office or from www.gov.uk/government/organisations/uk-visas-and-immigration
Outside of the EEC or Commonwealth – you can usually only work in the UK if you have UK-born grandparents or parents. If you are in doubt visit www.gov.uk/government/organisations/uk-visas-and-immigration for more info.
If you have lived outside of the UK for a period of six months or more within the past five years, you will need to obtain an Overseas Police Check Certificate or Certificate of Good Conduct from the local police station where you have been living.
This also applies to any UK citizens who have lived and worked outside of the UK for a period of six months or more.
You don't have to do this straight away, only If you are offered a position with PGL you will need to have applied for this (and be able to show proof that you have applied) before you can start work. These need to be dated within 3 months of your start date with PGL, or the date you left the country if you are no longer resident there.
If you are currently working in another country which you are not a national of, we advise you to apply for/obtain an Overseas Police Check/Certificate of Good Conduct just before you leave the country as these can be harder to get once you're no longer in the area.
Find out about Overseas Police Checks/Certificates of Good Conduct within your own country>

Job Search

Get in Touch
Call us on 033 33 212 123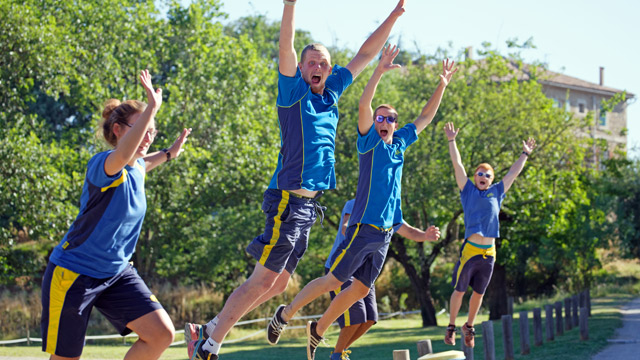 Key PGL Facts
Need more convincing to apply? Surely not, but if so – here are a few 'must know' key facts:
we employ over 3,000 people every year
over 400,000 guests visit a PGL centre every year
we are experienced! We have been providing activity holidays since 1957, more than 60 years!
we have the most competitive staff package
we are the employer of choice within the outdoor activity industry!
Connect with us
Stay up to date with PGL job opportunities.