Next steps
application top tips
Top Tips
We receive lots of applications every year from people wanting to work with PGL. To help yours stand out our Recruitment Officers have put together some 'Top Tips for Applying' to help you submit a great application:
1. Referees
The majority of applications that fail the initial sifting stage are mainly as a result of missing or incorrect referee details. It is vital that you supply the names and addresses of three people who can act as referees (teachers, ex/current employers, tutors). If you can also provide email addresses and telephone numbers for your referees, this will increase our chance of being able to contact them swiftly. Please note we are unable to accept references with non-professional email addresses, e.g. Hotmail, Yahoo, Gmail, AOL etc.
2. Qualifications
If you are applying for a particular role where an NGB qualification is needed (such as a Sailing Instructor), then you must ensure that you send/upload a copy of your certificates with your application. You can upload these to your application, post them directly to the Recruitment Department or scan them and email them as an attachment. If we do not see proof of your qualifications, then we will be unable to offer you a suitable job role.
3. Sell, sell, sell
Your application form is your shop window. You need to ensure that you tell us about all the things you are proud of, the achievements you've had and the experiences you've had. Many people don't take the time needed to really sell themselves and their skills. Remember, we're interested in any other similar work that you've done such as volunteering at youth groups or scouts, taking on responsibility at school or part-time jobs.
4. Try to be flexible about the role and location
Wherever possible we place people to the job which best matches their skills at the centre of their choice. However, this isn't always possible so if you are happy to be considered for an alternative role or location, please ensure this is clearly marked on your application form. This will significantly increase your chance of being offered a role with PGL.
5. Know your dates
The other main reason for applications being rejected is unsuitable availability dates. It is vital that you are as specific as possible about when you can start work and how long you can work for. A couple of weeks' difference either side could make a huge difference.
6. Don't miss out apply today
We have plenty of jobs available each year with PGL but to give yourself the best chance of getting your preferred role and centre aim to complete your application as early as possible.
Job Search

Get in Touch
Call us on 033 33 212 123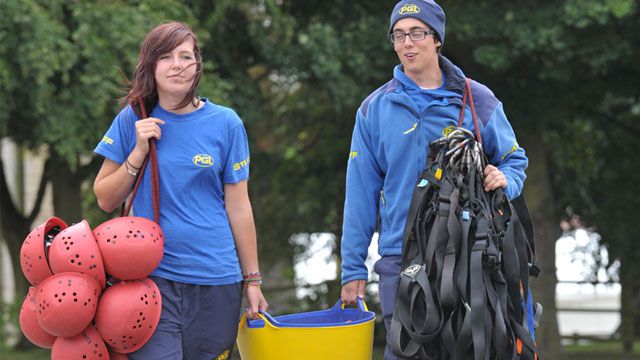 Key PGL Facts
Need more convincing to apply? Surely not, but if so – here are a few 'must know' key facts:
we employ over 3,000 people every year
over 400,000 guests visit a PGL centre every year
we are experienced! We have been providing activity holidays since 1957, more than 60 years!
we have the most competitive staff package
we are the employer of choice within the outdoor activity industry!