You've found it!
This is the best job in the world...
Working as an Activity Instructor / Group Leader in the UK
If working in the outdoors is the adventure you've been dreaming of, welcome to PGL! Our Activity Instructor / Group Leaders are the all-action superheroes to our young guests, the pillars of trust for our party leaders and parents, and the face of PGL. You'll be leading activities, organising entertainment, and ensuring your group has a great stay with us. Being an Activity Instructor / Group Leader is a fantastic chance to share your love of sports and the outdoors, to discover new interests, to make new friends, to learn new skills, and to enjoy a lifestyle and an experience which will enrich your life forever.
Earn up to £22,995 (pro rata) per year
Full time position
Progression opportunities available
What sets apart our Activity Instructor / Group Leaders is their enthusiasm, their willingness to learn and their energy. You might be helping kids overcome their fears in the morning, guiding them to solve initiative puzzles in the afternoon, and then singing around the camp fire in the evening. It is a million miles away from the suited and booted 9 to 5. It's exciting. It's life changing. It's fun. However, it's also challenging, it's a position of responsibility, it's sometimes tiring, and it can be hectic. But the reason that the Activity Instructor / Group Leader role is the most popular with PGL – it's worth it!
No qualifications are required for the Activity Instructor / Group Leader role as we offer a comprehensive training course to give you the skills, expertise and confidence to do your job. However, we look for applications from people who can demonstrate the following:
Energy, enthusiasm and the ability to relate to young people.
Experience that you have gained working with young people, whether it's volunteering with a local youth group or paid employment.
Good organisation and effective communication skills.
A commitment to delivering exceptional customer service.
Our Activity Instructor introduce guests to a variety of outdoor activities, from quad biking and fencing to climbing and initiative exercises. You will deliver these sessions safely and ensure our guests have an enjoyable experience. As a Group Leader you will take care of the pastoral care side of a groups visit, find yourself organising evening entertainment and liaising with visiting teachers and party leaders
The Activity Instructor/Group Leader role combines these two roles enabling you to broaden your own experience and develop numerous transferable skills. You will find yourself delivering both roles but will be able to spend more time in one role depending on where your skills lie. Activity Instructor/Group Leaders based in northern France will learn some basic French phrases, as part of your initial training, to use in conversation with our guests.
In your role as an Activity Instructor or Group Leader, you'll work full time up to six days a week, earning up to £1,916 a month.
PGL provide and fund a variety of excellent training and qualifications opportunities, allowing you to develop your career and expand your possibilities. Your uniform is also provided for you, and we offer a 20% discount to all colleagues in our on-site stores.
In addition, we have optional accommodation and meals packages that allow you to benefit even more from your PGL experience.
Our fabulous on-site accommodation will allow you to save whilst letting you make the most of frequent staff social events, including sports clubs, games groups and karaoke nights. With all bills and utilities covered, you'll still earn up to £318 a week.
Our meals package will provide you with three nutritional meals every day for only £46.00 a week. We can cater to all dietary requirements, and have daily breakfast, lunch and dinner options available alongside a diverse salad bar. As part of the meals package centres will also offer special themed meals at select points during the year.
Job Search

Get in Touch
Call us on 033 33 212 123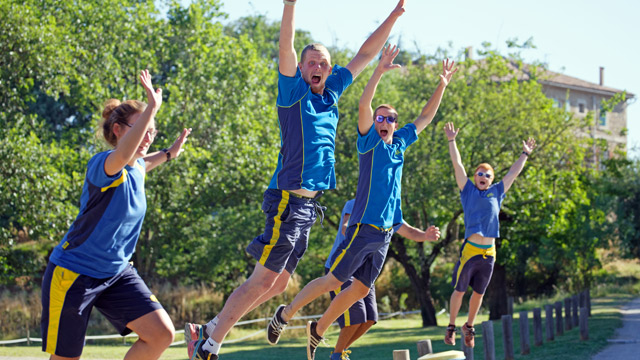 Key PGL Facts
Need more convincing to apply? Surely not, but if so – here are a few 'must know' key facts:
we employ over 3,000 people every year
over 400,000 guests visit a PGL centre every year
we are experienced! We have been providing activity holidays since 1957, more than 60 years!
we have the most competitive staff package
we are the employer of choice within the outdoor activity industry!
Connect with us
Stay up to date with PGL job opportunities.


"PGL has been an amazing opportunity for me to learn, work and make friends. I love working with PGL and I have already applied for next year."
James, AI/GL, Beam House