Working as an Administrator
Our Administrators ensure our centres run like clockwork
As one of our 'admins' you will play a key part in the overall organisation of centre life for both guests and PGL staff. We have vacancies for organised multi-taskers to join our senior teams and oversee the office administration at each of our centres. Our Centre Administrators are vital for the day-to-day smooth functioning of the centre office.
If you are looking for a broad role, then the role of administrator will give you exposure to many different sides of the business. On some centres this is treated as a senior position and may include other duties such as duty manager; therefore experience in a position of responsibility would be useful. Preference will be given to people who can work the full season for this role.
We're looking for people with plenty of energy and a proven track record of successful office work experience. Good computer skills are desirable as most of your work will revolve around the PC.
No formal qualifications are required for this role as we offer comprehensive training to give you the skills, expertise and confidence to do your job. However, in order to work as an Admin in France it is essential that you are a confident French speaker.
Helping with the centre accounts, liaison with local suppliers and helping to run the centre office, you will provide admin support to your centre manager and senior team. This could involve time sheets, petty cash, basic HR admin and purchase ordering.
Part of this role may involve administering first aid to guests and staff however if required, you will attend a First Aid at Work course prior to starting your contract. At some of our smaller centres you may also be needed to take on the role of centre driver to run local errands.
When you start your job as an Administrator you will have the opportunity to gain invaluable knowledge, skills and experience whilst working towards nationally recognised qualifications, all free of charge. Previous administration experience is a bonus but is not vital. If you are new to PGL and/or have catering experience within the sector you will be enrolled onto our Administration Apprenticeship Programme.
This is delivered and assessed in the work place and is supported by a comprehensive centre induction, job specific training, workbooks, one-to-one observations with verbal and written feedback, and regular performance reviews. All of this will count towards the achievement of your administration apprenticeship.
There are a number of opportunities for you as an Administrator to extend your experience, knowledge and skills at PGL. We encourage all our employees to create and maintain a Personal Development Plan (PDP) that can be used to identify and work towards their career goals.
This is supported by our extensive range of formal and informal development opportunities. Career progression routes for Administrators include roles such as Administration Manager, Programme Manager or HR Supervisor.
Kristin Brown
I chose to come to work for PGL as I wanted the opportunity to use my degree in French and improve my language skills whilst living in France.
I was Language Representative at CDT for three years before becoming Administrator last year.
On a day to day basis I am responsible for a wide variety of tasks from liaising with French contractors and suppliers to carrying out all the centre accounting responsibilities such as purchase orders, petty cash and invoices. I am also responsible for centre HR. Every day is different which means I always have the opportunity to challenge my language skills.
On centre there are always staff events such as quizzes, parties and organised outings to take part in.
Working with PGL has not only been a great way to build my confidence but I have also made lifelong friends and had memories which I will remember for a long time.

PGL offer a competitive wage along with an industry leading food and accommodation package for residential roles.
Your wage will be dependent on a range of factors such as age, role, location, hours of work, qualifications and experience.
Find out more about the PGL package.
Job Search

Get in Touch
Call us on 033 33 212 123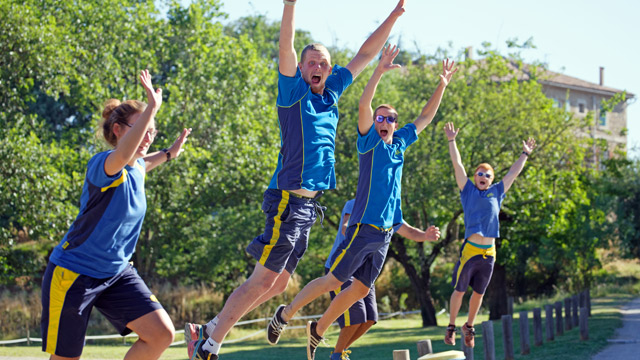 Key PGL Facts
Need more convincing to apply? Surely not, but if so – here are a few 'must know' key facts:
we employ over 3,000 people every year
over 400,000 guests visit a PGL centre every year
we are experienced! We have been providing activity holidays since 1957, more than 60 years!
we have the most competitive staff package
we are the employer of choice within the outdoor activity industry!
Connect with us
Stay up to date with PGL job opportunities.


"This was a fantastic opportunity which I will be taking lots of experiences away from. PGL's staff are amazing, helpful and friendly."
Laura, Watersports, Caythorpe Court