Be part of the adventure!
with a PGL Apprenticeship.
Fast track your career in the outdoors!
In September 2021, PGL will be launching a fantastic new Apprenticeship for Outdoor Activity Instructors. The PGL Outdoor Activity Instructor Apprenticeship delivers a comprehensive training structure and first class on-the-job training. Build on your enthusiasm for the outdoors with qualifications, skills, and knowledge to quickly develop your outdoor career. During your apprenticeship you will have access to a number of nationally recognised qualifications.
Start dates: Starting 8th September, 2021; 14 Month Apprenticeship
You will gain qualifications in watersports, land-based and off-the-ground activities and build an impressive portfolio of professional certificates. Being an Outdoor Activity Instructor is a fantastic chance to share your love of sports and the outdoors, to discover new interests, to learn new skills, and to enjoy a lifestyle and an experience which will enrich your life forever. The PGL apprenticeship provides you with a platform to continue to progress within the outdoor industry. Due to the residential element of the apprenticeship you will need to be 18 by the time you start.
Love the outdoors and have a drive to build a career in the industry? No prior outdoor qualifications are required to be eligible. If you can demonstrate energy, enthusiasm and the ability to relate to young people, we want you to apply! Experience of outdoor activities/sports environments is desirable. You will also require GCSE Maths and English, grade E or 2, or above.
Our apprenticeship give you the skills necessary to prepare and deliver activity sessions, developing techniques to engage with groups and deliver session outcomes successfully, ensuring that guests get the most out of their experience. You will also work on communication and other professional skills to ensure you are efficient and effective in your role.
Our Activity Instructors introduce guests to a variety of outdoor activities, from quad biking and fencing to climbing and canoeing. As you progress through your apprenticeship you will increase the amount of activities you are able to deliver across watersports, land and off-ground activities. You will deliver these sessions safely and ensure our guests have a first class experience.
As an apprentice with PGL, you will also be responsible for completing the required work outside of the role to support your qualifications including compiling a portfolio, attending classroom sessions, taking part in webinars and completing both theory and practical tests. All of which will be incorporated into your working day so you will continue to earn whist you learn.
During the 14 month apprenticeship you will have access to the best learning and development opportunities through a blend of face to face practical activities, classroom sessions observations, feedback and specialist webinars.
With the support of your mentor, you will obtain a long list of nationally recognised qualifications. On top of your Outdoor Activity Instructor Level 3, you will receive qualifications in watersports, first aid, delivering learning and safeguarding, to name a few.
PGL's Activity Apprenticeship is a great way to fast track your career with PGL. With over 200 Team Leader positions and 130 Head of Department positions the opportunities for progression are vast. We are looking to our Apprentice Outdoor Instructors to be the Team Leaders of tomorrow. Whilst on the apprenticeship you will have a chance to complete Group Leader training and if you remain with PGL you will have access to further specialist training, senior qualifications and PGL's on-line Leadership Academy. When you progress to a Team Leader role, PGL also runs a management apprenticeship so you can take your career even further.
During your the initial stage of the apprenticeship you will receive £161 per week. On successful completion of the winter training period, we will increase your wage to age-related National Minimum Wage for the remainder of your Apprenticeship.
As a PGL Apprentice you will also benefit from the full PGL meals package free of charge for the initial period. This includes 3 meals a day.
During your apprenticeship you will also be provided with accommodation, which will be reflected in your package.


"Loved every single minute. Thank you guys for a great start in my career."
Daniel
PGL Apprenticeship
As the largest employer in outdoor education there are many benefits to completing your apprenticeship with PGL. Here are a few:
Employment - Not only do we offer employment during your apprenticeship we can also guarantee employment upon completion.
Winter covered - 14 month continuous employment/development over the winter, not something you find with most outdoor jobs.
Progression - with over 300 senior roles in PGL, where will your working adventure take you?
Diversity - Gain experience of working with different customer groups including schools, youth groups and International students.
Explore - Take your PGL adventure to new places, including the Ardeche river, the Mediterranean Sea and even Australia.


"I enjoyed the whole experience and gained lots of knowledge about a large amount of things during my time at PGL. I am grateful for my opportunity."
Callum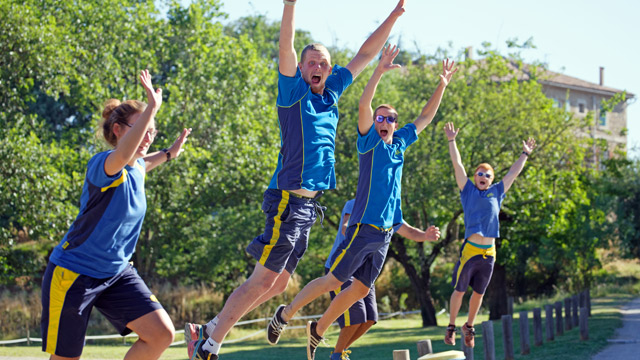 Key PGL Facts
Need more convincing to apply? Surely not, but if so – here are a few 'must know' key facts:
we employ over 3,000 people every year
over 400,000 guests visit a PGL centre every year
we are experienced! We have been providing activity holidays since 1957, more than 60 years!
we have the most competitive staff package
we are the employer of choice within the outdoor activity industry!

Get in Touch
Call us on 033 33 212 123
Connect with us
Stay up to date with PGL job opportunities.