Working as an Assistant River Leader
Put your canoeing qualifications into practice while soaking up the sun as one of PGL's Assistant River Leaders in the south of France.
As the Assistant River Leader you will support the River Leader to deliver the canoe descent either working directly with guests or at times taking on a supporting role. This position is a great opportunity for the right individual to work towards further responsibility within the season.
Our Assistant River Team Leaders work at Lou Valagran and Domaine de Segries, in southern France, and applicants must hold UKCC Level 1/Paddlesport Instructor Award, and the Moderate Water Canoe Leader Award (previously 4 star canoe).
As well as the relevant BCU/UKCC/National Governing Body qualifications, you will need to be able to work as part of a team and deliver results, and communicate effectively with others.
Assistant River Leaders will also need experience of working with children and young adults, and in delivering high levels of customer service. You will also need good organisational skills.
Assistant River Leaders assist with the supervision and leadership of river trips and canoe sessions to ensure that the activity department delivers the PGL brochure promise, within the company safety framework and legal operating requirements.
You will take responsibility for guests and staff during structured activity sessions, assist with centre specific duties associated with a residential children's activity centre, and are expected to broaden your own activity competence.
As a Assistant River Leader you will have the opportunity to gain invaluable knowledge, skills and experience. You will receive a comprehensive centre induction, job specific training, regular observations, feedback and performance reviews. You will automatically be enrolled onto our Leadership and Management Programme.
This includes a Level 3 Award in Leadership and Management. You will also be eligible to enrol onto an Advanced Apprenticeship in Management or Customer Service, which includes a number of nationally recognised qualifications, all free of charge.
There are a number of opportunities for you to extend your experience, knowledge and skills at PGL. We encourage all our employees to create and maintain a Personal Development Plan (PDP) that can be used to identify and work towards their career goals, supported by our extensive range of formal and informal development opportunities.
Some in-house and National Governing Body (NGB) coaching qualifications are also available, particularly if you return to work for us in subsequent seasons. Career progression routes for Assistant River Leaders include roles such as Head of Paddlesports, River Leader or Chief Instructor.
Samantha Revell, Lou Valagran
I joined PGL through a college placement with Kingston Maurward.
I have worked at a number of centres including Marchants Hill, Dalguise, Tregoyd and Boreatton Park as an Activity Instructor.
In my role as Assistant River Leader I assist the river leader in taking school groups on a 32km descent of the Ardeche including an overnight bivi and safely navigating the grade 2 rapids.
The most enjoyable part of the job is seeing the smile on the children's faces also living on centre is amazing.
I plan on staying with PGL for many more years working my way up and taking on more responsibility. Working with PGL is an experience.
As an Assistant River Leader with PGL you'll receive our competitive, industry-leading overseas staff package which is comparable to our UK staff package and complies with the appropriate employment legislation in the country where the role is based.
Job Search

Get in Touch
Call us on 033 33 212 123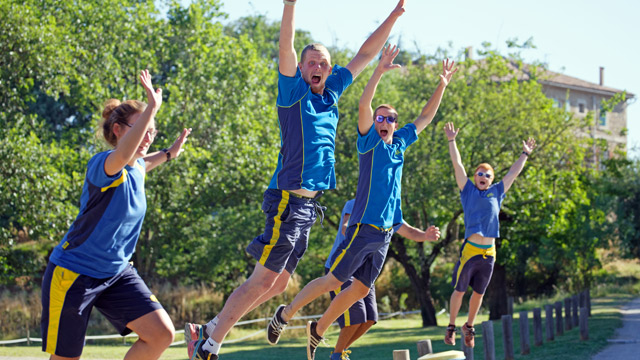 Key PGL Facts
Need more convincing to apply? Surely not, but if so – here are a few 'must know' key facts:
we employ over 3,000 people every year
over 400,000 guests visit a PGL centre every year
we are experienced! We have been providing activity holidays since 1957, more than 60 years!
we have the most competitive staff package
we are the employer of choice within the outdoor activity industry!
Connect with us
Stay up to date with PGL job opportunities.


"I worked for PGL while on my gap year and thoroughly enjoyed all aspects of PGL life, the working side and the social side. I've recommended PGL to my friends and I'm hoping to come back for another year."
Ben, Watersports, Liddington