Working as a Catering and Housekeeping Assistant
Gain Catering experience whilst diversifying your skills by taking on responsibilities of the Housekeeping department.
The role of Catering & Housekeeping Assistant represents a fantastic chance to work in catering whilst expanding your skill base. As part of your role on the Housekeeping team, you will ensure that the guests receive a great first impression on centre. You will be responsible for ensuring high customer service levels are delivered at all times while ensuring that staff and guests reside and work in a clean and presentable environment on a day to day basis.
You will be part of a Catering team that ensures our Catering facilities are professionally run operations. Duties will involve various aspects of the catering provision from food preparation to pot wash, counter service and dining room preparation; dependant on the centre. Throughout the catering delivery process you will ensure that high standards of customer service are adhered to at all times and that the guests and staff have a clean and safe environment in which to dine.
You will need to able to speak basic French and previous catering and housekeeping experience is desirable but not essential.
No formal qualifications are required for this role as we offer comprehensive training to give you the skills, expertise and confidence to do your job.
You will need to deliver high levels of food service, which will include the preparation of dining service for guests and staff, maintaining cleanliness standards throughout dining service, and ensuring adequate provision of condiments, cutlery and drinks before and throughout service. You will also provide a high level of customer service and respond to customer comments in a positive and proactive manner.
Your responsibilities for the Housekeeping team will primarily focus on ensuring that centres are kept clean and presentable, including preparing guest rooms for their arrival, including vacuuming, dusting and changing beds, and ensuring front of house and communal areas are clean and tidy on a day to day basis, and the upkeep of high standards of centre presentation and appearance.
When you start your job as a Catering/Housekeeping Assistant you will have the opportunity to gain invaluable knowledge, skills and experience whilst working towards nationally recognised qualifications, all free of charge. Previous catering or housekeeping experience is a bonus but is not vital. If you are new to PGL and/or have catering experience within the sector you will be enrolled onto our Hospitality Apprenticeship Programme.
This is delivered and assessed in the work place and is supported by a comprehensive centre induction, job specific training, workbooks, one-to-one observations with verbal and written feedback, and regular performance reviews. All of this will count towards the achievement of your hospitality apprenticeship.
There are a number of opportunities for you to extend your experience, knowledge and skills at PGL. We encourage all our employees to create and maintain a Personal Development Plan (PDP) that can be used to identify and work towards their career goals.
This is supported by our extensive range of formal and informal development opportunities. Career progression routes for Catering/Housekeeping Assistants include roles such as Dining Room Supervisor, Retail/Bar Supervisor or Assistant Chef.
John Rowling
I love the variety of this role. Every day is different and that really suits me. I've met some really nice people working for PGL and it really helps to work with good people.
I came to work for PGL as I wasn't interested in a typical office job or doing the same thing all of the time. The two different aspects of my job both present different opportunities to learn new skills and gain qualifications.
PGL is a friendly environment to work in and I want to continue with the company to see how I can progress my career.
PGL offer a competitive wage along with an industry leading food and accommodation package for residential roles.
Your wage will be dependent on a range of factors such as age, role, location, hours of work, qualifications and experience.
Find out more about the PGL package.
Job Search

Get in Touch
Call us on 033 33 212 123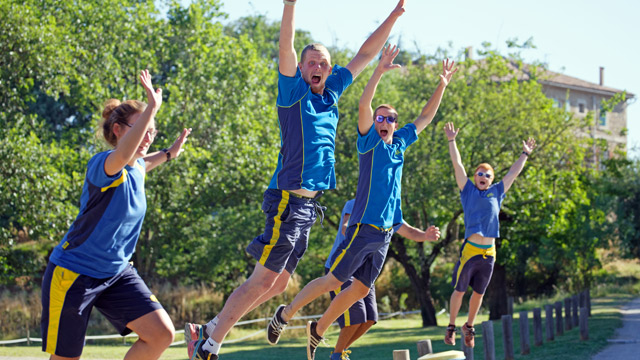 Key PGL Facts
Need more convincing to apply? Surely not, but if so – here are a few 'must know' key facts:
we employ over 3,000 people every year
over 400,000 guests visit a PGL centre every year
we are experienced! We have been providing activity holidays since 1957, more than 60 years!
we have the most competitive staff package
we are the employer of choice within the outdoor activity industry!
Connect with us
Stay up to date with PGL job opportunities.


"I really enjoyed my time with PGL and gained experience in new areas and gained more self confidence."
Katie, Catering, Mimosa