Your journey into catering starts with one step!
Take it with PGL...
Working as a Catering Assistant in fantastic locations across the UK
We can't promise you a quick and easy route to becoming the next Jamie Oliver or Nigella Lawson, because there's no such thing, however we can provide you a fantastic platform to learn and the opportunity to take your catering career to the limit. No experience, no problem! With hard work, dedication, and a willingness to learn, being a Catering Assistant with PGL is a perfect chance to progress. If you've worked in a kitchen before, we can help hone your skills to achieve your catering dreams.
To work in a kitchen environment you need a passion and a pride in what you're doing – from pot washing to serving food to guests, and from cleaning work surfaces to preparing fresh salads. The details matter. You'll work with a team of people who care about delivering the very best dining experience and they'll help support you in achieving the high standards of customer service required in a PGL kitchen. Many of our Head Chefs joined us as Catering Assistants and have progressed to take charge. The proof really is in the pudding!
While an interest in catering is an advantage, no previous catering experience is required for this role as we operate a comprehensive training programme. However, we look for applications from people who can demonstrate the following:
Enthusiasm.
The capacity to enjoy and thrive working as part of a fast-paced team
A willingness to learn.
The commitment to deliver first class customer service.
You'll assist the Chefs in preparing balanced, wholesome meals that fuel our guests and staff for their day of activities. This is a varied role that includes assisting with food preparation, serving from our canteen bays and ensuring the kitchen and dining areas are kept clean, tidy and adhere to our health and safety standards.
Part of your working week will involve a combination of breakfast, lunch and evening meal shifts. You may have the chance to try your centre's activities during your free time, building up your competency in the process. You may also participate in evening entertainments for our guests.
PGL offer a competitive wage along with an industry leading food and accommodation package for residential roles.
Your wage will be dependent on a range of factors such as age, role, location, hours of work, qualifications and experience.
Find out more about the PGL package.
Job Search

Get in Touch
Call us on 033 33 212 123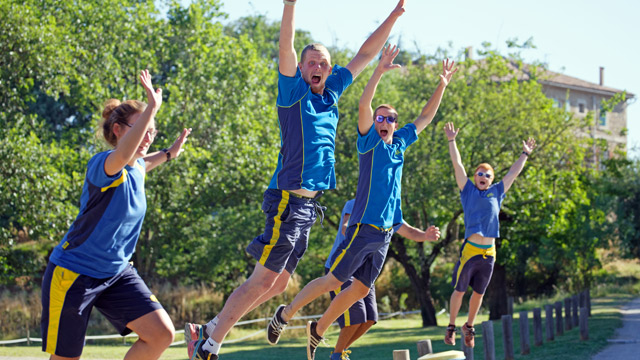 Key PGL Facts
Need more convincing to apply? Surely not, but if so – here are a few 'must know' key facts:
we employ over 3,000 people every year
over 400,000 guests visit a PGL centre every year
we are experienced! We have been providing activity holidays since 1957, more than 60 years!
we have the most competitive staff package
we are the employer of choice within the outdoor activity industry!
Connect with us
Stay up to date with PGL job opportunities.


"I have thoroughly enjoyed my time working for PGL and would love to return next season."
Rebecca, Catering, La Fosca