Working as a
Catering Team Leader
Help to make our busy mealtimes run like clockwork! Our Catering Team Leaders ensure all guests get to enjoy their meals in their designated time slot.
Our Catering Team Leaders are responsible for implementing and monitoring service levels in our dining rooms. Key responsibilities include managing the servery operation, maintaining levels and presentation standards of buffets to make sure there is plenty of food available during mealtimes.
You'll lead a team of Catering Assistants, by motivating, providing appropriate resources and organising their daily routine in order to provide the highest standards of catering service delivery. You'll also work to maintain the highest levels of staff retention and staff development, including training your team.
Many of our centre dining rooms see two, three or even four sittings per meal time so we're looking for people who thrive under pressure with a calm disposition, sense of humour and commitment to customer service for this potentially fast-paced role.
This role would suit someone ideally with experience of working on the floor of a busy restaurant or similar large-scale, high volume catering operation.
The key duties of this role include monitoring and supporting catering staff in delivering a high quality catering service, based on requests, menus, departmental operating procedures and the particular requirements of each group. You will also manage daily catering service systems, dining room cleaning programmes and stocking and presenting serveries, buffets and distributors; and the interaction between the catering staff and other areas of the catering operation to promote high levels of efficiency, organisation and communication.
Other responsibilities include delegating tasks to catering staff to ensure that all aspects of the operation are effectively allocated, especially on days off; taking on board relevant Health and Safety, Duty and management; periodic internal auditing of departmental performance against targets, based on centre objectives and PGL's Key Performance Indicators, in order to make recommendations and implement changes and improvements; and implementing company guidelines regarding the supervision of guests and staff.
Working as a Catering Team Leader provides the perfect environment to gain invaluable knowledge, skills and experience. You will receive a comprehensive centre induction, job specific training, regular observations, feedback and performance reviews. As a Catering Team Leader you will automatically be enrolled onto our Leadership and Management Programme.
This includes a Level 3 Award in Leadership and Management. You will also be eligible to enrol onto an Advanced Apprenticeship in Hospitality or Management, which includes a number of nationally recognised qualifications, all free of charge.
There are a number of opportunities for you to extend your experience, knowledge and skills at PGL. We encourage all our employees to create and maintain a Personal Development Plan (PDP) that can be used to identify and work towards their career goals.
This is supported by our extensive range of formal and informal development opportunities. Career progression routes for Catering Team Leaders include roles such as Head Chef and Retail/Bar Supervisor.
Helen James, Liddington
I ensure that all guests and staff are well looked after during their meal times.
Managing my team of Catering Assistants, I make sure that the dining room is clean, tidy and well stocked at all times.
Whilst working at PGL I have gained my First Aid at Work and my Level 3 in Food Safety.
I feel very lucky to work at Liddington and feel part of a very special team, we are like a big family.
I worked at the centre when it was previously a hotel and stayed on when PGL purchased it in 2009 - I love to see the changes to a building that I have worked in for 16 years!

As a Catering Team Leader with PGL you will receive a competitive wage with various accommodation and food packages available.
If working overseas, you'll receive our competitive, industry-leading overseas staff package which is comparable to our UK staff package and complies with the appropriate employment legislation in the country where the role is based.
Job Search

Get in Touch
Call us on 033 33 212 123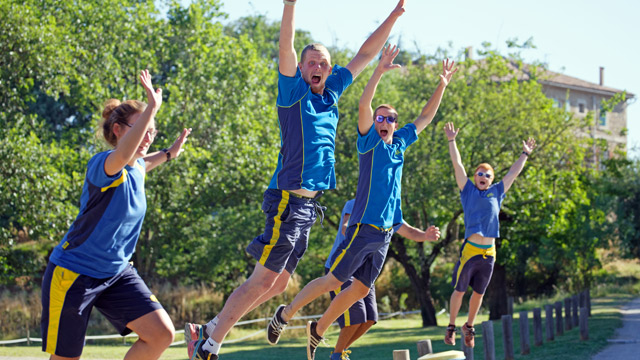 Key PGL Facts
Need more convincing to apply? Surely not, but if so – here are a few 'must know' key facts:
we employ over 3,000 people every year
over 400,000 guests visit a PGL centre every year
we are experienced! We have been providing activity holidays since 1957, more than 60 years!
we have the most competitive staff package
we are the employer of choice within the outdoor activity industry!
Connect with us
Stay up to date with PGL job opportunities.


"I thoroughly enjoyed my time spent at PGL. All of the staff supported me, allowing me to grow in confidence."
Sam, Group Leader, Osmington Bay