Passionate about food?
Build your successful catering career here.
Working as a Chef in the UK
Becoming a PGL Chef is to join a first class catering operation. We want to harness your love for food and cooking to deliver meals which excite our guests' palates as much as ascending our climbing walls excites their imaginations. The quality, variety, presentation and standard of the food served at our modern activity centres has developed as a result of the creativity and invention of our Chefs – and the guarantee that there are always hungry mouths to feed!
As a Chef you will work under the direction of your Head Chef or Catering Manager, and have the opportunity to develop your all round catering skills, including prep, cooking, ordering and accounting of stock and staff management. From cooked breakfasts to packed lunches on the beach, you'll have the chance to use your experience of working in a high volume catering environment to excel and progress within PGL's catering operation.
A passion for catering is a must and previous catering experience is essential. We operate a comprehensive training programme to get you up to speed in PGL's catering operation, but we also look for applicants to demonstrate the following:
Experience of delivering high level customer service.
Excellent people and liaison skills.
A positive approach to working in a team and problem solving.
Enthusiasm for contributing towards and driving catering standards.
This is a varied role that includes food preparation, cooking and service of meals and ensuring the kitchen areas are clean, tidy and adhere to our health and safety standards. You'll assist the Head Chef in preparing balanced, wholesome meals that fuel our guests and staff for their day of activities.
You will also be responsible for the day to day management, training and ongoing development of the team of catering assistants. On occasions you will also be required to deputise in the absence of the Head Chef. Part of your working week will involve a combination of breakfast, lunch and evening meal shifts.
Working as a Chef at PGL gives you the chance to gain invaluable knowledge, skills and experience. You will receive a comprehensive centre induction, job specific training, regular observations, feedback and performance reviews. You will automatically be enrolled onto our Leadership and Management Programme.
This includes a Level 3 Award in Leadership and Management. You will also be eligible to enrol onto an Intermediate Apprenticeship in Catering and Professional Chefs, which includes a number of nationally recognised qualifications, paid for by PGL.
There are a number of opportunities for you to extend your experience, knowledge and skills at PGL. We encourage all our employees to create and maintain a Personal Development Plan (PDP) that can be used to identify and work towards their career goals
This is supported by our extensive range of formal and informal development opportunities. Career progression routes for Chefs include roles such as Head Chef and Catering Manager.
Gavin Bolt, Little Canada
Joined PGL in 2007 as a Catering Assistant and in 2010 I progressed to Assistant Chef, I worked hard and am now working as a Chef.
Through PGL I have gained numerous qualifications including my First Aid at Work, Level 2 NVQ Food Processing and Cooking, Level 2 Food Safety and Level 2 Health and Safety. In the future I would like to gain further qualifications such as my Level 3 in Health and Safety, Food Safety and Food Processing and Cooking. My goal is to progress to a Head Chef position and ultimately to become a Catering Manager within PGL.
I have gained valuable skills and developed on a personal level through working with PGL; the senior staff on centre have always supported and encouraged me and I would not be where I am now without them.
Centre life can vary from centre to centre but whichever centre you are at you will always have fun, hanging out with your friends and joining in activities in your spare time. Give it a go – you'll never know until you try it!
As a Chef with PGL you will receive a competitive wage with various accommodation and food packages available.
If working overseas, you'll receive our competitive, industry-leading overseas staff package which is comparable to our UK staff package and complies with the appropriate employment legislation in the country where the role is based.
Job Search

Get in Touch
Call us on 033 33 212 123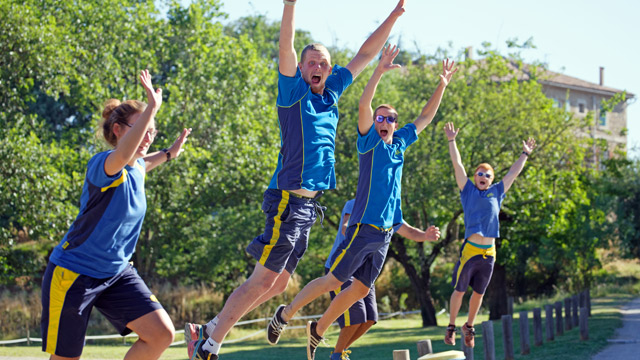 Key PGL Facts
Need more convincing to apply? Surely not, but if so – here are a few 'must know' key facts:
we employ over 3,000 people every year
over 400,000 guests visit a PGL centre every year
we are experienced! We have been providing activity holidays since 1957, more than 60 years!
we have the most competitive staff package
we are the employer of choice within the outdoor activity industry!
Connect with us
Stay up to date with PGL job opportunities.


"I had an awesome time. My line managers made this a good season!"
Storm, Catering, Little Canada