Working as an
EFL Course Director
Manage the teaching team to deliver high quality language classes for our English Language programme for visiting overseas groups. Summer jobs for Cambridge DELTA/Trinity Diploma TESOL/TEFL Q or equivalent qualified English as a Foreign Language Teachers.
In this role you'll be managing the teaching team for the English as a Foreign Language product in order to ensure delivery of high quality language classes. You'll work at a number of PGL activity centres where guests will enjoy a mix of classroom-based EFL sessions, an outdoor activity programme (delivered by PGL Activity Instructor/Group Leaders) and off-site excursions. You will be based at one of our Activity centres, however will be required to work at our other centres as necessary.
The Course Director is the focal liaison point for all Group Leaders and Agents so you'll be dealing with all their enquiries and requests regarding course content. Your team of EFL teachers will be expected to lead sessions covering basic language skills of speaking, listening, writing, reading and grammar in a stimulating, challenging and enjoyable experience. You will ensure that all sessions take place within a rewarding learning environment.
We're looking for enthusiastic fluent English speakers holding a Cambridge DELTA/Trinity Diploma TESOL/TEFL Q or equivalent qualification. Our EFL Course Director must have previous experience of delivering in a classroom style setting, excellent organisational skills, the ability to communicate effectively with others, and the ability to work as part of a team and deliver results.
You must also be able to demonstrate the ability to communicate effectively with others and the ability to work as part of a team and deliver results. 3 years experience in a similar summer school role and knowledge of how PGL activity centres run and work on a daily basis are skills and experience which will enhance your application but are not necessarily essential.
Your primary role as Course Director is to oversee the implementation and smooth running of the academic programme. Other key duties are to manage the teaching team to deliver high quality language classes, teaching wherever necessary; to be the focal liaison point for all Group Leaders' and Agents' enquiries and requests about the course content; and to ensure that students adhere to the code of conduct laid down by the company. To coordinate the academic programme: Liaise with the Operations Management team; Provide facilities and resources for the teaching team for written and oral work. To ensure resources are returned and well maintained; Organise placement tests for students on arrival, the marking of the tests and the efficient placing of students into classes based on test results; Administer and account for all petty cash and funds given to staff; Coordinate with the Guest Care team, and organise the off site visits when required.
To manage the teaching team: Allocate teachers to classes; Conduct Probationary and End of Contract reviews with the teachers; Communicate with the Teaching team to discuss the groups' ability levels and objectives; Monitor teachers' punctuality and appearance; To monitor teachers' performance through observation and actively seeking feedback from guests and party leaders; Ensuring that all class paperwork is properly completed including daily records of work. To assist in creating an environment of well-structured, fun and safe activities: Introduction and orientation of Agents to the centre, including assisting with welcome talk; To work with the Centre General Manager and centre team on all issues of student welfare/behaviour; Ensuring that the guests realise their potential and gain maximum enjoyment during their stay; Checking the programme meets the party leaders' expectations and feeding back to the PGL Centre Manager.
To join PGL as and EFL Director you will already hold your Cambridge DELTA/Trinity Diploma TESOL/TEFL Q or equivalent qualification. You will receive a comprehensive centre induction, job specific training, regular observations, feedback and performance reviews.
There may be the opportunity to gain further professional qualifications, supported by PGL whilst working with us. PGL also delivers a range of in-house training and development courses, delivered by our Learning and Development team.
There are a number of opportunities for you to extend your experience, knowledge and skills at PGL. We encourage all our employees to create and maintain a Personal Development Plan (PDP) that can be used to identify and work towards their career goals.
This is supported by our extensive range of formal and informal development opportunities. Career progression routes for EFL Course Directors includes roles such as Guest Care Manager.
Jozanda Parkinson, Windmill Hill
The EFL Course Director is responsible for co-ordinating the different foreign groups that come to centre to have English lessons alongside their Activity holiday. I stream the children, which involves testing them and then putting them into classes according to ability, age and nationality. I also monitor and observe the EFL teachers, giving them feedback on their lessons and helping them to plan for their lessons.
I enjoy getting to go to a different centre for short periods of time which gives me a nice change. I also like to see the improvements in the English of the children from when they arrive to when they leave.
I had been on an Indies holiday when I was 16 to France with PGL and ever since I had wanted to work for PGL as a groupie as they just seemed to have so much fun and have the best job in the world!
I have moved off centre in the past couple of years but before that I lived on centre for 2 and a half seasons. The atmosphere living on centre is brilliant, there's a real sense of community and it's all about working hard and playing hard! It very much reminds me of living in University Halls of Residence.
I have always recommended PGL as a brilliant company to work for – if you like kids, like being outside most of the day, and want to have fun every day then you would certainly enjoy working for PGL. Being able to hear children say that they don't want to leave or that want to work for PGL when they grow up is an amazing feeling, and shows what a great job everyone on centre does to make their holiday one to remember.


As an EFL Director with PGL you will receive a competitive wage with various accommodation and food packages available.
Job Search

Get in Touch
Call us on 033 33 212 123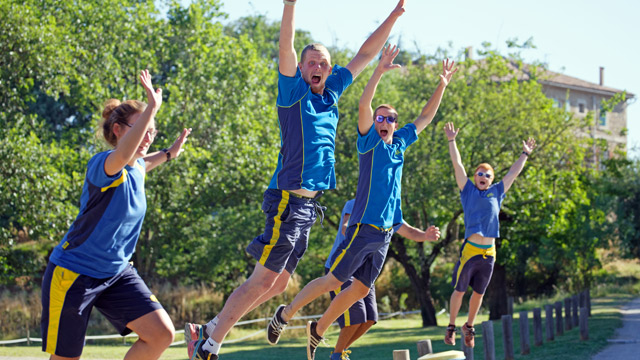 Key PGL Facts
Need more convincing to apply? Surely not, but if so – here are a few 'must know' key facts:
we employ over 3,000 people every year
over 400,000 guests visit a PGL centre every year
we are experienced! We have been providing activity holidays since 1957, more than 60 years!
we have the most competitive staff package
we are the employer of choice within the outdoor activity industry!
Connect with us
Stay up to date with PGL job opportunities.


"I thoroughly enjoyed living and working at PGL. The support structure was so good I had a great first season and hope to return next year."
Amy, Group Leader, Boreatton Park