TESOL or CELTA qualified?
Bring our dynamic English programme to life!
Working as an EFL Tutor in the UK
In this role you'll be delivering our English as a Foreign Language product. You'll work at a number of PGL activity centres where guests enjoy a mix of classroom-based EFL sessions, an outdoor activity programme (delivered by PGL Activity Instructor / Group Leaders) and off-site excursions. We have recently gained accreditation for our EFL courses from the British Council and as such we are looking for enthusiastic TESOL, CELTA or TEFLQ qualified Teachers to deliver this programme to our inbound guests travelling to PGL's UK centres from Europe, Asia and various long haul destinations. You will take your groups for lessons covering the basic language skills of speaking and listening, ensuring that this is a stimulating, challenging and enjoyable experience for students. You will ensure that all sessions take place within a rewarding learning environment. You will also keep accurate records for your group and maintain class discipline.
Other qualifications may be appropriate.
Your qualifications must:
• Be externally validated by a reputable examination body (usually a university or a recognised examinations board) and/or accredited by a national accrediting body such as Ofqual in England.
• Contain at least six hours supervised teaching practice within the course (i.e. practice where a qualified assessor observes the trainee teacher teaching real TEFL students and gives feedback to the trainee on his/her performance).
• Contain at least 120 hours of TEFL input.
• Be equivalent to at least level 4 on the Qualifications and Credit Framework.
Further information on our qualifications requirements can be found on the British Council website.
To register your interest for PGL TEFL roles please email pippa.cinderby@pgl.co.uk.
We're looking for fluent English speakers holding their TESOL, CELTA or TEFLQ qualification. You will be a university graduate and already have previous experience of working as an EFL Teacher either in the UK or overseas. We are happy to accept applications from teachers holding other relevant qualifications equivalent to QCA level 4 or 5 on the Qualifications and Credit Framework. Experience of working or volunteering with young people would give your application an advantage.
Suitable applicants will be able to demonstrate previous experience of delivering sessions in a classroom-style setting. You must be prepared to work as part of a team committed to delivering results and immerse yourself in PGL centre life and be committed to giving each guest a fantastic experience during their stay. Class sizes will not exceed 12 students.
Our EFL Teachers will oversee the delivery of PGL's English Language programme. Duties include communicating with the Course Director to discuss the group's ability and objectives; Modifying pre-prepared lesson plans to suit your students; Maximising the use of resources to deliver fun and informative sessions; Managing the classroom effectively; Motivating the students in class; Assisting the Course Director with the placement tests for students on arrival; assist in marking the tests and efficient placing of students.
As PGL centres offer a residential experience as part of our guest package, we would also expect our EFL Teachers to assist with the following: Being responsive to individual guest's needs and engage other members of staff where necessary; Engaging with students and group leaders outside the classroom in an appropriate, professional manner; Assisting with any emergency situations that might arise within the centre; Ensuring that the guests realise their potential and gain maximum enjoyment during their stay.
To start with PGL as an EFL Tutor you will already hold your TESOL/CELTA qualifications. You will receive a comprehensive centre induction, job specific training, regular observations, feedback and performance reviews.
There may be the opportunity to gain further professional qualifications, supported by PGL whilst working with us. PGL also delivers a range of in-house training and development courses, delivered by our Learning and Development team.
There are a number of opportunities for you to extend your experience, knowledge and skills at PGL. We encourage all our employees to create and maintain a Personal Development Plan (PDP) that can be used to identify and work towards their career goals.
This is supported by our extensive range of formal and informal development opportunities. Career progression routes for EFL Tutors include roles such as Team Leader, Head Tour Leader and EFL Course Director.
Job Search

Get in Touch
Call us on 033 33 212 123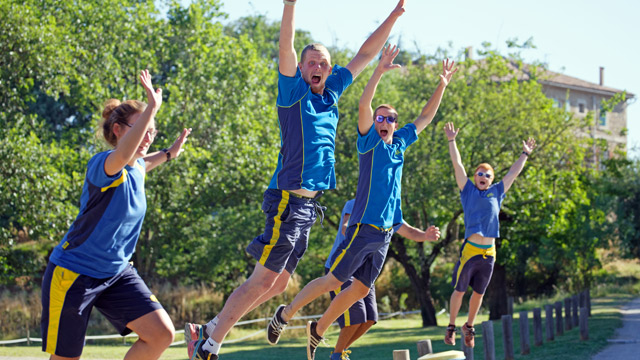 Key PGL Facts
Need more convincing to apply? Surely not, but if so – here are a few 'must know' key facts:
we employ over 3,000 people every year
over 400,000 guests visit a PGL centre every year
we are experienced! We have been providing activity holidays since 1957, more than 60 years!
we have the most competitive staff package
we are the employer of choice within the outdoor activity industry!
Connect with us
Stay up to date with PGL job opportunities.


"I really enjoyed my time with PGL. Great opportunities to get involved in the outdoors and great people too."
Gwilym, Group Leader, Dalguise