Working as a Finance Administrator
Do you have a head for numbers? Our Finance Administrators are crucial to ensuring that our centres run like clockwork.
As a Finance Administrator you will play a key part in the overall organisation of centre life for both guests and staff. Working alongside a HR Administrator, you will provide administrative and linguistic support (if working overseas) to the centre and ensure that the company's financial and HR systems are in place and weekly/monthly paperwork is submitted to the UK and French Head Offices.
You may also be responsible for providing First Aid and Driver cover where required. The role offers you a great opportunity to develop your finance and administrative skills within a busy and varied working environment whilst gaining valuable hands on experience. Our overseas centres also provide an office environment like no other and give you the chance to enhance your language skills.
You will also need to be able to meet deadlines, have good advisory skills, and have a level of literacy and numeracy which enables you to focus on the support aspects of the role, as well as completing all administration tasks in a timely and accurate manner.
If working in France, then you will need to have Degree level French (or equivalent) or be a native French speaker. You must be comfortable using French on a day to day basis, including on the telephone and have previous experience in an Administration based role.
Ensuring all financial transactions are carried out with accuracy and security within prescribed timescales, providing general administrative support to the centre, ensuring the smooth running of the centre office and assisting with centre specific duties associated with a residential children's activity centre.
You will also need to provide cover in the absence of the HR Administrator or other members of the Office Team, and be a key part in the organisation of the centre. You will use your administration skills (and language skills where applicable) to provide support in a wide range of tasks including liaising with local representatives and suppliers to ensure centre objectives are met.
When you start your job as a Finance Administrator you will have the opportunity to gain invaluable knowledge, skills and experience whilst working towards nationally recognised qualifications, all free of charge. Previous administration experience is a bonus but is not vital. If you are new to PGL and/or have finance experience within the sector you will be enrolled onto our Business and Administration Apprenticeship Programme.
This is delivered and assessed in the work place and is supported by a comprehensive centre induction, job specific training, workbooks, one-to-one observations with verbal and written feedback, and regular performance reviews. All of this will count towards the achievement of your business and administration apprenticeship.
There are a number of opportunities for you to extend your experience, knowledge and skills at PGL. We encourage all our employees to create and maintain a Personal Development Plan (PDP) that can be used to identify and work towards their career goals, supported by our extensive range of formal and informal development opportunities.
Career progression routes for Administrators include roles such as Centre Administrator, Administration Manager, Programme Manager or Finance Manager.
Sara Travor Witte, Mimosa
I went for this job with PGL because I had not seen this sort of job anywhere else. The best thing about this job is when everything is balanced and the difference is 0!
Living on centre a bit like camping during summer holidays with all its advantages and disadvantages. The food is very yummy. Everyone at PGL is really friendly with each other.
In the future I would love to sail the world. Working in Mimosa means I can get plenty of practice in.
People should come and work at PGL as they will make friends for life

As a Finance Administrator with PGL you will receive a competitive wage with various accommodation and food packages available.
If working overseas, you'll receive our competitive, industry-leading overseas staff package which is comparable to our UK staff package and complies with the appropriate employment legislation in the country where the role is based.
Job Search

Get in Touch
Call us on 033 33 212 123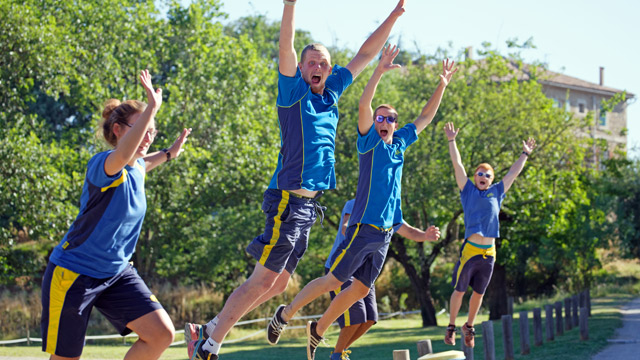 Key PGL Facts
Need more convincing to apply? Surely not, but if so – here are a few 'must know' key facts:
we employ over 3,000 people every year
over 400,000 guests visit a PGL centre every year
we are experienced! We have been providing activity holidays since 1957, more than 60 years!
we have the most competitive staff package
we are the employer of choice within the outdoor activity industry!
Connect with us
Stay up to date with PGL job opportunities.


"I loved my season at PGL and I have applied to return next season. It is like becoming part of a family on centre and that is something that you do not get with many jobs at all!"
Katie, Group Leader, Boreatton Park