Working as a Grounds Technician
Taking responsibility for the presentation of the centre, the Grounds Technician role is vital to ensuring the appearance of our centres exceeds our guests' expectations.
As a Grounds Technician, you will make a positive contribution to the presentation of the centre, carrying out general grounds keeping and maintenance tasks that are pivotal to a successful first impression of the centre by our guests.
In this role you may have the opportunity to try your centre's activities during your free time, building up your personal competency in the process.
A background in basic maintenance and groundskeeping (experience using sit on mowers, push mowers, strimmers, painting, decorating etc.) is essential along with a full driving licence.
We're looking for people who are enthusiastic, enjoy working as part of a fast-paced team and are willing to learn.
The appearance of our centres is vitally important and is often the first thing noted by our guests. Your duties will include making a positive contribution to the presentation of the centre, grass cutting, hedge cutting, strimming and litter picking.
Other responsibilities include assisting the maintenance team undertaking tasks reported in the maintenance log book, undertaking simple maintenance projects, adhering to Health and Safety guidelines in the use of chemicals and equipment.
When you start your job as a Grounds Technician you will have the opportunity to gain invaluable knowledge, skills and experience whilst working towards nationally recognised qualifications, all free of charge. Previous experience is a bonus but is not vital. If you are new to PGL and/or have catering experience within the sector you will be enrolled onto our Facilities Services Apprenticeship Programme.
This is delivered and assessed in the work place and is supported by a comprehensive centre induction, job specific training, workbooks, one-to-one observations with verbal and written feedback, and regular performance reviews. All of this will count towards the achievement of your facilities services apprenticeship.
There are a number of opportunities for you to extend your experience, knowledge and skills at PGL. We encourage all our employees to create and maintain a Personal Development Plan (PDP) that can be used to identify and work towards their career goals.
This is supported by our extensive range of formal and informal development opportunities. Career progression routes for this role include roles such as Maintenance Supervisor.
Evan Barron, Windmill Hill
I am responsible for the upkeep of the grounds. I am also a point of communication for all of the guests and I observe things which need improving on site.
I have been a gardener all of my working life and I like having something tangible to show for my work, seeing people use the grounds which I maintain.
Living on centre is good. It's convenient for me and the social life is an excellent reason to come and work with PGL. Working here gives you the opportunity to develop good interpersonal skills and it's great for confidence building!
In the future I hope to continue keeping the centre looking great for guests.
PGL offer a competitive wage along with an industry leading food and accommodation package for residential roles.
Your wage will be dependent on a range of factors such as age, role, location, hours of work, qualifications and experience.
Find out more about the PGL package.
Job Search

Get in Touch
Call us on 033 33 212 123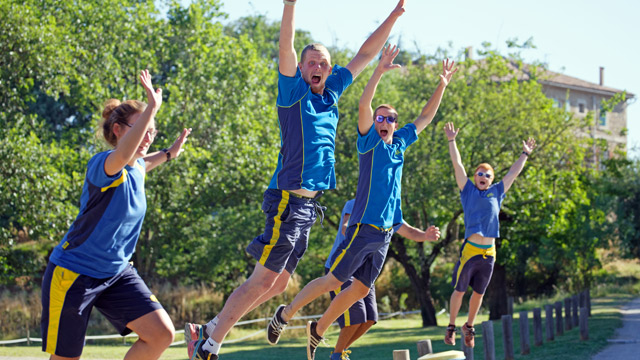 Key PGL Facts
Need more convincing to apply? Surely not, but if so – here are a few 'must know' key facts:
we employ over 3,000 people every year
over 400,000 guests visit a PGL centre every year
we are experienced! We have been providing activity holidays since 1957, more than 60 years!
we have the most competitive staff package
we are the employer of choice within the outdoor activity industry!
Connect with us
Stay up to date with PGL job opportunities.


"My overall PGL experience was great. Just the job."
Neil, Site, Mimosa