Speak the language you love.
You'll
❤

this job in France!
Working as a Group Co-ordinator in Northern France
We're looking for confident French speakers for this diverse role. Your main duty is to ensure that our guests receive exceptional service throughout their stay. You will act as the liaison between your group's teaching staff and the centre staff. Primarily, you'll be responsible for accompanying guests on excursions, ensuring itineraries run to plan, assisting coach drivers with route finding, serving evening meals and delivering a programme of evening activities for your group.
We operate an extensive World War I educational tours programme, giving you the opportunity to increase your historical knowledge of this interesting area. Staff working at Château d'Ebblinghem, whilst being employed by PGL, will deliver NST products and wear the NST uniform. NST is PGL's sister company, providing educational tours to school groups. You'll mix your time between leading excursions and working in hospitality roles at the Château.
Group Co-ordinators will need A level French, or be comfortable using conversational French on a day to day basis. You must possess good organisational skills.
You will need previous experience working with school aged children, and the ability to communicate effectively with others and demonstrate the skills necessary to work as part of a team and deliver results.
You will oversee all aspects of a Tour, including welcoming the group on arrival, conducting welcome briefings with teachers and students, and liaising closely with the Party Leader and NST staff for the duration of the Tour. Your work will also involve organising and delivering a programme of evening activities for your group.
Group Co-ordinators act as a Tour Guide on Excursions and so you will find yourself passing on local historical and cultural knowledge, pointing out areas of interest. You will also provide translations and liaise with external representatives at excursion locations, and with coach drivers, assisting with directions where necessary.
As a Group Co-ordinator you will gain invaluable knowledge, skills and experience whilst working towards nationally recognised qualifications, all free of charge. Previous experience will help your application but is not vital. If you are new to PGL and have limited experience within the sector you will be registered onto our Apprenticeship Programme, which includes the intermediate apprenticeship in activity leadership or customer service.
This programme is delivered and assessed in the work place and is supported by a comprehensive centre induction, job specific training, workbooks, one-to-one observations with verbal and written feedback, and regular performance reviews. All of this will count as evidence towards your intermediate apprenticeship. If you have experience of working in a similar role within the sector you will go straight to centre where you will be able to access a range of informal and formal development opportunities, including qualifications, relevant to your job role and career aspirations.
As a Group Co-ordinator there are a number of opportunities for you to extend your experience, knowledge and skills at PGL. We encourage all our employees to create and maintain a Personal Development Plan (PDP) that can be used to identify and work towards their career goals.
This is supported by our extensive range of formal and informal development opportunities. Career progression routes for Group Coordinators includes roles such as Team Leader, Head Tour Leader, Language Rep, EFL Director or Overseas Tour Organiser based at our Head Office in Ross on Wye.
Abigail Atkinson, CDE
I came to PGL as I didn't want a typical office job and it offered the opportunity for me to work in France speaking French. It is great experience working with kids and I get to work outdoors.
As a Group Coordinator I enjoy going out on tours with groups, helping pupils learn new things and improve their French. Living on centre has a university halls feel to it.
It's great as you don't have to drive to work or have rent or bills to pay! People should come and work at PGL as it is fun to live and work with other similar people and it's a chance to work abroad.
Our competitive, industry-leading overseas staff package is comparable to our UK staff package and complies with the appropriate employment legislation in the country where the role is based.
Job Search

Get in Touch
Call us on 033 33 212 123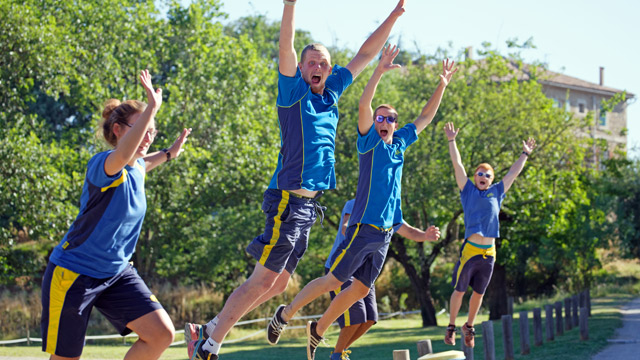 Key PGL Facts
Need more convincing to apply? Surely not, but if so – here are a few 'must know' key facts:
we employ over 3,000 people every year
over 400,000 guests visit a PGL centre every year
we are experienced! We have been providing activity holidays since 1957, more than 60 years!
we have the most competitive staff package
we are the employer of choice within the outdoor activity industry!
Connect with us
Stay up to date with PGL job opportunities.


"I loved every minute. PGL is an amazing place to work and amazing people to work with."
Aimee, Group Leader, Caythorpe Court