Working as a
Group Leader
This is a challenging yet fun role which combines the delivery of our core activities along with the delivery of PGL's guest care programme. You'll need plenty of energy, enthusiasm and have a great sense of humour.
PGL 'Groupies' are at the heart and soul of the holidays we offer. Providing a link between the centre management and our guests, this role is pivotal to the success of the group's stay with PGL. You will be on hand to entertain, offer practical advice and deal with unexpected situations, making sure your group enjoys a fantastic experience with PGL.
Many of our guests remember their Groupie for years to come. Some previous experience working with children is required, plus enthusiasm and lots of energy. If you wish to be a Group Leader in the UK please apply via the Activity Instructor Group Leader page.
This role is particularly great for anyone looking to start their career in teaching or youth work, searching for a career break or a rewarding gap year project. You'll pick up numerous transferable skills for your CV including group communication, confidence, resourcefulness and how to handle situations as they arise.
No qualifications are required for this role as we offer a comprehensive training course to give you the skills, expertise and confidence to do your job. We look for applications from people who can demonstrate energy, enthusiasm and the ability to relate to young people.
You will help the visiting party leader organise their group and ensure they are kept up to date with the day's programme of events. During the summer holidays, many of our guests are unaccompanied teenagers, and you will act in a supervisory role to organise your group to be ready for the day's sessions.
Full of initiative, you must be able to think on your feet and have excellent problem solving and communication skills. A key part of your role is the organisation and delivery of a dynamic evening entertainments programme.
In a PGL Group Leader you will gain invaluable knowledge, skills and experience whilst working towards nationally recognised qualifications, all free of charge. Previous experience will help your application but is not vital. If you are new to PGL and have limited experience within the sector you will be invited to attend our 9-day pre-employment selection and training course. Following a successful 9 days, on the 10th day you will start your employment and transfer to the centre you will be working at. Once employed, you will be registered onto our Apprenticeship Programme, which includes the intermediate apprenticeship in activity leadership.
This programme is delivered and assessed in the work place and is supported by a comprehensive centre induction, job specific training, workbooks, one-to-one observations with verbal and written feedback, and regular performance reviews. All of this will count as evidence towards your intermediate apprenticeship. If you have experience of working in a similar role within the sector you will go straight to centre where you will be able to access a range of informal and formal development opportunities, including qualifications, relevant to your job role and career aspirations.
There are a number of opportunities for you to extend your experience, knowledge and skills at PGL. We encourage all our employees to create and maintain a Personal Development Plan (PDP) that can be used to identify and work towards their career goals
This is supported by our extensive range of formal and informal development opportunities. Career progression routes for Group Leaders include senior roles such as Team Leader and Guest Care Manager.
Lucy Hems, Mimosa
The group leader role requires lots of energy but is very rewarding! You can have a lot of laughs with the staff and guests and get involved in activities. For me it's the best job role!
I love the outdoors, working with kids and learning new skills so PGL is ideal. Living on centre is full on but lots of fun – very sociable and so many laughs with everyone.
It is one of the best jobs around! You work hard and play hard, develop new skills, meet lots of people and in great locations.

Staff Package Overseas
Our competitive, industry-leading overseas staff package is comparable to our UK staff package and complies with the appropriate employment legislation in the country where the role is based.
Job Search

Get in Touch
Call us on 033 33 212 123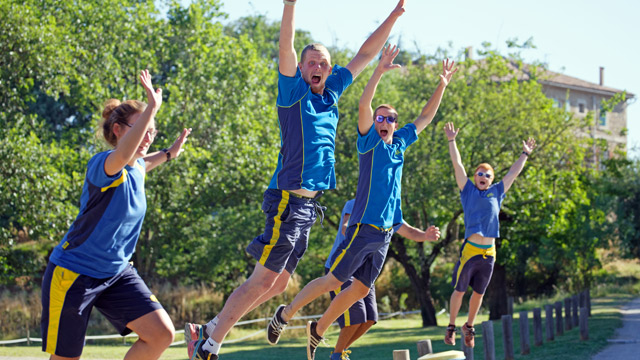 Key PGL Facts
Need more convincing to apply? Surely not, but if so – here are a few 'must know' key facts:
we employ over 3,000 people every year
over 400,000 guests visit a PGL centre every year
we are experienced! We have been providing activity holidays since 1957, more than 60 years!
we have the most competitive staff package
we are the employer of choice within the outdoor activity industry!
Connect with us
Stay up to date with PGL job opportunities.


"I have thoroughly enjoyed my time with PGL. I have gained so much from the company skills-wise but also life skills."
Rich, Group Leader, Little Canada