Our Head Chefs are responsible for the overall on-site catering provision of their centre, ensuring that the catering team are producing nutritional, varied, balanced and tasty meals.
Our Head Chefs are in sole charge of the food preparation at their centre. As a Head Chef, you will take charge of creating a healthy, home-cooked, canteen-style meal provision for our guests and staff. A key member of your centre's senior staff team, you will be responsible for food prep, kitchen hygiene and the associated kitchen administration.
The position will also allow you to develop all around catering skills and awareness including cooking, ordering and accounting of stock and staff supervision.
As staff management forms a significant element of this role, we're looking for applicants with previous supervisory experience in a catering environment. We're looking for trained chefs, cooks or caterers to join us in this role, which gives excellent scope for professional development.
Ideal candidates will be unfazed by the challenge of creating child-friendly, wholesome, home-prepared meals for our guests and staff, using as many fresh ingredients as possible, while keeping within budgetary guidelines.

In practice, this role involves cooking, ordering and accounting of stock, as well as supervising a team of staff. You will also oversee breakfast, lunch and evening meals in accordance with a set menu; serve meals from the counter in cafeteria style dining areas; liaise meal numbers and times with other centre staff; maintain high levels of customer service; and ensure the upkeep of high standards of cleanliness and hygiene, both during food preparation and service.
The role can vary slightly from centre to centre depending on the guest capacity, but duties generally include accounting for and ordering stock, and keeping accurate records; training staff in line with PGL procedures and keeping accurate records; ensuring that there is adequate provision of condiments and drinks during meal sittings; and washing up of cooking apparatus, crockery and cutlery during and after meal sittings.
Joining PGL as a Head Chef allows you to gain invaluable knowledge, skills and experience. You will receive a comprehensive centre induction, job specific training, regular observations, feedback and performance reviews.
You will also be eligible to enrol onto an Intermediate or Advanced Apprenticeship in Catering and Professional Chefs or Management, which includes a number of nationally recognised qualifications, at no cost to yourself.
There are a number of opportunities for you to extend your experience, knowledge and skills at PGL. We encourage all our employees to create and maintain a Personal Development Plan (PDP) that can be used to identify and work towards their career goals.
This is supported by our extensive range of formal and informal development opportunities. Career progression routes for Head Chefs include Catering Manager.
Chris Hannah, Dalguise
I ensure that the guests and staff are well fed! l also manage and train the team of Catering Assistants. I work with the Catering Manager to ensure that we continue to deliver high standards within the catering operation.
I enjoy working with a great team of chefs and CAs helps. Every day is different with loads of challenges to keep things interesting.
Centre life is fantastic! There are almost 100 staff at Dalguise and I can honestly say that we all get on with each other. There is loads to do after work so you're never bored.
PGL is a great company to work for. While you work you can do lots of different training schemes so that when you are finished you have lots of transferrable skills and qualifications to complement your experience.

As a Head Chef with PGL you will receive a competitive wage with various accommodation and food packages available.
If working overseas, you'll receive our competitive, industry-leading overseas staff package which is comparable to our UK staff package and complies with the appropriate employment legislation in the country where the role is based.
Job Search

Get in Touch
Call us on 033 33 212 123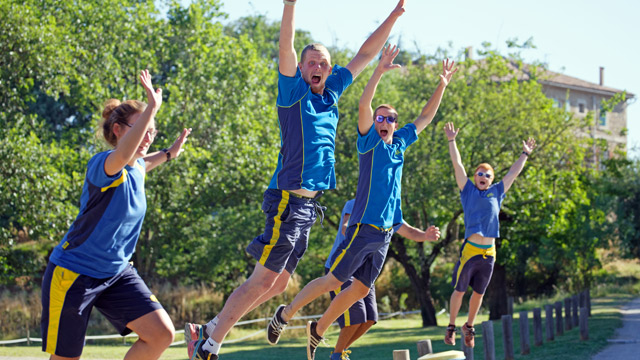 Key PGL Facts
Need more convincing to apply? Surely not, but if so – here are a few 'must know' key facts:
we employ over 3,000 people every year
over 400,000 guests visit a PGL centre every year
we are experienced! We have been providing activity holidays since 1957, more than 60 years!
we have the most competitive staff package
we are the employer of choice within the outdoor activity industry!
Connect with us
Stay up to date with PGL job opportunities.


"The PGL lifestyle offers fun, challenges and chances to improve. I will be recommending this role to many of my friends who are interested in a career in the outdoor industry."
James, Group Leader, Osmington Bay