Love hospitality?
This job will make your day, every day!
Working as a Housekeeping Assistant in the UK
Our Housekeeping teams are excellent platforms to get you started in hospitality. We only get one chance to make a great first impression with our guests and as a Housekeeping Assistant you'll play a crucial role in ensuring that first impression is positive, and lasting. Part of the joy of working in hospitality as a Housekeeping Assistant for PGL is the opportunity to really make someone's day – part of the rewards of your hard work is your job satisfaction. We'll provide you with a host of transferable skills to ensure our modern activity centres are kept clean and presentable.
Hours: Full time
Contract: Fixed Term (minimum 12 weeks)
Wage: £8.91 to £10 per hour
Preparing guest rooms for their arrival and ensuring laundry is clean and properly stocked goes a long way to ensure our guests are happy and will give you the joy of making a real difference to life at PGL. While our guests are out on adventures, our Housekeeping Assistants spark in to action, delivering a first class service to preserve the high standards of presentation and appearance of the centre. You'll work as part of a highly motivated team, in a fun, friendly and supportive environment and have the opportunity to make a real difference to life on centre, both for guests and staff.
No experience is required for the Housekeeping Assistant role as we will provide you with full training. However we welcome applications from people who can demonstrate the following:
Enthusiasm.
The ability to work as part of a fast-paced team.
A willingness to learn.
The capacity to deliver high levels of customer service.
On a daily basis PGL Housekeeping Assistants will work as part of a large team to prepare and ensure all accommodation and communal areas are kept clean and tidy for our guests.
At some of our smaller centres, this role may also require you to serve guests in the centre shop and conduct stock takes.
As a Housekeeping Assistant you will earn £8.91 to £10 per hour. All full-time colleagues work 37.5 hours over five days.
If you live on-site, you can take advantage of our meals and accommodation packages. If you choose our meals package this is £46 per week and includes three meals a day, seven days a week, for the length of your contract, catering for all dietary requirements, and a range of options, salad bar, and cold and hot drinks. Our accommodation for residential staff is £53.87 per week with no additional bills or utility charges.
We offer 20% discount to colleagues in all our on-site shops and bars. All your uniform, training, and qualification opportunities are free of charge.
Job Search

Get in Touch
Call us on 033 33 212 123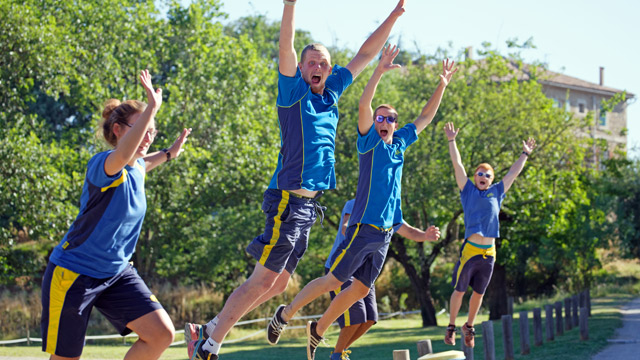 Key PGL Facts
Need more convincing to apply? Surely not, but if so – here are a few 'must know' key facts:
we employ over 3,000 people every year
over 400,000 guests visit a PGL centre every year
we are experienced! We have been providing activity holidays since 1957, more than 60 years!
we have the most competitive staff package
we are the employer of choice within the outdoor activity industry!
Connect with us
Stay up to date with PGL job opportunities.


"I really enjoyed my job and my time with PGL."
Sam, Housekeeping, Boreatton Park