Working as a Housekeeping Team Leader
This position will see you take charge of the accommodation, facilities and services.
As Housekeeping Team Leader, you will ensure that the residential aspects of our guests' visit gives them the best experience possible, with the cleanliness and appearance of our residential centres crucial to make a lasting impression. As well as amazing activities and fantastic food, our guests have come to expect market-leading accommodation.
Reporting to the Facilities Manager, you'll lead a team of Housekeeping Assistants, keeping them motivated, providing appropriate resources and organising the daily routine in order to provide your centre with the highest standard of housekeeping.
The successful candidate will possess previous housekeeping experience and a commitment to customer service excellence. We're ideally looking for someone who can demonstrate evidence of staff management/supervision.
You'll need to be able to work independently as well as part of a vibrant team and be confident to deliver training to new members of the staff team.
Your main responsibilities include maintaining a high standard of cleanliness through staff training and development and customer liaison. Other accountabilities include monitoring and supporting the housekeeping staff in delivering a high quality cleaning standard consistently; taking an active/hands on approach with the daily cleaning tasks; completing a final check of all guest accommodation on a changeover day to ensure minimum standards have been met and guests are able to move in; ensuring that cleaning stock is kept at the right level through periodic ordering; liaising with other departments, where applicable, to ensure the smooth running of all aspects of the centre operation; and monitoring, training and reviewing of all housekeeping staff.
Other duties include liaising with customers to ensure their expectations have been met and that any issues they may have can be resolved; managing the interaction between the housekeeping staff and other areas of the guest care operation to promote high levels of efficiency, organisation and communication; periodic internal auditing of departmental performance against targets, based on centre objectives and PGL's Key Performance Indicators, to make recommendations and implement changes and improvements; maintain awareness of personal strengths, weaknesses and areas of attention in order to continually progress and develop, utilising appropriate support systems such as company and centre review schemes and input from the Guest Care Manager.
If you join us in this role you will have the opportunity to gain invaluable knowledge, skills and experience. You will receive a comprehensive centre induction, job specific training, regular observations, feedback and performance reviews. You will automatically be enrolled onto our Leadership and Management Programme.
This includes a Level 3 Award in Leadership and Management. You will also be eligible to enrol onto an Advanced Apprenticeship in Hospitality or Management, which includes a number of nationally recognised qualifications, all free of charge.
There are a number of opportunities for you to extend your experience, knowledge and skills at PGL. We encourage all our employees to create and maintain a Personal Development Plan (PDP) that can be used to identify and work towards their career goals.
This is supported by our extensive range of formal and informal development opportunities. Career progression routes for Housekeeping Team Leader include roles such as Housekeeping Manager.
Paul Griffiths, Barton Hall
I started with PGL in 2013 at PGL Barton Hall as an evening cleaner for the public and complex areas.
As the season drew to a close an Accommodation Supervisor role became available for the following season.
With over 20 years cleaning in the public sector, I thought about applying my standards and ethics into a new and challenge role.
At one stage of my career I've managed up to 18 staff, based between Torbay, South Wales and Gloucester.
At PGL I've been on a COSSH training course and I've also had the chance and passed my level 2 in Health and Safety.
All I can say is bring on the next season and let's have fun.

PGL offer a competitive wage along with an industry leading food and accommodation package for residential roles.
Your wage will be dependent on a range of factors such as age, role, location, hours of work, qualifications and experience.
Find out more about the PGL package.
Job Search

Get in Touch
Call us on 033 33 212 123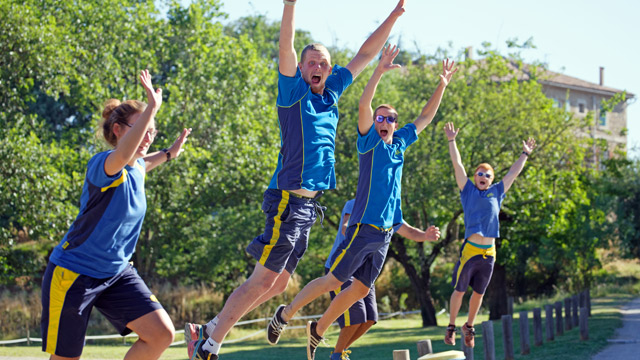 Key PGL Facts
Need more convincing to apply? Surely not, but if so – here are a few 'must know' key facts:
we employ over 3,000 people every year
over 400,000 guests visit a PGL centre every year
we are experienced! We have been providing activity holidays since 1957, more than 60 years!
we have the most competitive staff package
we are the employer of choice within the outdoor activity industry!
Connect with us
Stay up to date with PGL job opportunities.


"I thoroughly enjoyed my time at PGL and look forward to returning to continue my development with the company."
Max, Housekeeping, Tregoyd