Working as a HR Administrator
Our HR Administrators provide comprehensive, effective and efficient support to the Centre Management Teams.
As one of our HR 'admins' you will play a key part in providing advice and support to heads of departments and line managers to ensure our centres are meeting required employment legislation, HR policy and procedure and best practice. Our HR Administrators support and assist with all administrative functions on centre to ensure effective systems are in place to best support the day-to-day functioning of the centre.
If you are looking for a broad role, then the role of HR Administrator will give you exposure to many different aspects of the business. On some centres this is treated as a senior position and may include other duties such as duty manager; therefore experience in a position of responsibility would be useful.
We are looking for people with previous administration experience, who have a working knowledge of Microsoft Office software, are capable of meeting deadlines, and show the appropriate sensitivities in dealing with confidential information.
No formal qualifications are required for this role as we offer comprehensive training to give you the skills, expertise and confidence to do your job.
Reporting to Centre Operations Manager, the purpose of this role is to provide efficient and timely HR administration and general support to the centre team, in accordance with PGL HR policies and procedures. The role facilitates the arrival and induction of PGL's staff on centre, and ensure all centre staff comply with company employment safety checks and that all associated paperwork is completed to a high standard.
The role also oversees centre payroll for all operational departments including input of weekly timesheets, completion of starter and leaver forms and checking the centre pay analysis. Our HR Administrators also ensure timesheets are accurate and completed on time, that staff data is recorded, assist with Staff Welfare functions within centres, and actively support the centre Management team by providing a 'first line' point of reference for all aspects of centre-based HR.
When you start your job as an HR Administrator you will have the opportunity to gain invaluable knowledge, skills and experience whilst working towards nationally recognised qualifications, all free of charge. Previous catering experience is a bonus but is not vital. If you are new to PGL and/or have catering experience within the sector you will be enrolled onto our Administration Apprenticeship Programme.
This is delivered and assessed in the work place and is supported by a comprehensive centre induction, job specific training, workbooks, one-to-one observations with verbal and written feedback, and regular performance reviews. All of this will count towards the achievement of your administration apprenticeship.
There are a number of opportunities for you to extend your experience, knowledge and skills at PGL. We encourage all our employees to create and maintain a Personal Development Plan (PDP) that can be used to identify and work towards their career goals.
This is also supported by our extensive range of formal and informal development opportunities. Career progression routes for HR Administrator include roles such as Centre Administrator, Administration Manager, Programme Manager or HR Supervisor.
Helen McQueen, Dalguise
Whilst working at PGL I have been a Housekeeping Assistant, Retail Assistant, Group Leader, Administrator and Retail Manager before settling as HR Administrator.
My job is incredibly varied, every single day is different.
I build a relationship and go on a journey with every staff member on centre from pre-arrival phone calls, to induction, to completing the Apprenticeship Programme and even dropping them off at the station on their last day! I'm here to help resolve issues and support staff with problems that may be affecting them in and out of work.
The variation of the role is what I enjoy the most. I can honestly say I have never been bored. I get to meet people from all over the world, have fun and learn new things all the time.

As a HR Administrator with PGL you will receive a competitive wage with various accommodation and food packages available.
If working overseas, you'll receive our competitive, industry-leading overseas staff package which is comparable to our UK staff package and complies with the appropriate employment legislation in the country where the role is based.
Job Search

Get in Touch
Call us on 033 33 212 123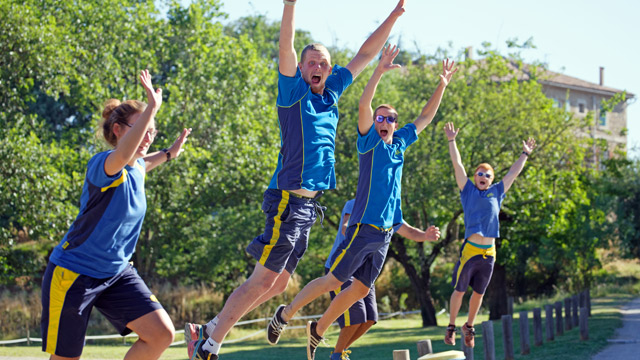 Key PGL Facts
Need more convincing to apply? Surely not, but if so – here are a few 'must know' key facts:
we employ over 3,000 people every year
over 400,000 guests visit a PGL centre every year
we are experienced! We have been providing activity holidays since 1957, more than 60 years!
we have the most competitive staff package
we are the employer of choice within the outdoor activity industry!
Connect with us
Stay up to date with PGL job opportunities.


"PGL has changed my life. I have met so many new people and made different friends."
Joshua, Group Leader, Caythorpe Court