Make a splash as one of PGL's Lifeguards!
As a swimming pool Lifeguard you will take responsibility for the safety and well-being of the swimming pool users during their activity sessions. You will also teach groups basic techniques, encourage improvement, and ensuring that guests realise their potential and gain maximum enjoyment from each session.
This role is combined with the Activity Instructor/Group Leader positions, so you will have the chance to experience a wide range of taster sessions in PGL's core activities, and make sure that all sessions are conducted in a safe manner. We want our guests and staff to have fun, and Lifeguards are on hand to make sure the fun happens in a safe environment.
You will need experience of working with children and young adults, an ability to work as part of a team and deliver results, and good organisational skills.
PGL's Lifeguards also need the ability to communicate effectively with others, experience in delivering high levels of customer service, and relevant National Governing Body qualifications.
Working as a Pool Lifeguard offers a great deal of variety - will find yourself doing lots of different activities and have a great time doing so!
You may also find yourself helping the Activity Instructors/ Group Leaders with evening entertainment or liaising with visiting teachers and party leaders.
There are a number of opportunities for you to extend your experience, knowledge and skills at PGL. We encourage all our employees to create and maintain a Personal Development Plan (PDP) that can be used to identify and work towards their career goals, supported by our extensive range of formal and informal development opportunities.
Some in-house and National Governing Body (NGB) coaching qualifications are also available, particularly if you return to work for us in subsequent seasons. Career progression routes for Lifeguards include Activity Instructor or more senior roles such as Team Leader or Chief Instructor.
Lynsey Gill, Barton Hall
My job is wet, wild and exciting. I constantly have new experiences and it is an awesome way to meet a range of people.
I enjoy the fact our team is like a family. You live and work with your friends and get to act like a big kid.
I wanted to work for PGL as I heard it was shamazeballs and I would gain lots of recognised qualifications and experience.
There is always something going on centre and you can always find someone to do something with on your day off.
I would love to take the experience I gained from PGL all over the world.
If you are for an awesome experience with amazing people, the chance to work with a wide range of products and guests you should work for us.
PGL offer a competitive wage along with an industry leading food and accommodation package for residential roles.
Your wage will be dependent on a range of factors such as age, role, location, hours of work, qualifications and experience.
Find out more about the PGL package.
Job Search

Get in Touch
Call us on 033 33 212 123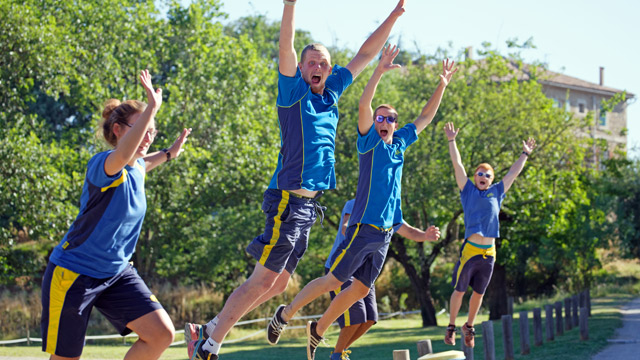 Key PGL Facts
Need more convincing to apply? Surely not, but if so – here are a few 'must know' key facts:
we employ over 3,000 people every year
over 400,000 guests visit a PGL centre every year
we are experienced! We have been providing activity holidays since 1957, more than 60 years!
we have the most competitive staff package
we are the employer of choice within the outdoor activity industry!
Connect with us
Stay up to date with PGL job opportunities.


"I loved PGL so much! I had to push myself but working for PGL was the best thing I could have possibly done. I think PGL has a job role for any type of person as long as you're dedicated and enthusiastic."
Emily, Group Leader, Osmington Bay