Working as a Maintenance Team Leader
Use your maintenance experience to ensure all aspects of PGL's maintenance projects on centres are completed to the highest standard.
Maintenance Team Leaders are responsible for technical maintenance tasks and working closely with the Maintenance Manager/Supervisor to ensure objectives and timescales are met. You must have experience of self directed work, including installation and maintenance of wiring, plumbing, flooring, woodwork, with an ability to prioritise effectively.
Using your technical experience, you will ensure projects are completed safely and conform to French, UK and company standards as applicable, and within budgetary considerations and timescales. You will also accompany local maintenance contractors and assist as required, and source cost effective materials and equipment required for maintenance and development work.
PGL's Maintenance Team Leaders have experience of working in a self directed maintenance role, specifically the installation and maintenance of wiring, plumbing, flooring, or woodwork. You will need a valid driving licence and ability to tow a trailer (D1E preferable) and a 8 hour or Appointed Person First Aid qualification.
It is also desirable, but not essential that you can deliver training to others, that you are able to demonstrate leadership skills and that you have a basic level of French language skills (overseas roles only). Previous experience of working in a maintenance trade is essential.
Maintenance Team Leaders are responsible for technical maintenance tasks and working closely with the Maintenance Manager to ensure objectives and timescales are met. Work as part of a team and supporting and train others in maintenance tasks to achieve objectives are key elements of the role.
You will ensure company safe systems of work are employed and Health and Safety procedures are followed at all times, and that all aspects of maintenance projects are completed to the highest standard within budgetary considerations.
If you join us in the Maintenance Team Leader role you will have the opportunity to gain invaluable knowledge, skills and experience. You will receive a comprehensive centre induction, job specific training, regular observations, feedback and performance reviews.
You will also be eligible to enrol onto an Intermediate Apprenticeship in Cleaning and Environmental Support Services, which includes a number of nationally recognised qualifications, all free of charge.
There are a number of opportunities for you to extend your experience, knowledge and skills at PGL. We encourage all our employees to create and maintain a Personal Development Plan (PDP) that can be used to identify and work towards their career goals
This is supported by our extensive range of formal and informal development opportunities. Career progression routes for Maintenance Team Leaders include roles such as Maintenance Supervisor and Maintenance Manager.
Derek Smith, Osmington Bay
I'd been on PGL holidays as a kid so when I decided I wanted a change of career it seemed a good company to work for.
In my role I get to put into practice the experience I have in woodwork and wiring. We work well as a team and get things done on schedule.
I enjoy being part of the maintenance team. The variety is one of the best aspects of the job, because no two days are ever the same!
The social side to working with PGL makes it a fun place to be after working hours too.
As a Maintenance Team Leader with PGL you will receive a competitive wage with various accommodation and food packages are available.
If working overseas, you'll receive our competitive, industry-leading overseas staff package which is comparable to our UK staff package and complies with the appropriate employment legislation in the country where the role is based.
Job Search

Get in Touch
Call us on 033 33 212 123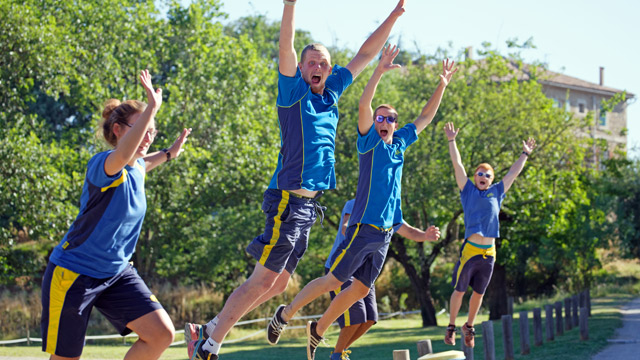 Key PGL Facts
Need more convincing to apply? Surely not, but if so – here are a few 'must know' key facts:
we employ over 3,000 people every year
over 400,000 guests visit a PGL centre every year
we are experienced! We have been providing activity holidays since 1957, more than 60 years!
we have the most competitive staff package
we are the employer of choice within the outdoor activity industry!
Connect with us
Stay up to date with PGL job opportunities.


"I have had a really good time and learned so much working with PGL."
Sophie, Group Leader, Liddington