Working as a Programme Co-ordinator
Our Programme Co-ordinators ensure our guests have a great time whilst at PGL.
As the Programme Co-ordinator you will take direct responsibility for collating all information for a guest's stay – this will include the activity programme, bedding plans, shop times and meal times. The aim is to provide an exceptional first and ongoing contact point for all guests, visitors and staff. The role requires an individual with the ability to prioritise work tasks, working to specified time frames, and multiple deadlines.
You will liaise with Party Leaders and the Head Office Reservations team and ensure that all departments are aware of any pre-arrival guest information to ensure that all guests' needs are met during their stay. Being Programme Co-ordinator is a fantastic chance to take on responsibility of the day to day running of centre, from the point of view of the guests. Making sure all guests receive an excellent level of care makes the job different every day, and makes the role an exciting challenge.
As Programme Coordinator you will have line management experience and the ability to recognise and prioritise work tasks. The role will require you to use your own initiative as well as meet deadlines.
You will need a working knowledge of Microsoft Office software, the ability to deal with confidential information, and the willingness to take on the responsibility of ensuring that all guests' needs are met during their stay.
If you join us as a Programme Co-ordinator you will have the opportunity to gain invaluable knowledge, skills and experience. You will receive a comprehensive centre induction, job specific training, regular observations, feedback and performance reviews.
You will also be eligible to enrol onto an Advanced Apprenticeship in Management, which includes a number of nationally recognised qualifications, all free of charge.
There are a number of opportunities for you to extend your experience, knowledge and skills at PGL. We encourage all our employees to create and maintain a Personal Development Plan (PDP) that can be used to identify and work towards their career goals.
This is supported by our extensive range of formal and informal development opportunities. Career progression routes for Programme Co-ordinators include roles such as HR Supervisor and Administration Manager.
Peter Duckworth, Marchants Hill
Before arriving at PGL I graduated from the University of Liverpool with a degree in Law and went on a trip around the world for a number of years. I also worked in the Recruitment Department of PGL Head Office before arriving at PGL Marchants Hill.
My typical day includes liaising with guests to ensure they have a great time whilst at PGL. My main project is rooming for all of our groups, whether it be school groups, Scouts, Brownies, international guests or corporate groups. I conduct pre arrival phone calls and help out with any questions they may have.
I thoroughly enjoy this role as it is an opportunity for me to take on responsibility of the day to day running of centre from the point of views of the guests. I work closely with the Group Leaders, who are the main point of contact for each of the groups on centre.
Being with PGL for a short time has been a great experience – I have met some of my best friends and been a part of a number of different and exciting projects. It is different every day, which keeps it exciting.
As a Programme Coordinator with PGL you will receive a competitive wage with various accommodation and food packages available.
If working overseas, you'll receive our competitive, industry-leading overseas staff package which is comparable to our UK staff package and complies with the appropriate employment legislation in the country where the role is based.
Job Search

Get in Touch
Call us on 033 33 212 123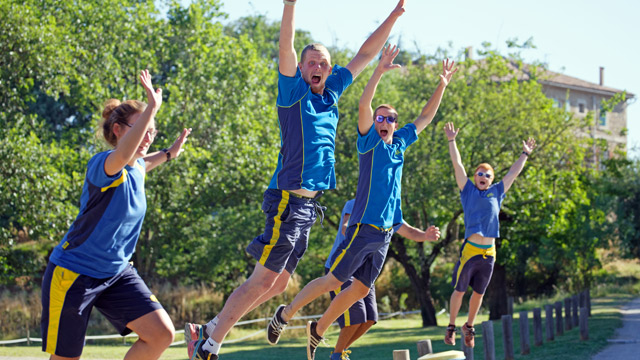 Key PGL Facts
Need more convincing to apply? Surely not, but if so – here are a few 'must know' key facts:
we employ over 3,000 people every year
over 400,000 guests visit a PGL centre every year
we are experienced! We have been providing activity holidays since 1957, more than 60 years!
we have the most competitive staff package
we are the employer of choice within the outdoor activity industry!
Connect with us
Stay up to date with PGL job opportunities.


"PGL was my first time living away from home, all staff members and seniors were friendly and welcoming. The work and social side was very enjoyable and it was by far the best summer I've had so far."
Lauren, Group Leader, Liddington