Working as a Receptionist
This position involves a variety of functional and administrative tasks, as well as being the first point of contact for visitors to the centre. The Receptionist often acts as a catalyst ensuring that information is passed between all departments.
The role of the Receptionist is key in the smooth running of centre life. You'll be constantly busy as a you will act as the first port of call for visiting teachers, children and visitors.
In addition, you'll be processing the ingoing and outgoing post, manning the switchboard, ordering the stationery and much, much more.
As a Receptionist you will need to have first class organisational skills, a keen eye for detail and excellent customer service skills. In addition to the above, you will need to have basic PC skills (Word, Excel, Outlook and Explorer) and have a confident phone manner.
You will be able to multi-task and prioritise your daily/weekly workload. Previous experience is useful but not always necessary as we can give full training.

Duties will vary from centre to centre however it is likely that you will be primarily involved in taking and making telephone calls and running the reception desk.
You will also process incoming and outgoing post for staff and guests, perform other ad-hoc administration duties, and administer basic first aid (training given).
When you start your job as a Receptionist you will have the opportunity to gain invaluable knowledge, skills and experience whilst working towards nationally recognised qualifications, all free of charge. Previous experience is a bonus but is not vital. If you are new to PGL and/or have catering experience within the sector you will be enrolled onto our Hospitality Apprenticeship Programme.
This is delivered and assessed in the work place and is supported by a comprehensive centre induction, job specific training, workbooks, one-to-one observations with verbal and written feedback, and regular performance reviews. All of this will count towards the achievement of your hospitality apprenticeship.
There are a number of opportunities for you to extend your experience, knowledge and skills at PGL. We encourage all our employees to create and maintain a Personal Development Plan (PDP) that can be used to identify and work towards their career goals.
This is supported by our extensive range of formal and informal development opportunities. Career progression routes for Receptionists include roles such as Centre Administrator, Administration Manager, Programme Manager or HR Supervisor.
PGL offer a competitive wage along with an industry leading food and accommodation package for residential roles.
Your wage will be dependent on a range of factors such as age, role, location, hours of work, qualifications and experience.
Find out more about the PGL package.
Job Search

Get in Touch
Call us on 033 33 212 123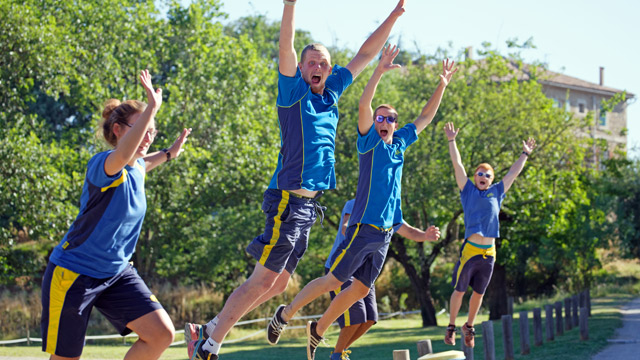 Key PGL Facts
Need more convincing to apply? Surely not, but if so – here are a few 'must know' key facts:
we employ over 3,000 people every year
over 400,000 guests visit a PGL centre every year
we are experienced! We have been providing activity holidays since 1957, more than 60 years!
we have the most competitive staff package
we are the employer of choice within the outdoor activity industry!
Connect with us
Stay up to date with PGL job opportunities.


"I thoroughly enjoyed my time with PGL and I'm looking forward to returning to continue my development with the company. I received great support."
Max, Housekeeping, Tregoyd