Working as a
Retail Team Leader
This senior position oversees the retail functions of the centre - the bar, gift shop and vending units around the site to ensure profits are maximised.
Our Retail Team Leaders are responsible for ensuring the smooth running of the retail facilities. In practise this means providing high standards of customer service, the cleanliness of the retail/bar outlets and accurate accounting of all monies and stock as well as maximising any potential profits. You'll lead a team of Retail Assistants by motivating, providing appropriate resources and organising their daily routine in order to provide the highest standards of retail service delivery.
You'll also work to maintain high levels of staff retention and oversee your team's professional development, with assistance from PGL's Learning and Development Team. We're looking for people with previous experience of working in retail, excellent customer service skills and a working knowledge of Microsoft Office software for this role.
Applicants for this role will need to demonstrate previous experience of working in a retail environment as well as a commitment to customer service excellence. A working knowledge of Microsoft Office software is also vital. Ideally you will have previous staff supervisory experience.
We're looking for proactive people with commercial flair and the ability to create initiatives for maximising our sales and profits.For our roles based in France, the ability to communicate in French is an advantage but definitely not required as a French-speaking Administrator will be on hand to assist you.
This role can vary from centre to centre but principle duties include ensuring that the onsite bar meets financial forecasts set by the Finance / Retail Manager; Ordering stock from a number of suppliers, making sure that items are purchased at the best price; Daily cashing-up of the retail facilities, following up discrepancies where necessary; The management of bar staff to ensure that waste at the bar is minimal; Organisation and promotion of evening staff entertainments; and training all retail staff to deliver exceptional customer service.
Other responsibilities include ensuring that risk assessments are accurate and up to date; Making sure that staff and customers comply with the terms of our licence at all times; Participating in a Private Licence Holder Course, if not already obtained; Participating in a Cellar Management Course, if not already obtained; and managing and providing ongoing training to your team of Retail Assistants, ensuring that they are fully trained and competent in all areas of their responsibility.
Working as a Retail Team Leader you will have the opportunity to gain invaluable knowledge, skills and experience. You will receive a comprehensive centre induction, job specific training, regular observations, feedback and performance reviews. Retail Team Leaders will automatically be enrolled onto our Leadership and Management Programme.
This includes a Level 3 Award in Leadership and Management. You will also be eligible to enrol onto an Advanced Apprenticeship in Retail or Management, which includes a number of nationally recognised qualifications, all free of charge.
There are a number of opportunities for you to extend your experience, knowledge and skills at PGL. We encourage all our employees to create and maintain a Personal Development Plan (PDP) that can be used to identify and work towards their career goals.
This is supported by our extensive range of formal and informal development opportunities. Career progression routes for Retail Team Leaders include roles such as Retail and Finance Manager.
Chelsea Knight, Windmill Hill
I worked in a number of roles including Housekeeping Assistant and Supervisor before progressing to my current role of Retail Team Leader.
As a Retail Team Leader I monitor the daily running of the on-site bar and shop. I also organising staff and guest events in the bar such as Quiz nights/karaoke. Another part of the role is also continually looking for improvements and putting ideas forward for new products
I really enjoy the social aspect of working and supervising a bar. Working with PGL has given me new experience and the chance to meet new people.
Working with PGL you will give you new challenges and a chance to gain some independence.
As a Retail Team Leader with PGL you will receive a competitive wage with various accommodation and food packages available.
If working overseas, you'll receive our competitive, industry-leading overseas staff package which is comparable to our UK staff package and complies with the appropriate employment legislation in the country where the role is based.
Job Search

Get in Touch
Call us on 033 33 212 123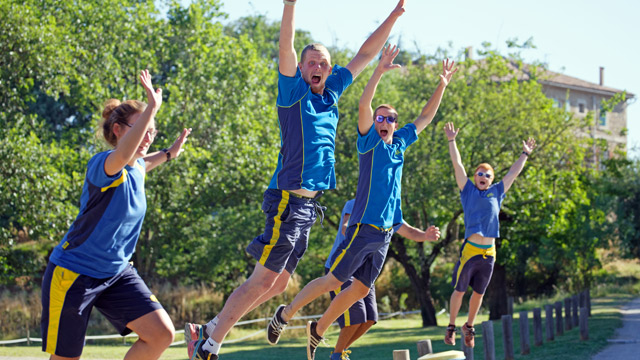 Key PGL Facts
Need more convincing to apply? Surely not, but if so – here are a few 'must know' key facts:
we employ over 3,000 people every year
over 400,000 guests visit a PGL centre every year
we are experienced! We have been providing activity holidays since 1957, more than 60 years!
we have the most competitive staff package
we are the employer of choice within the outdoor activity industry!
Connect with us
Stay up to date with PGL job opportunities.


"I have very much enjoyed PGL and can't wait to come back again."
Olivia, Group Leader, Caythorpe Court