What better way to spend your half-term or Easter break than by accompanying a school group to one of PGL's ski resorts? We take on peak season Ski Reps during February Half Term and Easter to help our guests have an amazing time on the slopes
Our Ski Rep roles are ideal for people already in full-time employment who just want to do something different for a week or two...and get paid to ski / snowboard. Our Ski Reps are our front-line support in resort, making sure our groups have a smooth, enjoyable trip. You can apply to work for only one week, however it is a pre-requisite that you are available for the February school half term week. We are only able to offer up to a maximum of four weeks' work. Most people are Ski Rep with PGL for just one or two weeks per season and no 'full-season' ski employment is available.
As ski bookings are just beginning to get back to normal, we will be using our existing reps for the 2022 winter season without recruiting any new reps. However if you would be interested in working in the 2023 ski season then please contact skipersonnel@pgl.co.uk and we will contact you when applications open.
Our Ski Reps are our front-line support in resort, making sure our groups have a smooth, enjoyable trip.
The key qualities required to work as a ski rep are experience of working with groups of secondary school-aged children in a residential setting. You must also have excellent organisational abilities, first class customer service skills and, of course, skiing/snowboarding experience in a European ski resort.
In addition to the above, preference will be given to applicants who are able to speak a second language (German, Italian or French) to a conversational standard. However, if you don't have any language skills, please don't be put off from applying.
Our Reps are the real front line people in resort who ensure that all the work carried out in preparation for the trip pays off. Your main role is to ensure that trips runs smoothly, and involves liaison with the hotel, drivers, ski school, ski hire shop, doctors, evening entertainment venues and, of course, the Party Leader.
One major aspect of your job will be to provide a full evening entertainments programme for your group. This is normally a mixture of non costing 'in-house' events run by yourself plus the hiring in of local facilities i.e. ice rink, bowling alley etc, if the group require it.
Our Ski Reps will have the opportunity to gain invaluable knowledge, skills and experience. Prior to going out to resort you will be invited to attend a pre-employment Ski Rep training/assessment course. These informative but fun weekend courses are based at one of our residential activity centres in the UK and will focus on making sure that you know what duties you'll be responsible for.
We'll go through all the paperwork that needs completing, discuss group safety and welfare and talk you through what the clients will expect. You'll also get some useful ideas of what evening entertainments you can run. Meals and accommodation are provided free of charge for the duration of the course.
There are a number of opportunities for you to extend your experience, knowledge and skills at PGL. Career progression routes for Ski Reps include roles such as EFL Tutor / Course Director, Language Reps and Head Tour Leader. Alternatively, the knowledge gained working out in resort gives you a real advantage when applying for roles in our Head Office.
Jem Pearce, Ski Rep
I previously worked full winter seasons with another tour operator before returning to the UK so being a Peak Season rep for PGL allows me to keep hold of that part of my life – and when I haven't had the chance to book my own ski holiday, I've still been able to get out on the slopes for one or two weeks each year. Repping allows me to keep my Italian language skills ticking over and the customer service skills I've learnt still influence my regular 'day job' in online travel marketing. As a ski rep with PGL, I've been lucky enough to snowboard all over Europe at more resorts in Italy than I can even remember as well as numerous resorts in Austria – I even took a group to Bulgaria. The annual refresher training we receive continually evolves our ability to deal with any situations that may arise in resort as well as developing new evening entertainment ideas so I always feel ready to deal with my week in resort. We can also share knowledge of resorts we've been to with other reps and learn from each other. I've made so many friends in my 12 years of working for PGL that I now don't even bother with ski holidays, because I know I will have just as good a time repping with like-minded people who are already proficient skiers or boarders in the form of fellow reps or teachers. You may even find yourself forming a bond with a particular school or group which means you are requested for several trips in different locations.
Wages
All Ski Reps are paid a basic salary of £175 per trip plus in-resort expenses.
Extras
In addition to your wage you will be provided with a free lift pass, ski or board hire for the week, PGL uniform and full winter sports insurance.
Accommodation and Travel
As a PGL Ski Rep you will receive full board accommodation, transport to and from the resort .
Job Search

Get in Touch
Call us on 033 33 212 123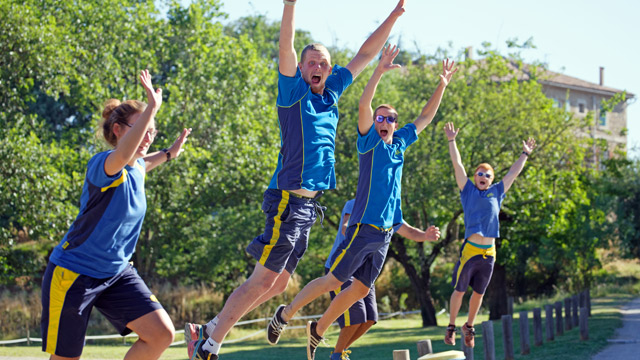 Key PGL Facts
Need more convincing to apply? Surely not, but if so – here are a few 'must know' key facts:
we employ over 3,000 people every year
over 400,000 guests visit a PGL centre every year
we are experienced! We have been providing activity holidays since 1957, more than 60 years!
we have the most competitive staff package
we are the employer of choice within the outdoor activity industry!
Connect with us
Stay up to date with PGL job opportunities.


"I really enjoy working for PGL as a Ski Rep, and being able to work with the schools as well to provide a enjoyable ski trip for the students."
Melanie, PGL Ski Rep