Indulge your

❤

for France!
A French speaker's dream job...
Working as a Tour Leader in northern France
Becoming a PGL Tour Leader is a wonderful opportunity to immerse yourself in French culture and get involved with one of PGL's most popular school trips – tailor-made French study tours to the wonderful city of Paris. With tours to the majestic Eiffel Tower, cruises down the Seine River or visits to the Louvre, this is an amazing opportunity for you to fine tune your French skills. Whilst working in a fun and relaxed, yet hands on environment our Tour Leaders are enthusiastic, French speakers who accompany groups on amazing trips to Paris and around northern France.
You'll guide and inspire our guests as they revel in another culture. From historic landmarks to rustic markets, you'll accompany visiting school groups on excursions to famous places of interest. Your organisation and communication skills will really get the chance to shine as our Tour Leaders ensure trips run smoothly and that our guests have a great time. Whether it's the thrill of opening up a whole new world of learning to our guests or discovering little pockets of France you never knew existed; as a PGL Tour Leader your passion for French will grow exponentially.
Ideally we are looking for applications from confident French speakers, as you will be the person the party leader and the children rely on to ensure their tour runs smoothly. In addition to language skills, you will need to be able to demonstrate the following:
Excellent organisation skills.
Previous experience of working with children in either a voluntary or paid capacity.
The ability to work as part of a team.
Knowledge of the country you'll be working in will also be advantageous as will previous experience of visiting the major landmarks and tourist attractions.
As a PGL Tour Leader you will liaise with the Party Leader to coordinate their weekly itinerary. Once agreed, you will be responsible for ensuring travel is arranged and tickets are booked etc. You will accompany the group on their excursions and ensure that that their visits run as smoothly as possible.
In addition to this you will be heavily involved in organising and running their evening entertainment programme. As not every group has a full programme of visits you will also be trained to delivery PGL's core adventure activities.
As a Tour Leader you will gain invaluable knowledge, skills and experience whilst working towards nationally recognised qualifications, all free of charge. Previous experience will help your application but is not vital. If you are new to PGL and have limited experience within the sector you will registered onto our Apprenticeship Programme, which includes the intermediate apprenticeship in activity leadership or customer service.
This programme is delivered and assessed in the work place and is supported by a comprehensive centre induction, job specific training, workbooks, one-to-one observations with verbal and written feedback, and regular performance reviews. All of this will count as evidence towards your intermediate apprenticeship. If you have experience of working in a similar role within the sector you will go straight to centre where you will be able to access a range of informal and formal development opportunities, including qualifications, relevant to your job role and career aspirations.
There are a number of opportunities for you to extend your experience, knowledge and skills at PGL. We encourage all our employees to create and maintain a Personal Development Plan (PDP) that can be used to identify and work towards their career goals.
This is supported by our extensive range of formal and informal development opportunities. Career progression routes for Tour Leaders includes roles such as Head Tour Leader, Language Rep, EFL Director or Overseas Tour Organiser based at our Head Office in Ross on Wye.
Anna Wrigley, Château de Grande Romaine
Working with children is always fun and I love the French language, France and particularly Paris. It's exciting to have the opportunity to share my zest for the culture with others. Also having recently completed my French degree I appreciate the chance to pass on my knowledge and use the language in real life situations.
I came as a child and have always wanted to live and work in France. PGL provides enough support to make it easy and enjoyable.
It's lovely to live and work with so many like minded people. In addition because you spend so much time together often strong friendships develop. Also the commute to work isn't too bad!
Working with PGL is fun, they provide a good support network – especially if it is your first time living overseas or away from home. They also provide opportunities to gain qualifications on the job.
Starting at £343 per week for fluent French speakers, our competitive, industry-leading overseas staff package is comparable to our UK staff package and complies with the appropriate employment legislation in the country where the role is based.
Job Search

Get in Touch
Call us on 033 33 212 123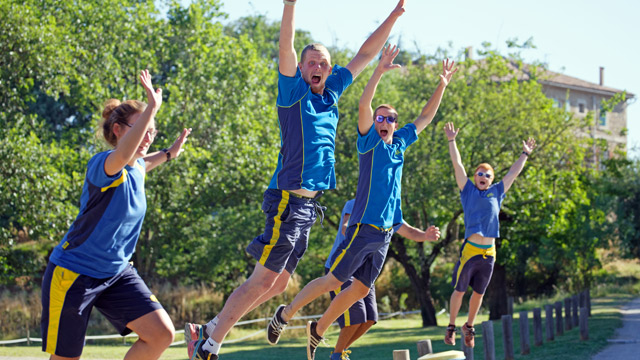 Key PGL Facts
Need more convincing to apply? Surely not, but if so – here are a few 'must know' key facts:
we employ over 3,000 people every year
over 400,000 guests visit a PGL centre every year
we are experienced! We have been providing activity holidays since 1957, more than 60 years!
we have the most competitive staff package
we are the employer of choice within the outdoor activity industry!
Connect with us
Stay up to date with PGL job opportunities.


"I have enjoyed myself thoroughly at PGL. It has been an absolute pleasure and am looking forward to coming back."
Christopher, Group Leader, Caythorpe Court