ACTION AND ADVENTURE
TREASURE QUEST
An all-action adventure set in 240 acres of woods, lakes, rivers and fields!
Five days of themed activities + one day at Alton Towers
Come on this holiday if you are bold, brave and ready for a few surprises!
What's it all about?
Treasure Quest is an imaginative, action-packed adventure holiday set in the 240 acres of our biggest centre.
Lord Charles Hunt collected many treasures during his lifetime and recorded them all in great detail in his diary. Mysteriously, when he died, his most prized and valuable treasure, the Pharaoh's Pyramid Puzzle, could not be found and is still missing today.
Why do we need to find the pyramid?
Mysterious inscriptions found in the Pharaoh's tomb told of magical forces locked deep within the Pyramid Puzzle.
Beware, because if the puzzle ever falls into the hands of the followers of Ghoulah, the inscriptions warn of impending doom! In order to prevent this, pieces of the Pyramid have been scattered around the Boreatton Park Estate where they have lain hidden for nearly 150 years.
However, the inscriptions warned that after 150 years the followers of Ghoulah would return to look for the Pyramid. It must not be allowed to fall into their hands, which is where you come in...
What will we have to do?
We can't reveal the location of the clues as the followers may get to them before you, so you will have to be ready for anything. You will need to use the zip wire to escape; canoe across the crocodile infested waters of Boreatton Lake; abseil down the tower to reach a clue, as well as many other challenges. You will also prove your skills as an intrepid explorer by spending a day at Alton Towers. Come on this holiday if you are bold, brave and ready for a few surprises!
Every day is different
As well as themed activities there may be some suprises in store...
We offer over 40 different activities across all our centres and we pack in as many as possible on every PGL Adventure Holiday. Please note that not all activities are available at all centres; please see the specific centre pages for more information.
Evening activities
The fun doesn't stop there! We also include fun-packed evening entertainment programmes at all our centres, every day, all year round, whichever holiday you choose.
Select an activity for a full description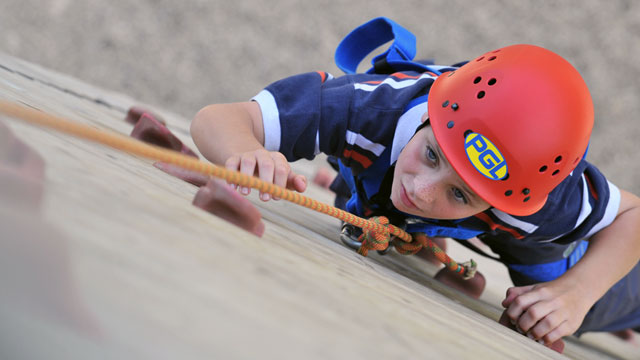 Sample day on Treasure Quest
Schedule
Activity
Breakfast
Off to the dining room with the rest of your group to fuel up for the day, you'll need plenty of energy to keep you going. Breakfast includes cereals, toast, yogurts, porridge, and cooked breakfast – you choose!
Don't forget to refill your drinks bottle before you head off to your first activity
Morning Activities
Treasure Quest themed activities
Lunch
Worked up an appetite? Great – it's time to replenish your energy stores with the dining room. If you have energy to spare after lunch your Group Leader will always be ready for a quick kickabout with a ball or you could relax and chat with your new friends.
Afternoon Activities
Treasure Quest themed activities
Dinner
Time to eat again – a different menu each day (and did we mention, often evening meals come with a hot pudding too – or you can stick with fruit if you prefer).
Evening Ents
Talent shows, campfires, quizzes and much more – your evening entertainment programme gives you the chance to get together with everyone else in your age group and have some laughs.
Bedtime
Bedtime. The younger ones go first whilst older groups have time to chill out and chat or watch a DVD. Then it's lights out and time to sleep ready to do it all over again tomorrow!
Please note this is a sample itinerary for illustrative purposes only. Itineraries will be planned by the centre shortly before your arrival.
Search for Holidays
It has never been easier for your child to experience a PGL Adventure Holiday. Select the options below to find the perfect fit for you and your child:
Please select at least one child's age in order to search. You can select multiple ages if you are searching for more than one child. Your search results will only display holidays for the ages selected.
We will search for departures 7 days either side of the day specified. If we can find no results we find the nearest available dates within 10 weeks either side of the day specified. PGL Adventure Holidays operate during the school holiday periods, please note that dates and holidays may vary at each centre. - February half term - Skiing and Snowboarding in February half term - Easter - May half term - July and August summer holidays - October half term
Shortcuts