Ardèche Family Adventure,

France
6 or 7 night holiday
Fantastic canoe descent of the renowned Ardèche gorge
Relaxed private centre with outdoor pool
Beautiful local area to explore
This holiday offers the perfect opportunity to try something completely different this summer!
Experience the exhilarating three-day canoe descent of the world famous Ardèche River in the south of France – an amazing and unforgettable experience.
Stay at Domaine de Segries and paddle your way through the stunning deep gorges of the Ardèche and get up close to the famous Pont d'Arc, a 60m high natural rock arch.
Plus, if you are feeling adventurous, there's the chance to navigate the thrilling white water rapids!
During your time on the river you will stop for leisurely picnic lunches and have time to enjoy a swim. At the end of each day we'll return you, via a coach transfer, back to the centre. If that wasn't enough, you will also get to try out the fantastic centre-based activities, including Jacob's Ladder, Archery and Mountain Biking!

Every day is different
When you're not experiencing the exhilarating three-day canoe descent of the world famous Ardèche River we have an action packed multi activity programme designed to suit the whole family, no matter their tastes, preferences or previous experience.
Evening activities
We also include evening entertainment programmes at all our centres, every day, all year round, whichever holiday you choose.
Here is an example of the full range of exhilarating activities that are available on a PGL Family Adventure. We regret that due to the nature of this holiday we are unable to accept children under 7 years old. Please note that not all activities are available at all centres; please see the specific centre pages for more information.
Select an activity for a full description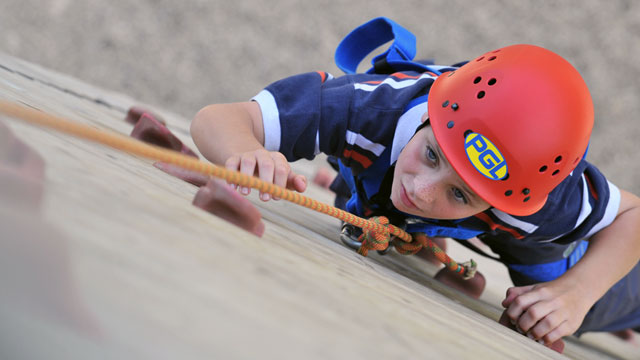 Ardèche Family Adventure (based on 7nts)

Schedule
Activities
Day 1
PM Arrive
Day 2
AM Vieux Valon Trek
PM Kayaking
Day 3
AM Mountain Biking
PM Jacob's Ladder
Day 4
All day Introduction to Canoeing and Ardèche Descent 4km
Day 5
All day Free day to relax and explore the local area
Day 6
All day Canoeing: Ardèche Descent 12km
Day 7
All day Canoeing: Ardèche Descent 16km
Day 8
AM Depart 10am
Please note this is a sample itinerary for illustrative purposes only. Itineraries will be planned by the centre shortly before your arrival.
Make sure that you check out our Special Offers page here!
Please note the below dates and prices are as reflected in our 2020 Family Adventures brochure. For live availability please email our team on families@pgl.co.uk.
Want more?
This is just one of our 'More Adventurous' Family Adventure holidays.
Shortcuts