NEW!

Teach from a different curriculum

Spark breakthroughs that matter...with R.E.A.C.H.
Raise your aspirations with residential school trips
At PGL, we use the outdoors to deliver unforgettable residential school trips for primary and secondary pupils. We are dedicated to creating educational trips for schools. so students have an experiential learning experience outside the classroom that engages students and makes lasting memories.
Quality school trips in the UK and France
We have over 65 years of experience providing thrilling, educational and inspiring residential activity holidays for pupils of all ages. All PGL residential activity centres have been awarded the Learning Outside the Classroom Quality Badge – an achievement we're proud of. We continually work with schools, local authorities and academies throughout the UK to ensure our curriculum-based activity courses meet your needs effectively.
Planning a residential trip for your school students can aid individual development by boosting confidence and promoting team bonding. Whether you're looking for a residential outdoor adventure activity course, an educational school trip, a subject-focused study course or a school ski trip, we're experts at delivering bespoke residential trips for schools across the UK.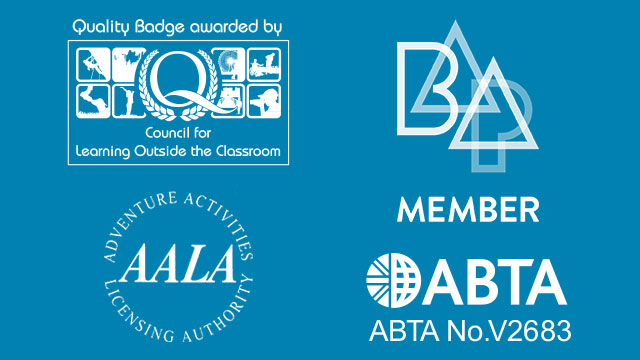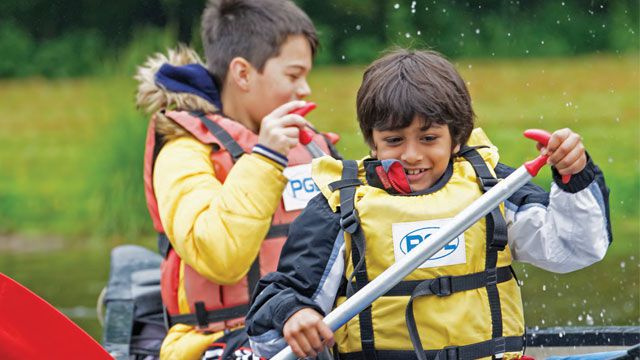 Make learning an adventure for your primary school pupils with our wide range of residential outdoor education courses and study tours, designed especially for primary school groups.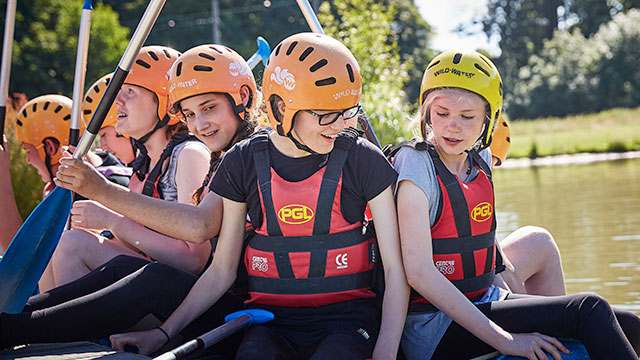 Get your students outdoors and active with our great options for secondary schools, including study courses, ski trips, sports weekends, educational school trips and watersports adventures.
What people say about our residential school trips
Read the fantastic, glowing reviews from schools who have visited us on a school trip:
"Our children enjoyed a very good programme of activities this year, and they have all come back full of enthusiasm for their visit."
Primary school trip with All Saints CE Primary School
"The best bit about our trip was the reliability of PGL - knowing that everything would be catered for and that they would do everything in their power to help us if we needed it."
Secondary school trip with The John Lyon School
Educational trips for schools
Whilst we love to play hard at PGL, outdoor education blended with classroom learning can provide a truly enriching learning experience for your school children whilst on a residential school trip.
We provide a range of outdoor educational trips for schools across the UK and France. Our programmes range from Primary School to High school and onto College. For Primary school pupils, we provide Outdoor Education in the UK and French Language & Culture in France.
For high school students they would benefit from our range of outcome-focussed school trips all the way through to subject-based study. We also offer Skiing and Snowboarding school trips for high school students, a once-in-a-lifetime experience they'll remember for the rest of their lives.
What is a residential school trip?
Residential school trips take place over a few days and pupils are required to stay away from home. Residential school trips are usually activity-based and are one of the first experiences for children staying away from parents/guardians.
Why should students go on a residential school trip over a day trip?
Residential school trips have been proven to have a positive effect on students' self-esteem and confidence levels, helping to improve their emotional health, physical health and mental well-being.
To make it short, a day trip doesn't provide school children with the opportunities to improve their soft skills and social development. Having your pupils attend a local school with PGL allow them the space to safely grow and discover new passions.
Why are residential school trips good for students?
Residential school trips take pupils out of their usual classroom surroundings and help them to develop crucial life skills. Here at PGL, we have tonnes of adventure-filled centres across the UK for your students to explore.
What are the benefits of residential school trips?
Residential school trips are a great way for students to improve their confidence and independence. Experiencing new locations and staying away from home will help children gain new skills, knowledge and life experience that will help them grow and develop. 3 ways that residential school trips can benefit pupils:
Boost a child's self-confidence
Encourage good behaviour around other children
Broaden their social network
Young people may also benefit from one of our Revision Weekends for schools. We provide classrooms for teaching, alongside our fantastic range of PGL activities, and this can be especially beneficial around exam season. This will help students not only relax but to take in more information, as the change in scenery will put them at ease. Kids learn more when they're having fun, book your residential school trip today.
Will children be safe on a school trip?
PGL has always placed a huge emphasis on safety – as a founder member of BAPA (British Activity Providers Association) and a licence holder for activities in scope of AALA (Adventure Activities Licencing Authority) regulations. Canoeing at all our centres is approved by the BCU (British Canoe Union) and all our sailing centres are recognised RYA (Royal Yachting Association) teaching establishments.
PGL's excellent reputation ensures that we receive a wealth of applications from enthusiastic and competent young adults. The candidates selected are offered contracts of employment subject to satisfactory checks (at enhanced level) via the Disclosure and Barring Service, the successful completion of pre-employment training, and a favourable performance during their probationary period.
You can rest assured that your children will be safe on a PGL residential school trip.
What is the accommodation like on school trip?
This is dependent on location, to see the actual accommodation at your chosen location there is information provided on the specific centre page. Accommodation from our local school trip centres ranges from tents, to en suite wooden lodges, dormitories in mansion houses and more.
All of the accommodation PGL offers is safe and kept to a good clean standard.
All of our sites are inspected by relevant health and safety inspectors and authorities.
Where are your Centres located in the UK?
As a leading provider of outdoor school trips for children in the UK we have sites across the United Kingdom.
Our school trip locations in the UK include: South Devon, North Devon, Suffolk, Shropshire, Lincolnshire, Perthshire, Northumberland, Wiltshire, Isle of Wight, Surrey, North Yorkshire, Dorset, Brecon Beacons, Sussex and Lancashire.
So no matter where you're looking for school trips in the UK you can count on us having one near you.

Get in Touch
Call us on 0333 321 2116