Discover our 2024 children's UK adventure camps here!
Action-packed children's adventure camps
Here at PGL, we've been experts in providing awesome children's activity holidays since 1957. That's 66 years of adventures! We offer fantastic childcare at our UK camps for children and teens aged 8-16. Our range of 2-7 night camp stays provide endless fun and adventure for all.
What to expect from our 2024 children's half-term & Summer camps
We have twelve fantastic UK camps. All of our centres have uniquely awesome activities that our campers love. From Archery and Abseiling, to Raft Building and Climbing - you can rest assured that your child will never be bored!

Plus – the same PGL camps you know and love. We provide excellent residential childcare during half term, Easter and Summer. Campers love our non-stop activities, making memories and lasting friendships! Unleash your child's inner adventurer at one of our children's UK activity camps in 2024.
Note - To ensure we have appropriate pre-arrival information on each child travelling with us, our camps will be taken off sale 3 days before arrival. Therefore please bear this in mind when placing last minute bookings.
A residential camp adventure like no other!
If you're a parent or carer looking for extra childcare in half-term, Easter or the Summer break, we have a fantastic range of UK camps for your children to immerse themselves in, we have you covered. We'll ensure your child has the most magical, fun-filled camp experience! Not only that, but we prioritise your child's safety above all else. You can read more about our fully trained, highly skilled camp staff here.
Our Summer camps run from June, to August, and if you're looking for extra childcare during the school holidays, we also have children's camps running in Easter, May and October too!

Get in touch with our team to find out more about our children's camp availability. We're all about having fun-filled adventures here at PGL, and we can't wait to share the experience with your children!
So – what are you waiting for? Start your children's adventure holiday here.
Did you know we do Family Adventure too?
Sounds so good you fancy coming too? Check out our Family Adventure Holidays
We have lots of magical trips, including family holidays to Disneyland Paris!
Do you also want to explore the great city of Paris? Well you can with our Paris and Disneyland package.
School Holiday Hell or Saviour?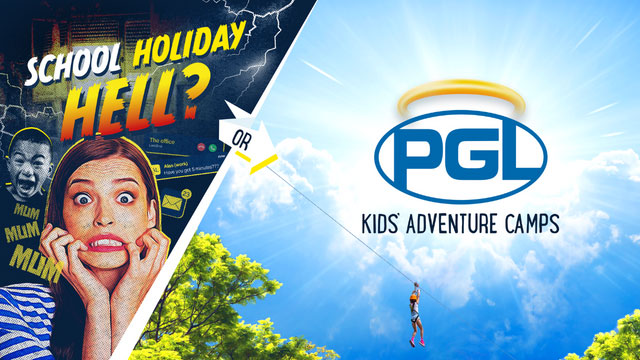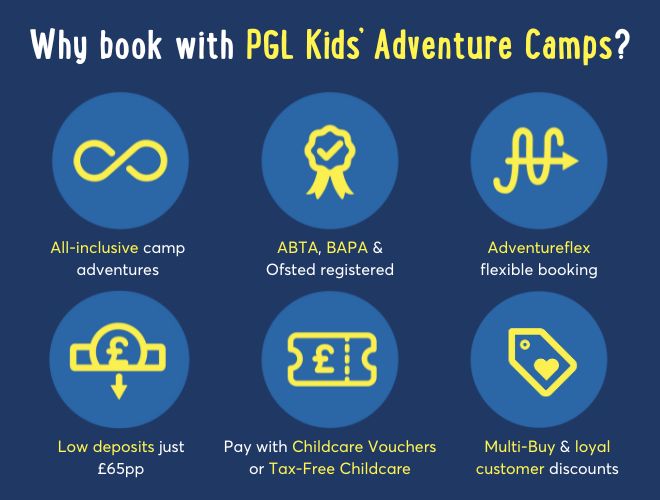 The choice of adventure is yours...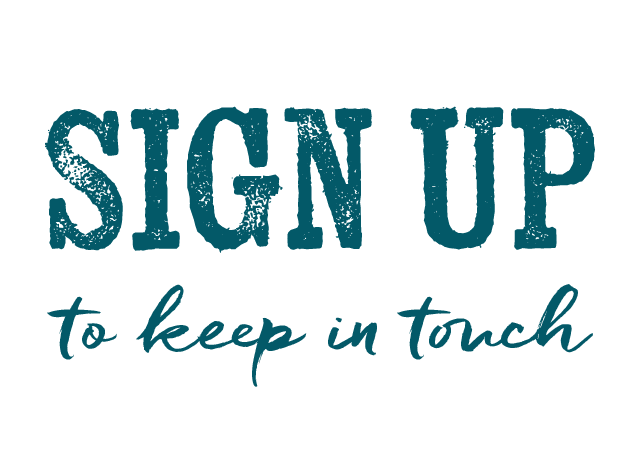 Let's keep in touch
Join our mailing list to keep up to date with all our latest news and offers!
Our Centres
Find your ideal Adventure Holidays centre.
Search by postcode or City: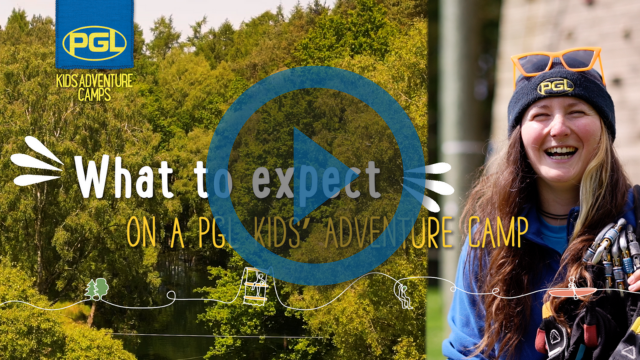 What to expect
Everyone knows PGL Kids' Adventure Camps are full of excitement, thrills and new discoveries but so much more goes in to ensuring our guest have a fun, safe and enriching time whilst staying with PGL.
Let us take you through everything from arrivals, safety, food, staying connected, night support and more… so you know what to expect on a PGL Kids' Adventure Camp!
Search for Holidays
Check availability and book online here. Select the options below to find the perfect fit for you and your child:
Please select at least one child's age in order to search. You can select multiple ages if you are searching for more than one child. Your search results will only display holidays for the ages selected.
We will search for departures 7 days either side of the day specified. If we can find no results we find the nearest available dates within 10 weeks either side of the day specified. PGL Kids' Camps operate during the school holiday periods, please note that dates and holidays may vary at each centre.

Get in touch