Your family adventure awaits!
Enjoy our low-priced Family Adventure Holidays in 2024!
BIG adventures, and fantastically LOW prices! We're doing our best to make the PGL magic more affordable for everyone. Plus, to help you spread the cost, all you have to pay at booking is £50pp deposit - with the final balance payable 12 weeks before you travel. Family breaks start from just £165pp.
At PGL, we're the experts when it comes to adventure. That's why so many families across the UK choose us when booking a family adventure holiday. Choose from a 2, 3 or 4 night family adventure holiday at two of our fantastic UK locations including Devon and Lincolnshire and experience endless thrills and activities for the whole family to enjoy when you embark on one of our fun overnight stays for families!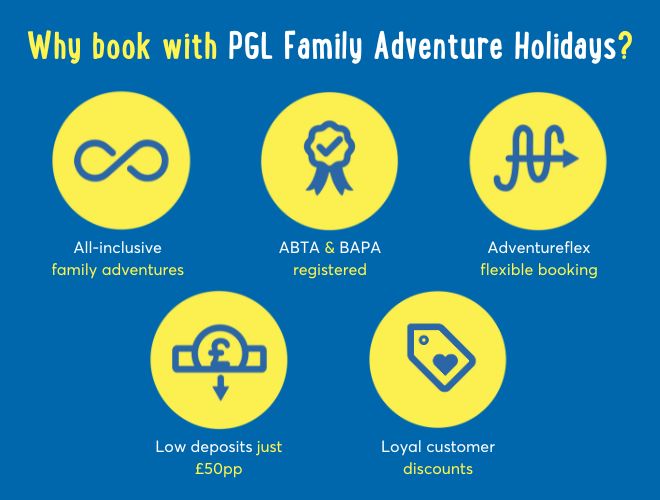 Family experience days across the UK & France
Check out our Paris and Disneyland package too. With entry to Disneyland, a day trip into Paris city centre and activities included at our Chateau – it's the perfect way to experience France on a budget. From £544pp these spaces won't hang around.
Fun all-inclusive holidays in England for families
Our family adventure holidays are all-inclusive, meaning that when you book with PGL, ensuite accommodation, 3 meals a day, a full programme of outdoor daytime and evening activities are all included in the price. Plus so much more.......find out more here.
See what our families got up to at PGL last summer
What to expect on a family break full of adventure?
Excitement, memories, challenges, laughter, thrills, spills - it's all part of the family adventure holiday experience here at PGL. Our extensive range of exhilarating activities provides a wide range of fun family holidays. Compete against each other in a series of challenges that will test your teamwork and communication skills, fly down our speedy zip wire or scale our climbing wall. Our adventure holidays for families have it all, and we'll make sure you eat well too with a selection of delicious dishes throughout your stay.
Why choose PGL for family adventure days?
If you just want to spend a fun-filled day, then we've got you covered. At PGL, we're the experts when it comes to family breaks, outings and adventure..
That's why so many family groups across the UK choose us for fun overnight stays for families, adventure and fun! But if you just have a day we also run our fun Activity Days for families during the school holidays, so everybody can take part. The day runs from 10.00-16.30, and you can choose three activities to enjoy during your stay, with a tasty lunch included too!